PML: Regulation and multifaceted function beyond tumor suppression
Received: 10 December 2017
Accepted: 12 January 2018
Published: 25 January 2018
The Correction to this article has been published in Cell & Bioscience 2018 8:18
Abstract
Promyelocytic leukemia protein (PML) was originally identified as a fusion partner of retinoic acid receptor alpha in acute promyelocytic leukemia patients with the (15;17) chromosomal translocation, giving rise to PML–RARα and RARα–PML fusion proteins. A body of evidence indicated that PML possesses tumor suppressing activity by regulating apoptosis, cell cycle, senescence and DNA damage responses. PML is enriched in discrete nuclear substructures in mammalian cells with 0.2–1 μm diameter in size, referred to as alternately Kremer bodies, nuclear domain 10, PML oncogenic domains or PML nuclear bodies (NBs). Dysregulation of PML NB formation results in altered transcriptional regulation, protein modification, apoptosis and cellular senescence. In addition to PML NBs, PML is also present in nucleoplasm and cytoplasmic compartments, including the endoplasmic reticulum and mitochondria-associated membranes. The role of PML in tumor suppression has been extensively studied but increasing evidence indicates that PML also plays versatile roles in stem cell renewal, metabolism, inflammatory responses, neural function, mammary development and angiogenesis. In this review, we will briefly describe the known PML regulation and function and include new findings.
Keywords
PMLGene expressionProtein modificationProteolysisStem cell and cancer stem cell renewalChemotherapy resistanceMetabolismInflammatory responsesNeural functionMammary developmentAngiogenesis
Background
Promyelocytic leukemia protein (PML) was first identified as a fusion partner with retinoic acid receptor alpha resulting from a chromosomal translocation between chromosomes 15 and 17 [1–3]. Since then, evidence has accumulated that PML functions as a tumor suppressor [4, 5]. In mammalian cells, PML is enriched in discrete nuclear substructures referred to PML nuclear bodies (NBs) [6, 7]. In addition to PML NBs, PML is also present in the nucleoplasm and the cytoplasmic compartments, including the endoplasmic reticulum (ER) and mitochondria-associated membranes (MAMs) [8, 9]. It appears that both nuclear and cytoplasmic PML can promote cell apoptosis by distinct mechanisms [8, 10, 11].
As a tumor suppressor, PML protein abundance is frequently low in tumorous tissues [12]. Thus, the regulation of PML gene expression, PML protein modification and turnover have been the main subjects of study. For example, PML protein modifications, PML NB formation, abundance and localization are tightly regulated in response to environmental stimuli. Dysregulation of PML and PML NB formation alter PML-associated transcriptional regulation, protein modification, apoptosis and cellular senescence [13].
Due to its initial association with cancer as a tumor suppressor, early studies on PML have mainly focused on its role in apoptosis, cell cycle regulation and tumorigenesis [11]. Nonetheless, recent reports have indicated that PML plays versatile roles in other physiological and pathological settings. These include stem cell and cancer stem cell renewal, drug-resistance, metabolism, inflammatory responses, neural and mammary development and angiogenesis (see below). Together, these findings not only open a new avenue for understanding PML biology but they further highlight the possibility of targeting PML as a potential therapeutic strategy.
PML protein structure and isoforms
The PML protein belongs to the family of tripartite motif (TRIM)-containing proteins that consist of more than 70 members in humans characterized by a structurally conserved RING finger/B box/coiled-coil (RBCC) domain [
14
]. This RBCC motif is preserved among all PML isoforms [
15
] (Fig.
1
). The RBCC domain has been shown to mediate protein-protein interactions and PML NB assembly [
16
–
18
]. The nascent
PML
transcript contains 9 exons (Fig.
1
a) and can be alternatively spliced into multiple isoforms with variable C-termini. According to classical Jassen nomenclature, PML isoforms can be generally classified into PMLI to PMLVII (Fig.
1
b). The nuclear localization sequence (NLS) in exon 6 is not present in the
PML
isoform VII, which is exclusively cytoplasmic [
15
,
19
] (Fig.
1
b). The largest isoform,
PML I
, harbors a putative nuclear export signal in the exon 9. Presumably, this isoform is capable of shuttling between nucleus and cytoplasm. In exon 7, a tetrapeptide sequence containing amino acids VVVI is known as a SUMO-interacting motif (SIM), due to its ability to bind sumoylated proteins [
20
]. Furthermore, a group of sub-class PML variants [
19
], A, B and C, derived from PML isoform I–VI are documented due to the alternative splicing as shown in Fig.
1
b.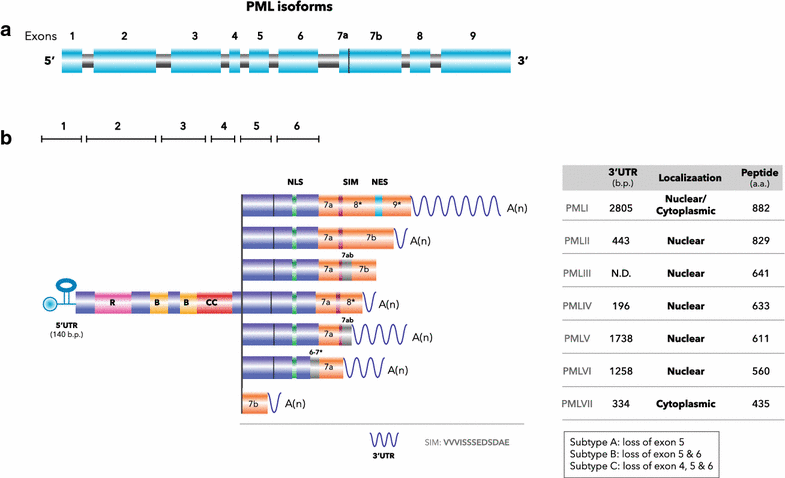 Subcellular distribution of PML
In mammalian cells, 1–30 discrete PML NBs with a size of 0.2–1 μm can be observed in each nucleus [6, 21]. PML is an essential component of PML NBs. To date more than 170 proteins have been found to associate with PML constitutively or transiently [22]. The composition of PML NBs is dynamic and heterogeneous due to the shuttling of PML-associated components and the composition of PML NBs is dictated by specific PML isoforms [7]. It was proposed that sumoylation of PML and SIM-dependent association with sumoylated proteins play a pivotal role in PML NB formation [23]. However, it is clear that sumoylation is not essential for NB formation because a mutant PML (3KR) devoid of sumoylation is still capable of forming NB, though the NB size is generally larger and the number is reduced [24]. PML NB assembly is likely initiated from PML oligomerization, though the residues responsible for the oligomerization remain to be identified [7, 13]. Given that PML-associated components harbor diverse physiological functions, the regulation of PML NBs is key to controlling various biological processes, such as apoptosis, inflammation and angiogenesis (see below).
In addition to localizing to the nucleus, several PML isoforms can be found in the cytoplasm. PML VII and PML I, as well as other isoforms, like subtype B and C, are potentially cytoplasmic due to the absence of the NLS or the inclusion of the NES (Fig. 1) [8, 19, 25]. Moreover, the truncated PML proteins caused by two distinct pathological missense mutations 1272delAG and IVS3-1 G are localized primarily in the cytoplasm and can sequester nuclear PML, thereby decreasing PML NBs [26]. Interestingly, cytoplasmic PML may possess opposite physiological functions from its nuclear counterpart, depending on the context. The 1272delAG and IVS3-1 G mutant cytoplasmic PMLs show dominant effects over nuclear PML and thereby inhibit p53-mediated transcription and cell growth suppression [26]. In response to HSV-1 infection, cytoplasmic PML is induced by increased alternative splicing, which presumably is part of the strategy employed by viruses to weaken host defenses [27]. A change in cellular redox status also alters cytoplasmic PML levels by redistributing nuclear PML to the cytoplasm. For example, treatment with the antioxidant, sulforaphane in HUVECs results in an accumulation of PML in the cytoplasm [28]. In another example, TGFβ stimulation, cytoplasmic PML or PML VII, exclusively cytoplasmic isoforms recruit Smad2/3 and SARA to potentiate TGFβ signals, cell growth arrest, senescence, and apoptosis [8]. A fraction of PML in mouse embryonic fibroblasts (MEFs) was found localized in MEMs which bridge mitochondria and the ER. Such MEM-associated PML controls calcium flux to the mitochondria by compartmentalizing a large complex that includes PP2A, AKT, and the inositol triphosphate receptor (IP3R) [10]. Given that calcium influx into mitochondria from the ER is a key step in apoptosis, Pml−/− MEFs exhibit resistance to ER stress-induced apoptosis. Thus, PML appears to be a critical regulator of apoptosis both in the nucleus and the cytoplasm [10].
Regulation of PML expression by multiple extracellular stimuli
PML is a sensor of cellular stress and environmental cues including growth factors and cytokines. The abundance of PML protein is tightly regulated by transcriptional and translational machineries in response to stresses. Additionally, post-translational modification plays a key role in PML regulation and has been intensely studied. Modification of PML disturbs PML NB assembly and alters PML protein stability, localization and interaction partners. Several key regulatory mechanisms for PML are summarized in Tables
1
,
2
and Fig.
2
.
Table 1
Summary of factors and conditions involved in PML transcription, translation, alternative splicing and subcellular distribution
Type of regulation

Extracellular stimuli

Cellular regulators

PML regulation

Refs.

Transcription

IFNs, TNFα

Stat1 and Stat2/IRF3/IRF8

Upregulation of PML mRNA

Oncogenic stress

RAS/p53

Upregulation of PML mRNA

Cytokine or hormone

Stat3/Stat6

Downregulation of PML transcription

[34]

Post-transcription

Alternative splicing

Expression of different PML isoforms with distinct function

Alternative splicing

Herpes simplex virus-1 infection

Increase in cytoplasmic PML in response to viral infection

[27]

mRNA stability

MicroRNAs delivered by colon cancer cell-derived microvesicles

miR-1246

Targeting PML 3'-UTR for degradation

[35]

Translation

Oncogenic stress

RAS/mTOR

RAS/eIF4E

Upregulation of Pml mRNA translation 5′-UTR in MEFs

[36]

TNFα

p38/MNK1

Upregulation of PML mRNA translation via IRES

[37]

Cytoplasmic PML regulation

TGFβ

TGFR

Smad2/3 and SARA-mediated TGFβ signaling

[8]

Sulforaphane (SFN)

Increases in cytoplasmic PML proportion and nuclear NRF2 accumulation

[28]

PML 1272delAG and IVS3-1 G mutations

Increases in cytoplasmic PML proportion and inhibition of p53-mediated cell apoptosis

[26]

NB formation

Androgen

Decreases in PML NB formation

[160]

Ionizing radiation

Increases in PML NB formation

[161]

Cisplatin

Increases in PML NB formation

[161]

SFN

Decreases in PML NB formation

[28]
Table 2
Summary of signaling involved in PML post-translational modification
Type of post-translational modification

Extracellular stimuli

Cellular factors

PML regulation

Refs.

Sumoylation (site)

K65/K160/K490

ND

RanBP2 /Ubc9

Assembly of PML NBs

ND

ZNF451-1

Increases in RNF4-mediated PML degradation

[41]

K65 and K160

As2O3, Tumorigenic adaptation

PIAS1

Increases in CKII-mediated PML degradation

[44]

ND

Cell cycle

ND

Oscillation of PML sumoylation status

[163]

K65/K160

As2O3

Sumoylation and sumoylation-mediated ubiquitination and degradation

[51]

ND

TNFα

HDAC7

Upregulation of sumoylation

ND

Thermal stress/Cellular stress

SENP

Desumoylation/NBs dynamic

K65/K160

Viral infection

LANA2

Upregulation of SUMO2-conjugated sumoylation

[164]

ND

Epstein-Barr virus infection

BZLF1

PML desumoylation and NB breakdown

[124]

ND

Cytomegalovirus infection

IE1

Disruption of PML NBs

[126]

Phosphorylation (site)

ND

DNA damage

ATR

Nucleolar localization

S565

Osmotic stress/Cellular stress

CKII

PML degradation

[73]

S518

Hypoxia

CDK1/2

Increases in KLHL20-meidated PML ubiquitination and degradation

[58]

ND

Cell cycle

Aurora kinase A

PML hyper-phosphorylation

[72]

S403 and S505

EGF, oncogenic adaptation

ERK2

Increases in Pin1-mediated PML degradation

S527 and S530

As2O3

ERK1/2

Increases in PML sumoylation and PML-mediated apoptosis

[69]

S117

γ-irradiation

Chk2

Increases in PML-mediated Apoptosis

[66]

S8, S36, and S38

DNA damage

HIPK2

Increases in PML-mediated Apoptosis

[68]

S403 and T409

Mitogenic stimuli

BMK1/ERK5

Inhibition of PML-mediated p21 suppression for cancer cell proliferation

[165]

S518

ND

SCP1/SCP3

Blockade of CDK1/2-Pin1-KLHL20-PML regulatory loop and PML-mediated anti-angiogenesis

[153]

Ubiquitination

As2O3

E6AP

PML degradation

ND

SIAH1 and SIAH2

PML degradation

[57]

ND

UHRF1

PML degradation

[166]

Hypoxia

KLHL20

PML degradation

[58]

As2O3

RNF4

Catalyzing sumoylation-dependent degradation, increase in PML NB formation

HSV-1 infection

ICP0

PML degradation

[125]

As2O3

RNF111 (Arkadia)

Catalyzing sumoylation-dependent degradation

[59]

Isgylation

Retinoic acid

UBE1L/USP18

PML-RAR degradation

Acetylation (site)

K487 and K515

ND

p300

Increases in PML sumoylation

[74]

K487

H2O2

Sirt1/Sirt5

Deacetylation of PML, increase in K490 sumoylation

K487

ND

Sirt1

Promotion of PML/PER2-induced BMAL1/CLOCK transcriptional activity

[76]

Protein level regulation

H2O2

Pin1

Decreases in Pin1-PML association and Pin1-mediated PML degradation

[71]

IGF-1, hypoxia

Pin1

Increases in Pin1-PML association and Pin1-mediated PML degradation

[108]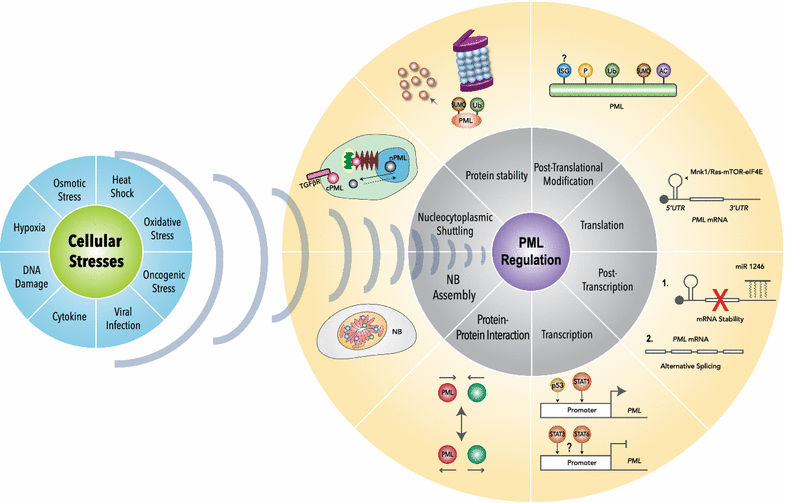 Regulation of cellular processes by PML
Physiological and pathological role of PML
Concluding and remarks
The main functions of PML are summarized in Fig.
3
and Table
3
. The complexity of PML isoforms makes it difficult to clarify and track the precise contribution of each isoform in these processes. Using the CRISPR-knockout technique, experiments with ectopically expressed individual isoforms in a
PML
null background are feasible and could provide insights into the function of individual PML isoform. To date, nuclear PML-mediated tumor suppression function is well-documented both in vivo in mouse models and in many types of human cancer [
5
,
12
,
25
]. The cytosolic PML also likely functions as a tumor suppressor by controlling calcium transfer and autophagy while the detailed mechanisms require further investigation [
8
,
9
]. Interestingly, several recent findings highlighted a role of PML in physiologic and pathologic metabolism, especially in FAO and energy usage control [
114
,
115
,
117
,
118
]. Although this mechanism is required for hematopoietic and cancer stem cell renewal, the changes in body mass and high AMPK activation in metabolic tissue in
Pml
knockout mice suggest a broad spectrum of PML-mediated metabolic regulation [
9
,
118
]. Nevertheless, some inconsistent observations from
Pml
whole knockout mice are prompting us to investigate PML metabolic function in more strictly defined experimental settings [
115
,
118
,
121
]. For example, using a single mouse strain capable of conditionally knocking out
Pml
in metabolic tissues such as liver and muscle and maintaining it under defined conditions will likely clarify discrepancies currently noted between different studies [
115
,
118
,
121
].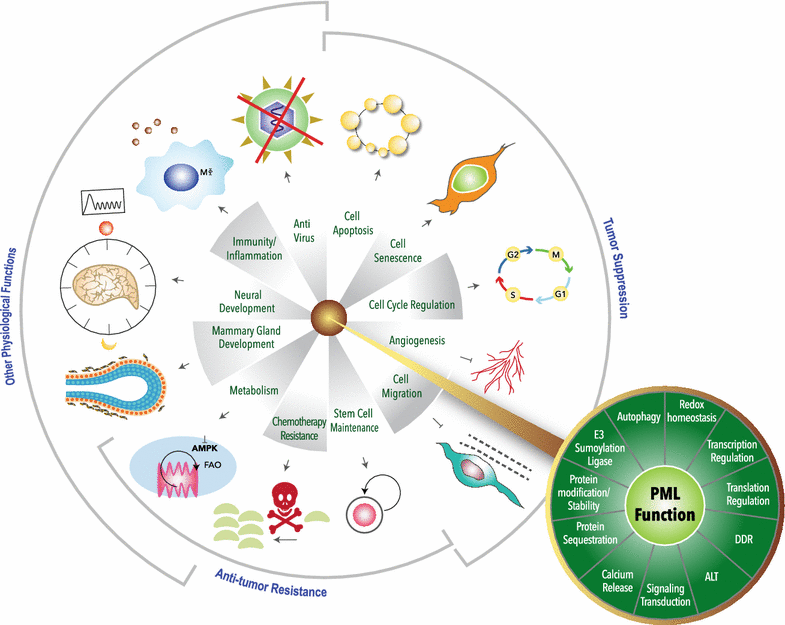 Table 3
Overview of PML physiological function and the corresponding phenotypes in Pml−/− mouse
Physiological function

Pml−/− mouse phenotype

Known key cellular mechanism

Tumor suppression

1. Susceptible to carcinogen/oncogene-induced tumorigenesis [4, 5]

2. Resistant to irradiation-induced death [5]

1. TGFβ→cPML→Smad2/3 and SARA→apoptosis [8]

2. RAS→P53→PML→Cell senescence and apoptosis [33, 105]

3. DDR→PML-|MDM2-|P53→apoptosis [67]

4. PML-|Daxx→HAUSP-|PTEN→apoptosis [102]

5. PML-|RB-E2F→Cell survival [78]

7. PML→PP2A-|Akt→Cell survival [4, 10]

8. IFN→PML→TRAIL→apoptosis [141]

9. TNF→PML-|NF-κB→A20/survivin expression-| apoptosis [143, 144]

10. FAS/Osmotic stress→PML→DAXX-|anti-apoptotic gene expression [97]

Hematopoietic stem cell renewal

1. Loss of CML-like phenotype in p210BCR-ABL /Pml−/− mouse model [114]

2. Exhaustion and reduced quiescence in Pml−/− hematopoietic stem cells [114]

1. PML→PPARδ→fatty acid oxidation→HSC asymmetric division [114]

Neuron function, development and brain cognitive ability

1. Small brain size [94]

2. Defects in cortex development and macroglia differentiation [94]

3. Loss of learning and memory consolidation [147]

4. Lower anxiety-associated response [146]

5. Loss of Pml aggravates the neurodegenerative phenotype in SCA1 mouse model [100]

6. Loss of precision and stability in circadian rhythm [76]

1. PML→PP1α→Rb→neural progenitor cell fate regulation [94]

2. Neural activity stimuli→Arc→PML-NB-| GluA1→homeostatic plasticity [147]

3. PML E3 SUMO ligase activity→PolyQ-ATXN7/ATXN1-sumoylation→RNF4-mediated ubiquitination and degradation [100]

4. Sirt1→PML→PER2→BMAL1/CLOCK→circadian rhythm [76]

5. As2O3-|PML→c-Myc→glioblastoma stem cell growth [113]

Mammary gland development and triple-negative breast cancer stem cell maintenance

1. Impaired development of mammary ductal and alveolar structure [34]

2. Defects in mammary progenitor cell fate determination [34]

1. Stat3/Stat5/Stat6-mediated Pml regulation is required for normal mammary gland development [34]

2. PML→Sirt1→Ac-GPC1α→GPC1α →PPARδ→Fatty acid oxidation gene expression→breast cancer stem cell survival [115]

Metabolism

1. Slim body, higher body temperature and high energy usage rate in a high fat diet [118]

2. Elevated AMPK Activation in liver and muscle in normal chow or Western diet [118]

3. Reduced lipid metabolic gene expression in Pml−/− mouse liver; in this study, Pml−/− mouse is prone to obese conditiona [115]

4. Loss of Pml promotes adipogenesis and adipogenic transcription factor activitya [121]

1. PML-|AMPK→FAO→metabolism [118]

2. PML→PPARδ→FAO→HSC self-renewal [114]

3. PML→Sirt1→Ac-GPC1α→GPC1α →PPARδ→FAO gene expression→breast cancer stem cell survival [115]

4. p53→PML (MAM localization)-|AMPK-mTOR-ULK1→mitochondria calcium transfer→autophagy [9]

Anti-viral infection

1. Susceptible to liver tumor in HCV transgenic mouse [132]

2. Pml−/− MEFs are susceptible to viral infection [129]

1. (ICP0, BZLF1 and IE1)-|PML (PML NB disassembly)→anti-HSV1 [123–126]

2. PML -| 3D polymerase→virus propagation [127]

3. PML cytosolic translocation -|HIV viral genome [128]

Innate immunity and inflammatory response

1. Severe granulomatous lesion and botryomycosis in Pml−/− mice upon bacterial infection [134]

2. Impaired macrophage function [134, 135, 158]

1. IFN→PML→STAT1→anti-viral gene and inflammatory gene expression [127, 136, 137]

2. IFNγ→PML→CTIIA→MHC-II expression [138]

3. PML-| Pin1-|IRF3→IFNβ expression [139]

4. PML→NLRP3 inflammasome assembly→IFNβ maturation [135]

5. HCMV→IE1-|PML→STAT1/STAT2→ISGs expression [140]

6. IFN→PML→TRAIL→apoptosis [141]

7. TNF→PML-|NF-κB→A20/survivin expression-| apoptosis [143, 144]

8. FAS→PML-|Daxx-|anti-apoptotic gene expression [11, 97, 106]

Angiogenesis

1. Increased neovascularization upon ischemia [152]

2. Compromised IFNα-mediated angiostatic activity ex vivo in Pml knockout mouse [110]

1. Hypoxia: PML-|mTOR-Rheb→HIF1→angiogenesis [152]

3. Carcinoma-| SCP1/SCP3→PML-|angiogenesis [153]

4. Tumor microvesicle→miR1246-|PML-| angiogenesis [35]

5. TNF→P38→MNK1→PML-| angiogenesis [37]
Metabolic disorders such as diabetes and cardiovascular disease are associated with chronic inflammation. Polarization of macrophage is a key step in chronic inflammation. Since PML is a sensor for inflammatory cytokine responses and nutrient status, Pml knockout macrophage could be employed to investigate whether the deregulation of PML in macrophage affects inflammation-induced diabetic symptoms [134, 158]. The reduction of PML-mediated angiostatic effects is hijacked by cancer cells to create a tumor favorable microenvironment [35]. Conversely, both anti-tumor cytokines, IFN and TNF, promote PML-mediated angiostatic activity in endothelium [37, 109, 110]. Several clinical investigations and pre-clinical models have suggested that manipulation of PML may be feasible therapeutic strategy for some diseases. For example, the low levels of PML in proliferative diabetic retinopathy implies that up-regulation of PML might mediate angiostatic effects and ameliorate these symptoms in diabetic patients [159]. Additionally, since PML contributes to hematopoietic cancer stem cell self-renewal and the aggressiveness of triple-negative breast cancer, directly reducing PML protein levels seems to be a promising strategy to treat some types of cancers. Indeed, results from two recent preclinical studies support this hypothesis. They have treated glioma stem cells and triple-negative breast cancer metastasis with agents promoting PML degradation [113, 151]. While intensive studies have been focused on post-translational modification and regulation of PML, more exciting findings will be revealed in the years to come. Moreover, few details are known about the underlying mechanisms of transcriptional regulation by PML and translational control of PML mRNA. New findings on these topics will be important and are highly anticipated. It is also worth noting that a combinational therapy of PML modulating agents with other genotoxic agents has demonstrated a better outcome and provide an effective treatment for a clinical application [113, 151]. Therefore, the clarification of PML function in these treatments is key to developing more effective therapies in the future.
Abbreviations
3KR:

PML mutated in K65, K160, and K490
AKT:

protein kinase B
AMPK:

5' adenosine monophosphate-activated protein kinase
APL:

acute promyelocytic leukemia
ARC:

activity-regulated cytoskeleton-associated protein
As2O3 :

arsenic trioxide
ATM:

the protein kinase ataxia-telangiectasia mutated
ATR:

ataxia telangiectasia Rad-3 related kinase
Atxn1:

spinocerebellar ataxia Type 1 protein
BZLF:

Epstein-Barr virus replication activator known as Zta
CBP:

CREB-binding protein
CDK:

cyclin dependent kinase
ChIP:

chromatin immunoprecipitation
Chk2:

checkpoint kinase 2
CK2:

casein kinase 2
CML:

chronic myelogenous leukemia
CNS:

central nerve system
CTIIA:

major histocompatibility complex class II transactivator
Daxx:

death-associated protein 6
DDR:

DNA damage repair
DNAPK:

DNA-dependent protein kinase
eIF4E:

eukaryotic translation initiation factor 4E
eEF1A1:

elongation factor 1A1
EMCV:

encephalomyocarditis virus
ER:

endoplasmic reticulum
ERɑ:

estrogen receptor α
FAO:

fatty acid oxidation
FAS:

apoptosis-mediating surface antigen
GAS:

gamma-activated sites
GLUA1:

glutamate ionotropic receptor AMPA type subunit 1
H2O2:

hydrogen peroxide
HAUSP:

ubiquitin-specific-processing protease 7
HCC:

hepatocellular carcinoma
HCV:

hepatitis C virus
HDAC:

histone deacetylase
HIF1:

hypoxia-inducible factor 1
HIPK2:

homeodomain interacting protein kinase 2
HP1:

heterochromatin protein 1
HSV-1:

herpes simplex virus type 1
Httex1:

huntingtin protein
HUVEC:

human umbilical vein endothelial cell
ICP0:

Human Herpes Virus (HHV) Infected Cell Polypeptide 0
IE1:

immediate-early protein1
IFN:

interferon
IP3R:

inositol triphosphate receptor
IRES:

internal ribosome entry site
IRF:

interferon regulatory factor
ISG:

interferon-stimulated gene
ISRE:

interferon-sensitive response element
ITGB1:

integrin β1
KLHL:

Kelch-like protein
KO:

knockout
Kr:

Kremer bodies
LPS:

lipopolysaccharide
LTD:

long-term depression
LTP:

long-term potentiation
MAMs:

mitochondria-associated membranes
MDM:

mouse double minute 2 homolog
MEF:

mouse embryonic fibroblast
MHCII:

major histocompatibility complex class II
MMP-10:

matrix metallopeptidase 10
MNK:

mitogen-activated protein kinase interacting protein kinases
mTOR:

mechanistic target of rapamycin
Myc:

Myelocytomatosis Viral Oncogene Homolog
NBs:

nuclear bodies
NES:

nuclear export sequence
NF-κB:

nuclear factor kappa-light-chain-enhancer of activated B cells
NLRP3:

NLR family pyrin domain containing 3
NLS:

nuclear localization sequence
NPCs:

neural progenitor cells
Nrf2:

nuclear factor (erythroid-derived 2)-like 2
PER2:

circadian clock protein PERIOD 2
PGC:

proliferator-activated receptor gamma coactivator
PIAS1:

protein inhibitor of activated STAT 1
PIN1:

peptidylprolyl cis/trans isomerase
PolyQ:

polyglutamine
PML:

promyelocytic leukemia protein
PP2A:

protein phosphatase 2A
PPAR:

peroxisome proliferator-activated receptor
PTEN:

phosphatase and tensin homolog
RA:

retinoic acid
RanBP2:

RAN binding protein 2
RARα:

retinoic acid receptor alpha
RAS:

Rat Sarcoma Viral Oncogene Homolog
RB:

retinoblastoma protein
RBCC:

ring finger/B box/coiled-coil
RNF:

ring finger proteins
ROS:

reactive oxygen species
SARA:

SMAD anchor for receptor activation
SCA1:

spinocerebellar ataxia type 1 gene
SCP:

small CTD (carboxy-terminal domain, RNA polymerase II, polypeptide A) phosphatase
Sdhaf:

succinate dehydrogenase complex assembly factor
SENP:

SUMO-specific protease
SIAH:

seven in absentia homolog
SIM:

SUMO-interacting motif
Sirt1:

sirtuin1
Smad:

protein similar to mothers against decapentaplegic
STAT:

signal transducers and activators of transcription
SUMO:

small ubiquitin-like modifier
TGF:

transforming growth factor
TLR:

toll-like receptor
TNF:

tumor necrosis factor
TOPORS:

TOP1 binding arginine/serine rich protein
TRAIL:

TNF-related apoptosis inducing ligand
TRIM:

tripartite motif
TSP2:

thrombospondin-2
Ub:

ubiquitin
UBC13:

ubiquitin-conjugating enzyme13
UBE1:

ubiquitin activating enzyme E1
USP:

ubiquitin specific peptidase
UTR:

untranslated region
ZNF:

zinc finger
Declarations
Authors' contributions
KSH and HYK contributed to manuscript writing. Both authors read and approved the final manuscript.
Competing interests
The authors declare that they have no competing interests.
Availability of data and materials
All data are available without restrictions.
Consent for publication
All authors consented for publication.
Ethics approval and consent to participate
The review article has no relevant ethical issue for approval and consent to participate.
Publisher's Note
Springer Nature remains neutral with regard to jurisdictional claims in published maps and institutional affiliations.
Open AccessThis article is distributed under the terms of the Creative Commons Attribution 4.0 International License (http://creativecommons.org/licenses/by/4.0/), which permits unrestricted use, distribution, and reproduction in any medium, provided you give appropriate credit to the original author(s) and the source, provide a link to the Creative Commons license, and indicate if changes were made. The Creative Commons Public Domain Dedication waiver (http://creativecommons.org/publicdomain/zero/1.0/) applies to the data made available in this article, unless otherwise stated.
Authors' Affiliations
(1)
Department of Biochemistry, Case Western Reserve University, Cleveland, USA
(2)
The Comprehensive Cancer Center of Case Western Reserve University and University Hospitals of Cleveland, Cleveland, USA
(3)
Tumor Angiogenesis Section, Mouse Cancer Genetics Program (MCGP), National Cancer Institute (NCI), NIH, Frederick, USA
Copyright
© The Author(s) 2018
, corrected publication February 2018