Complex roles of filamin-A mediated cytoskeleton network in cancer progression
Received: 27 December 2012
Accepted: 10 January 2013
Published: 6 February 2013
Abstract
Filamin-A (FLNA), also called actin-binding protein 280 (ABP-280), was originally identified as a non-muscle actin binding protein, which organizes filamentous actin into orthogonal networks and stress fibers. Filamin-A also anchors various transmembrane proteins to the actin cytoskeleton and provides a scaffold for a wide range of cytoplasmic and nuclear signaling proteins. Intriguingly, several studies have revealed that filamin-A associates with multiple non-cytoskeletal proteins of diverse function and is involved in several unrelated pathways. Mutations and aberrant expression of filamin-A have been reported in human genetic diseases and several types of cancer. In this review, we discuss the implications of filamin-A in cancer progression, including metastasis and DNA damage response.
Keywords
Filamin-A
ABP-280
Actin filament
Cytoskeleton
DNA repair
Metastasis
Introduction
The cytoskeleton, a complex network of protein fibers in eukaryotic cells, provides a dynamic structural framework that is crucial for maintaining normal cell activity, including cell shape, cellular motion, division, and intracellular transport among other processes [1–3]. Eukaryotic cells contain three main types of cytoskeletal filaments: microfilaments, intermediate filaments, and microtubules [1, 3]. Microfilaments (also called actin filaments or F-actin) are composed of linear polymers of actin subunits that form the thinnest filaments of the cytoskeleton. The actin filament is a polar macromolecule characterized by the elongation of one filament end coupled with shrinkage at the other. This dynamic interplay generates force and causes net movement of the intervening strand [4]. Actin filaments also act as tracks for the movement of myosin molecules that attach to the microfilament and "walk" along them [5]. In addition, actin filaments cross-link into bundles to form the dynamic actin cytoskeletal network, which is in turn finely tuned by multiple families of cytoskeletal proteins [6], called actin binding proteins. These proteins typically share a conserved, α-actinin-like F-actin binding domain (ABD) [7–9].
One actin binding protein that contains the actinin-like F-actin binding domain is the filamin family. This family is composed of three homologous proteins (FLNA, FLNB, and FLNC) that are products of different genes and their mRNA splice variants [
10
]. The three filamin genes are highly conserved and filamin proteins exhibit 60-80% overall amino acid identity, with the greatest divergence observed at the two hinge regions, sharing 45% identity [
11
]. Filamin-A (FLNA), also known as human actin-binding protein 280 (ABP-280) or filamin-1, is encoded by the X-linked gene
FLNA
[
12
,
13
]. As shown in Figure
1
, the human filamin-A is a homodimer with large subunits of 280KD, forming a V-shaped structure [
11
,
14
–
16
]. At the NH2 terminus of the monomer, there is an actin-binding domain (ABD), followed by 24 tandem repeats of ~96 amino acids in length. Between repeats 15 and 16, there is a hinge domain, and repeat 24 is separated from repeat 23 by a second hinge domain. The last 65 amino acids of repeat 24 mediates the dimerization of filamin-A subunits [
14
].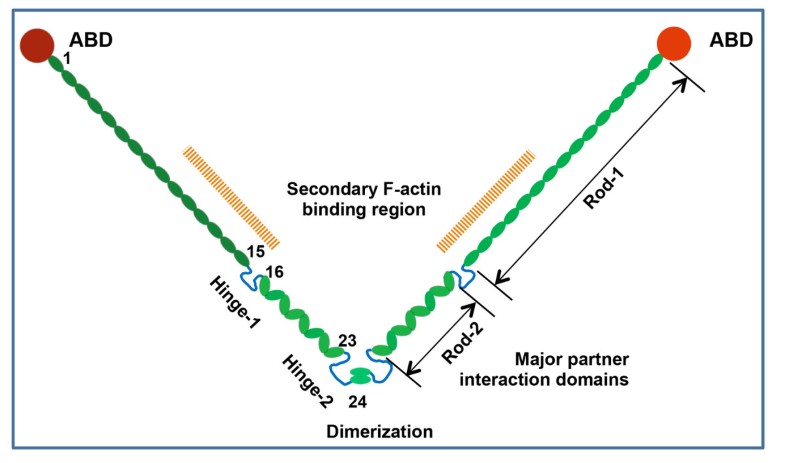 Filamin-A binds and cross-links cortical actin filaments into a dynamic three-dimensional structure through its N-terminal actin-binding domain [17, 18]. In addition to filamentous actin, filamin-A interacts with more than 60 functionally diverse cellular proteins, including trans-membrane receptors, signaling molecules, DNA damage repair proteins. These diverse interactions suggest that filamin-A is a key component of a versatile signaling scaffold complex [15, 17–19]. In this review, we discuss the role of filamin-A in human diseases, with an emphasis on cancer.
Authors' Affiliations
(1)
Department of Radiation Oncology, The Cancer Institute of New Jersey, Robert Wood Johnson Medical School, New Brunswick, USA
(2)
Molecular Pharmacology and Chemistry Program, Memorial Sloan-Kettering Cancer Center, New York, USA
Copyright
© Yue et al.; licensee BioMed Central Ltd. 2013
This article is published under license to BioMed Central Ltd. This is an Open Access article distributed under the terms of the Creative Commons Attribution License (http://creativecommons.org/licenses/by/2.0), which permits unrestricted use, distribution, and reproduction in any medium, provided the original work is properly cited.