Proteomic analysis of mismatch repair-mediated alkylating agent-induced DNA damage response
Cell & Bioscience
2013
3:37
Received: 9 July 2013
Accepted: 26 August 2013
Published: 19 September 2013
Abstract
Background
Mediating DNA damage-induced apoptosis is an important genome-maintenance function of the mismatch repair (MMR) system. Defects in MMR not only cause carcinogenesis, but also render cancer cells highly resistant to chemotherapeutics, including alkylating agents. To understand the mechanisms of MMR-mediated apoptosis and MMR-deficiency-caused drug resistance, we analyze a model alkylating agent (N-methyl-N'-nitro-N-nitrosoguanidine, MNNG)-induced changes in protein phosphorylation and abundance in two cell lines, the MMR-proficient TK6 and its derivative MMR-deficient MT1.
Results
Under an experimental condition that MNNG-induced apoptosis was only observed in MutSα-proficient (TK6), but not in MutSα-deficient (MT1) cells, quantitative analysis of the proteomic data revealed differential expression and phosphorylation of numerous individual proteins and clusters of protein kinase substrates, as well differential activation of response pathways/networks in MNNG-treated TK6 and MT1 cells. Many alterations in TK6 cells are in favor of turning on the apoptotic machinery, while many of those in MT1 cells are to promote cell proliferation and anti-apoptosis.
Conclusions
Our work provides novel molecular insights into the mechanism of MMR-mediated DNA damage-induced apoptosis.
Keywords
MNNG
DNA damage response
MSH6
SILAC-based quantitative mass spectrometry
Background
DNA mismatch repair (MMR) ensures genetic stability by correcting biosynthetic errors, suppressing non-homologous recombination, and mediating DNA damage-induced apoptosis [1–5]. While the first two functions of the MMR system prevent mismatch-derived mutations, the apoptotic function of the system is to initiate programmed cell death in cells with mutagenic and carcinogenic DNA lesions. The latter function has been recognized as an important factor in cancer chemotherapy, because tumor cells defective in MMR are highly resistant to chemotherapeutic drugs, including alkylating agents [6].
A key player in mammalian MMR is the major mismatch recognition protein MutSα, which is composed of MSH2 and MSH6 subunits. In a concerted action with other essential MMR factors that include MutLα, proliferating cell nuclear antigen (PCNA), replication protein A (RPA), exonuclease I, and DNA polymerases, MutSα targets the newly synthesized DNA strand for mismatch removal [2, 7]. Previous studies have revealed that besides mismatch recognition, MutSα also recognizes base pairs that contain a variety of modified or damaged bases, including alkylating adduct O6-methylguanine (O6-MeG) [6, 8, 9]. It has been suggested that recognition of the O6-MeG:T or O6-MeG:C pair by MutSα possibly in complex with MutLα, activates the ATR/ATM signaling network to induce apoptosis, via either the futile cycle mechanism or the direct interaction and signaling mechanism [1, 2, 6, 8, 10]. Many downstream targets, such as p53, Chk1, Chk2, CDC25A, and SMC1, have been shown to play important roles in the MMR-dependent alkylation-induced apoptosis [8, 10–12]. However, the molecular basis of the process, particularly how the DNA damage signal in the nucleus is transmitted to the cytoplasm/mitochondria to initiate apoptosis is unknown.
Using quantitative global proteomics and phosphoproteomics approaches, we have investigated in this study a pair of MMR-proficient and -deficient human lymphoblastoid cell lines, TK6 and MT1, for their responses to the treatment of N-methyl-N′-nitro-N-nitrosoguanidine (MNNG), a widely used model chemical for alkylating agent-induced mutagenesis, carcinogenesis, and cell killing [13, 14]. TK6 and MT1 are two closely-related cell lines with dramatically different susceptibility to MNNG-induced DNA damage. Both cells do not express methylguanine methyl transferase (MGMT), a direct reversal repair enzyme that protects cells from MMNG-induced cytotoxicity by transferring the methyl group from O6-MeG to an internal cysteine of the enzyme, restoring Watson-Crick base pairing at the site of the damage [15]. MT1 cells were derived from MMR-proficient TK6 cells by mutagenesis [16], and are defective in the MSH6 subunit of MutSα, thereby defective in MMR [17, 18]. As a result, MT1 cells are 500-times more resistant to killing by MNNG cytotoxicity than their parental TK6 cells. The differential response of TK6 and MT1 cells to MNNG underscores the critical role played by MMR in alkylating agent-induced apoptosis/DNA damage response (DDR) and makes these cells the ideal subject for this study.
We demonstrate here that TK6 and MT1 cells display significant differences in protein phosphorylation species, stoichiometry and abundance, and in activation of protein kinases and signaling networks in response to MNNG treatment. Generally, MNNG-induced alterations in TK6 cells promote apoptosis, but changes in MT1 cells stimulate cell proliferation. Our data provide significant new insights into the mechanism of MMR-mediated DNA damage-induced apoptosis.
Conclusions
TK6 and MT1 cells are two closely-related cell lines, mainly different in the existence of MSH6 [
17
,
18
]. However, MT1 cells are >500-fold more resistant to MNNG-induced apoptosis than TK6 cells [
16
]. Consistent with these genetic and phenotypic differences, the unbiased proteomics analysis in this study reveals significant differences in the nuclear proteome of TK6 and MT1 cells (Figures
2
and
3
) during their early stage (4-hour) responses to MNNG treatment. Because MNNG not only can react with nucleic acid, it also can react with proteins [
44
], the differential responses in MNNG-treated TK6 and MT1 cells should be considered as the collective response of MNNG-nucleic acid and MNNG-protein interactions. A summary of main differential effects of MNNG on TK6 and MT1 proteome was illustrated in Figure
6
. The key findings of this study include: 1) MNNG-induced phosphophorylation events are more frequent in TK6 than in MT1 cells (Table
1
), suggesting that MSH6 plays an important role in initiating MNNG-induced DDR and apoptosis; 2) MNNG-induced changes (mostly up-regulation) of protein expression/abundance were more frequent in MT1 than in TK6 cells, especially for Translation proteins (Figure
2
C), allowing MT1 to establish an anti-apoptotic response in the absence of MMR function; 3) ATM/ATR, CDK2, Casein kinase II and MAP kinases are predicted to play a role in DDR-associated phosphorylation events in MNNG-treated TK6 cells (Figure
5
B and Additional file
7
: Figure S3); 4) MNNG-treated TK6 cells may undergo RAN/RanGAP1-dependent nucleocytoplasmic transport of proteins, allowing shuttling of mRNAs and apoptotic stimuli between the nucleus and the cytoplasm, leading to initiation of apoptosis. However, it should be emphasized that the conclusions and the model are based on a single time-point "snap shot" of the TK6 and MT1 nuclear and total proteomes, and their confirmation requires additional thorough investigations.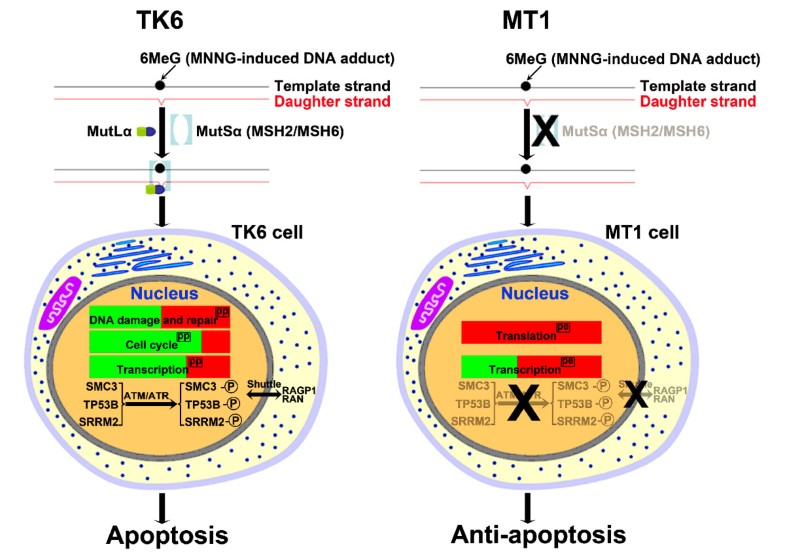 Methods
Cell culture, flow cytometry and DNA fragmentation analysis
TK6 and MT1 cell lines were cultured in RPMI 1640 medium (GIBCO) supplemented with 10% heat-inactivated undialyzed fetal bovine serum (Hyclone), 100 U of penicillin and 100 μg/mL of streptomycin (Invitrogen) in a humidified incubator with 5% CO2 at 37°C.
For flow cytometry analysis, cells were treated or mock-treated with 0.5 μM MNNG and incubated for the indicated time periods. A total of 1.0 × 106 cells were washed with ice-cold PBS and fixed in ice-cold 70% ethanol overnight. The cells were then treated with 100 μg/mL RNase A for 1 h at 37°C and stained with 50 μg/mL propidium iodide for 30 min at 4°C in the dark. Cell cycle analysis was performed using a BECKMAN COULTER EPICS XL flow cytometer and the EXPO32ADC software.
For DNA fragmentation analysis, cells were treated or mock-treated with 0.5 μM MNNG and incubated for the indicated time periods. A total of 5 × 105 cells were washed with ice-cold PBS, centrifuged for 5 min at 400 × g, and resuspended in 40 μL cell lysis buffer (20 mM EDTA, 100 mM Tris, pH8.0 and 0.8% (w/v) SDS). RNase A (2 μL of 1 mg/mL, Fermentas) was added and incubated for 120 min at 37°C, then 10 μL Proteinase K (20 mg/mL, TaKaRa) was added and incubated for at least 90 min at 50°C. Sample was mixed with 10 × DNA loading buffer (TaKaRa), and loaded onto a 2% agarose gel. Electrophoresis was conducted at 2–4 V/cm for approximately 6 h. The DNA was stained with 1 μg/mL ethidium bromide (Sigma) in TAE buffer.
SILAC labeling, MNNG treatment and western blot
Cells were washed twice with RPMI 1640 medium without Arg and Lys (Thermo Scientific Pierce) and reconstituted in RPMI 1640 medium containing either 12C6,14 N4 Arg, 12C6,14 N2 Lys (Sigma) and normal L-proline or 13C6,15 N4 Arg, 13C6,15 N2 Lys (Sigma) and normal L-proline. The media also contain 10% heat inactivated dialyzed fetal bovine serum (Thermo Scientific Pierce), 100 U of penicillin and 100 μg/mL of streptomycin. Cells were cultured in a humidified incubator (5% CO2) at 37°C for ~8 cell doublings. The concentration of Arg and Lys used in SILAC labeling of TK6 and MT1 cell lines was 0.398 mM and 0.798 mM respectively. Adding additional L-proline (200 mg/liter) should reduce arginine to proline conversion [45].
Cells were treated with or without 0.5 μM MNNG for 4 hours, and harvested by centrifugation at 400 g. Cell pellets were washed three times with cold PBS, and lysed for 30 min at 4°C in RIPA buffer (25 mM Tris–HCl pH 7.6, 150 mM NaCl, 1% NP-40, 1% sodium deoxycholate, 0.1% SDS) containing phosphatase inhibitor cocktail (PhosSTOP, Roche Applied Science) and protease inhibitor cocktail (COMPLETE, Roche Applied Science). After centrifugation for 15 minutes at 16000 g, the supernatant was collected and saved as whole cell protein extract.
For the immunoblotting, a small aliquot of proteins from MNNG-treated TK6 and MT1 cells were separated by SDS-PAGE, transferred electrophoretically onto a PVDF membrane (Amersham) and blocked for 1 h with TBST containing 5% nonfat milk. The PVDF membranes were incubated with the primary antibody overnight at 4°C, washed three times with TBST, incubated with a horseradish peroxidase-conjugated secondary antibody for 1 h at room temperature, and then developed with a chemiluminescent reagent (SuperSignal® West Pico Chemiluminescent Substrate, PIERCE). Primary antibodies were rabbit anti-human Phospho-(Ser/Thr) ATM/ATR substrate antibody (Cell Signaling Technology) or rabbit anti-human β-Actin antibody (Cell Signaling Technology).
Nuclear protein extraction
All nuclear-protein-extraction steps were conducted on ice or at 4°C. Cell pellets were re-suspended in 10 volumes of ice-cold buffer A (10 mM Tris–HCl (pH7.4), 5 mM MgCl2, 10 mM NaCl, 1 mM DTT, plus proteinase inhibitor cocktail (Roche), phosphatase inhibitor cocktail (Roche)) and incubated on ice for 20 min. Then ice-cold buffer B (10 mM Tris–HCl (pH7.4), 5 mM MgCl2, 10 mM NaCl, 1 mM DTT, proteinase inhibitor cocktail, phosphatase inhibitor cocktail, 10% NP-40) was added, adjusting the final concentration of NP-40 to 0.5%. After vigorous vortexing on the highest setting for 5 s, the tube was incubated on ice for 1 min, then vortexed for another 5 s. The extract was centrifuged for 5 min at 500 × g, and the supernatant fraction (cytoplasmic extract) removed and saved. The pellet was washed with 5 volumes of ice-cold buffer A to minimize cytoplamic protein contamination, then re-centrifuged for 5 minutes at 500 × g to obtain the nuclei as pellet. The nuclear pellet was resuspended in 10 volumes of freshly prepared buffer C (20 mM HEPES-KOH (pH7.9), 1.5 mM MgCl2, 0.5 M NaCl, 1 mM DTT, 0.2 mM EDTA, 20% (V/V) glycerol, proteinase inhibitor cocktail, phosphatase inhibitor cocktail). The nuclear proteins were solubilized by vortexing 3 times for 15 s at 10 min intervals, after which the extract was centrifuged at 16000 × g for 30 min. The supernatant (nuclear proteins extract) was immediately transferred to a pre-chilled tube. The purity of the nuclear and cytoplasmic protein extracts was evaluated by Western Blot for Histone H3 (as a nuclear protein marker) and GAPDH (as a cytoplasmic protein marker) by using rabbit anti-human GAPDH Antibody (Cell Signaling Technology) and rabbit anti-human Histone H3 Antibody (Cell Signaling Technology) as primary antibodies.
Protein digestion and phosphopeptide enrichment
Proteins were precipitated with 3 volumes 50% acetone/50% ethanol/0.1% acetic acid on ice for 1 h. After centrifugation at 10000 × g for 15 min, the protein pellet was resuspended in 8 M urea/0.2 M Tris, pH 8/4 mM CaCl2. Proteins were reduced with 10 mM DTT for 1 h at 56°C, alkylated with 40 mM iodoacetamide for 30 min at room temperature in the dark. After diluting sample 7-fold, trypsin (Worthington) was added in a 1:50 (trypsin/protein) w/w ratio, and incubated overnight at 37°C.
Tryptic peptides from whole cell or nuclear protein extracts were loaded onto a 2 g Sep-Pak C18 column (Waters), washed twice with 10 mL 1% acetic acid, eluted with 7 mL 80% acetonitrile containing 0.1% acetic acid, lyophilized using a speed-vac, resuspended in 400 μL 1% acetic acid and loaded onto a mini column of 40 μL IMAC resin (prepared as previously described [46, 47]). The IMAC minicolumn was washed twice with 40 μL wash buffer containing 25% acetonitrile, 100 mM NaCl and 0.1% acetic acid, then washed once each with 40 μL 1% acetic acid and 20 μL deionized water, eluted with 120 μL 6% NH4OH, and dried under vacuum. The IMAC column flow-through, which contains mainly non-phosphopeptides, was also collected.
HILIC workflow
Enriched phosphopeptides and non-phosphopeptides were fractionated separately using a TSKgel Amide-80 column (2.0 mm × 150 mm, 5 μm particle size, 200 Å pore size) (TOSOH Bioscience) on a Agilent 1200 system (Agilent Technologies). A 60 min elution gradient was used for phosphopeptide separation with 90% ACN, 0.005% TFA as Buffer A and 0.005% TFA as Buffer B. The gradient elution profile composed of 0%-12% B for 5 min, 12-30% B for 25 min, 30-90% B for 5 min, then maintained at 90% B for 5 min, followed by 10-100% A for 5 min, ending at 100% A for 15 min. The flow rate was 0.15 mL/min. UV absorbance was monitored at 215 nm. A total of 26 0.3 mL fractions were collected. Fractions were dried via vacuum. Non-phosphopeptides were fractionated in essentially the same manner, except that the gradient elution profile was 0%-5% B for 5 min and then 5-30% B for 25 min.
RPLC-ESI-MS/MS
A QSTAR ELITE mass spectrometer (Applied Biosystems) was coupled with an online Eksigent nano MDLC systems utilizing a nanospray ionization source. Peptides were first enriched with a CapTrap column (0.5 mm × 2 mm, MICHROM Bioresources, Inc.) followed by elution into an integrated nanoscale analytical column (MAGIC C18AQ, 100 μm × 150 mm, 3 μm particle size, 200 Å pore size, MICHROM Bioresources, Inc.). Mobile phase A (2% ACN, 0.1% formic acid) and mobile phase B (98% ACN, 0.1% formic acid) were used to establish a 130 min gradient comprised of 5 min 5% B, then 25 min 5-15% B, followed by 55 min 15-40% B, then 15 min 40-80% B, maintained at 80% B for 10 min, then 5 min 80-5% B, finally maintained at 5% B for 15 min. The flow rate was ~300 nL/min. We conducted MS from 400 to 1800 amu, with 1 s time spans. For MS/MS analysis, each scan cycle consisted of one full-scan mass spectrum (with m/z ranging from 400 to 1800 and charge states from 2 to 5) followed by five MS/MS events. Threshold count was set to 30, and the exclusion window was 90 s. Mass tolerance was 50 mDa. Automatic Collision Energy and Automatic MS/MS Accumulation were selected.
Database searching
The raw data collected by QSTAR ELITE were presented by Mascot Daemon (version 2.2.2) (Matrix Science, London, UK) to an in-house MASCOT server (version 2.2) (Matrix Science, London, UK) and Distiller (version 2.2.1.2) (Matrix Science, London, UK). Briefly, peak lists were generated by Distiller and searched against a target/decoy SwissProt human protein database (version 57.7; 20405 sequences) by MASCOT server. Spectra match criteria were as follows: Fixed modification was carbamidomethyl at Cys residue, whereas variable modifications were oxidation at Met residue, and phosphorylation at Ser, Thr or Tyr residues, additionally Arg10 and Lys8 were set as exclusive modifications, which is a useful setting in MASCOT that can be thought of as a choice of fixed modifications to speed up the search and reduce the significance thresholds, and taxonomy was set to "human". Peptide and MS/MS tolerances were 50 ppm and 0.2 Da, respectively. The peptide charges were 2+, 3+, 4+, or 5+, allowing up to two missed cleavages. The significance threshold was p < 0.05.
Quantitation analysis
The rov data obtained from database search were opened by Mascot Distiller for quantitation. For the quantitation analysis, we set Fraction, Correlation and Std. Err at 0.5, 0.9 and 0.2, respectively. The peptide ratios were calculated as weighted average ratios (ion intensity versus ratio) if several spectra for the same peptide were available. Protein ratios were also calculated as the weighted average ratios (ion intensity versus ratio). In a few situations, outliers were removed for more accurate quantitation. The median of all quantitation data from non-phosphopeptides was used to normalize the peptide ratios.
STRING network analysis
Identified proteins (accession number) were presented to STRING 8.2 database (http://string-db.org/) [35] to construct networks. Then networks were extracted and loaded into Cytoscape (version 2.6.3) (http://www.cytoscape.org/) [48] for compilation and visualization. Protein networks identified by STRING consisted of protein IDs (nodes) and protein-protein interactions (edges). Only interactions with a score of 0.400, which represents the default medium confidence level in STRING, were kept.
NetworKIN analysis
In order to predict potential kinases for quantified phosphosites, we used the NetworKIN algorithm which augments motif-based predictions with the network context of kinases and phosphoproteins and can assign a specific kinase to an identified in vivo phosphosite with a 2.5-fold higher accuracy than previous methods such as Scansite and NetphosK [49]. After loading the data to NetworKIN 2.0 (http://networkin.info/version_2_0/newPrediction.php), we obtained sif data which could be rendered with Cytoscape (version 2.6.3). Manual network layout was then performed to display interactions between kinases and phosphosites, using color-coding to indicate fold increase or decrease.
Declarations
Acknowledgements
This work was supported by the National Basic Research Program of China (2007CB914200) and the 111 Project of China (B06018). GML is supported by the National Institute of Health grants CA167181 and GM089684.
Authors' Affiliations
(1)
State Key Laboratory of Virology, College of Life Sciences, Wuhan University, Wuhan, P. R. China
(2)
Graduate Center for Toxicology and Markey Cancer Center, University of Kentucky Medical Center, Lexington, USA
(3)
Wuhan Institute of Biotechnology, Wuhan, P. R. China
Copyright
© Chen et al.; licensee BioMed Central Ltd. 2013
This article is published under license to BioMed Central Ltd. This is an Open Access article distributed under the terms of the Creative Commons Attribution License (http://creativecommons.org/licenses/by/2.0), which permits unrestricted use, distribution, and reproduction in any medium, provided the original work is properly cited.