Isocitrate dehydrogenases in physiology and cancer: biochemical and molecular insight
Cell & Bioscience
2017
7:37
Received: 14 July 2017
Accepted: 1 August 2017
Published: 3 August 2017
Abstract
Isocitrate dehydrogenases play important roles in cellular metabolism and cancer. This review will discuss how the roles of isoforms 1 and 2 in normal cell and cancer metabolism are distinct from those of isoform 3. It will also explain why, unlike 1 and 2, mutations in isoform 3 in tumor are not likely to be driver ones. A model explaining two important features of isocitrate dehydrogenases 1 and 2 mutations, their dominant negative effect and their mutual exclusivity, will be provided. The importance of targeting these mutations and the possibility of augmenting such therapy by targeting other cancer-related pathways will also be discussed.
Keywords
CancerGliomaAMLDominant negative effectMutual exclusivityDriver mutationsIDHMetabolismTargeted therapy
Background
Isocitrate dehydrogenases (IDHs) play important roles in cellular metabolism. The roles of NADP-dependent IDH1 and 2 in normal cell and cancer metabolism are distinct from those of NAD-dependent IDH3. IDH1 and 2 gain of a new function (i.e. neomorphic allele) rather than loss of tumor suppressor one, is suggested by the accumulating evidence. The reverse reaction catalyzed by neomorphic IDH1 and 2 alleles is the one that produces (d) 2-hydroxyglutarate ((D)-2HG). The carcinogenic effect of neomorphic IDH1 and 2 alleles can be attributed to the increased intracellular production of this oncometabolite and its detrimental effect on several key enzymes important in cellular growth and differentiation. This article will discuss why, unlike IDH1 and 2, mutations in IDH3 in tumor are not likely to be driver ones. A model will be provided in this article that explains two important features of neomorphic IDH1 and 2 alleles, their dominant effect and their mutual exclusivity. How IDH1 and 2 neomorphic alleles are common in specific tumor types and the possible mechanism behind that will be discussed, as well. It will also explain why it is likely that, in certain tumors, mutations producing these neomorphic alleles are early events, emphasizing the importance of targeting these driver mutations. The possibility of augmenting the effect of such therapy by targeting other cancer-related pathways will also be addressed.
Genes, protein structure, and function
Five genes encoding human IDHs have been identified. In the cytosol and peroxisomes, IDH1, encoded by IDH1 gene on 2q33.3 catalyzes the oxidative decarboxylation of isocitrate (ICT) to 2-ketoglutarate (2KG) (also called α-ketoglutarate) to generate NADPH from NADP+ and the reverse reaction i.e. reductive carboxylation of 2KG to ICT that oxidizes NADPH to NADP+. IDH2 encoded by IDH2 gene on 15q26.1 catalyzes the same reversible reaction within mitochondria [1]. Both IDH1 and 2 function as homodimers and have high degree of sequence and structural similarity between them [2–6]. Both isoforms are known to play important roles, through their forward oxidative decarboxylation reaction, in cellular defense against oxidative damage [7–9] and reductive synthesis as a source of NADPH and in regulating dioxygenase enzymes function by producing 2KG that these enzymes utilize as a cosubstrate [10]. Their reverse reductive carboxylation reaction is also important in several cellular processes, including lipogenesis and glycolysis regulation, through ICT synthesis that in turn produces citrate via aconitase enzyme [11, 12].
Unlike IDH1 and 2, IDH3 is NAD-dependent and has well-established role in tricarboxylic acid cycle (TCA) where it catalyzes the irreversible conversion of isocitrate to 2KG while reducing NAD+ to NADH [13]. This isoform is principally regulated by substrate availability, positive and negative allosteric effectors. Calcium, ADP, and citrate activate it, whereas ATP, NADH, and NADPH inhibit its activity [14]. The 2KG produced by IDH3 is further metabolized to succinate, and the NADH is used by the electron transport chain (ETC) to generate ATP [15]. It is a heterotetramer with two α-subunits encoded by IDH3A on 15q25.1–q25.2, one β-subunit encoded by IDH3B on 20p13, and one γ-subunit encoded by IDH3G on Xq28. It is believed that α-subunits are catalytic while β- and γ-subunits are regulatory [13, 16, 17].
Their roles in physiology and cancer
Inside the mitochondria, metabolites can be processed for energy generation usually through the production of reduced electron carriers such as NADH in the TCA cycle. The energy of these electrons carried by the reduced carriers will be utilized by mitochondrial ETC to produce ATP. When mitochondrial NADH/NAD ratio is high (e.g. due to high energy level), some mitochondrial metabolites e.g. citrate will be exported to the cytosol to participate in anabolic processes. IDHs play important roles in both the occurrence and the regulation of these two processes.
Due to its large negative free energy change, ICT dehydrogenation to 2KG is one of the irreversible reactions in the TCA cycle. To avoid unnecessary depletion of ICT, this reaction is tightly regulated. It is catalyzed by IDH3 that, in contrast to IDH1 and 2, has extra regulatory subunits. IDH3 is stimulated by substrate availability, e.g. ICT and NAD, and inhibited by ATP and its products i.e. 2KG and NADH [
18
]. When NADH is high due to high mitochondrial energy level and/or 2KG is high due to its high production from glutamate and glutamine (or due to the high mitochondrial NADH/NAD ratio that in turn inhibits 2KG dehydrogenase complex), mitochondrial ICT level will increase due to IDH3 inhibition. Some ICT molecules will be acted upon by IDH2, the NADP+ dependent mitochondrial isoforms, to produce NADPH, which is utilized to reduce glutathione that participates in the defense against reactive oxygen species (ROS) and repair of mitochondrial oxidative damage [
19
,
20
]. The other ICT molecules will be converted back to citrate by the reversible enzyme mitochondrial aconitase. The accumulating citrate will exit to the cytosol where it produces cytosolic acetyl-CoA by citrate lyase enzyme [
21
,
22
] and NADPH by the cytosolic NADP+ dependent IDH1 [
23
]. Both NADPH and acetyl-CoA are important for anabolic pathways including fatty acids (FAs) and cholesterol synthesis, emphasizing the important role of citrate in cellular anabolism (Fig.
1
a) [
24
].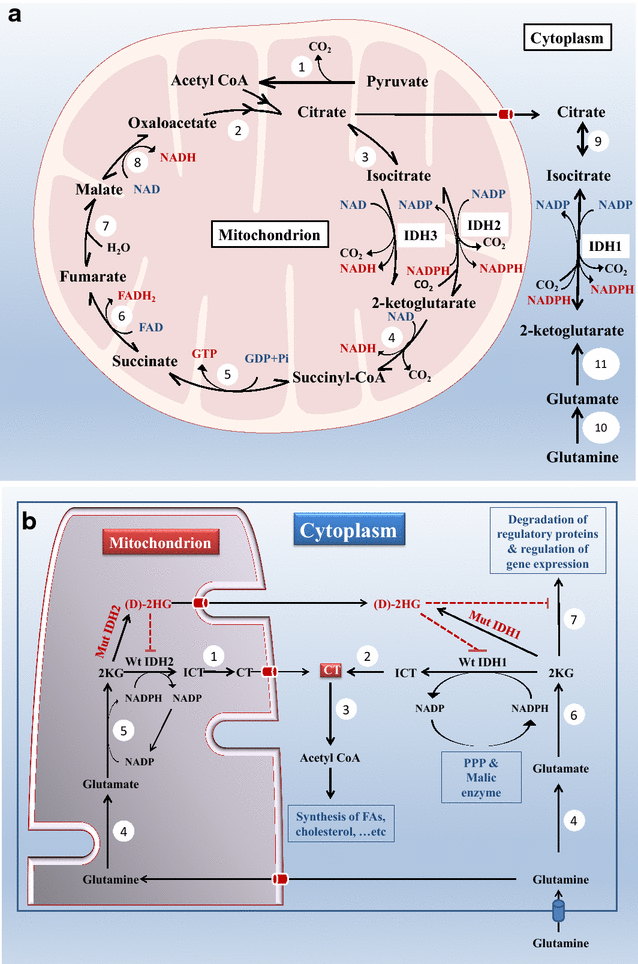 In short; in a normal cell, IDH1 and 2 participate in synthetic pathways when the cellular energy level is high enough to inhibit IDH3 and to shuttle citrate out of mitochondria instead of utilizing it by TCA cycle.
The reverse reductive carboxylation reaction of IDH1 and 2, often overlooked, is as important to the cell as the forward oxidative decarboxylation one. In the reverse reductive carboxylation reaction, citrate is formed from ICT produced within mitochondria by IDH2 and in the cytosol by IDH1 by reducing 2KG and incorporating CO2 in its structure. Mitochondrial transhydrogenase enzymes that catalyze mitochondrial NADH and NADPH interconversion supply the required NADPH needed for this reaction from mitochondrial NADH that would be abundant in high energy level state. In the cytoplasm, NAPH is mainly supplied by pentose phosphate pathway and Malic enzyme (i.e. NADP-dependent malate dehydrogenase) [25, 26]. The directionality of the reactions catalyzed by IDH1 and 2 largely depends on the relative Km values of the forward oxidative decarboxylation and the reverse reductive carboxylation reactions and the relative levels of ICT and 2KG within the cell [27].
Interestingly, in tumor where the anabolic process is maximized (i.e. lipid synthesize, in particular) [28, 29] and where mitochondrial respiration is slowed down either due to respiratory complexes damage or due to relative inadequacy of oxygen supply to the tumor cell that occurs when the tumor outgrows its vascular supply, the high intramitochondrial NADH/NAD ratio will stop TCA cycle [30, 31]. That in turn, will shuttle the accumulating citrate molecules (some of which were produced by the IDH2-catalyzed reductive carboxylation) to the cytoplasm where it acts as an important anabolic molecule for the tumor cell to synthesize the necessary FAs, phosphoglycerides and cholesterol needed for the rapidly dividing cell to synthesize biological membranes [11]. Another known pathway where tumor cells maximize citrate synthesis, is through the excessive utilization of glutamine and glutamate to produce 2KG [32–36], an indirect precursor of citrate through the reductive carboxylation reaction catalyzed by IDH2 within the mitochondria and IDH1 within the cytosol (Fig. 1b) [31, 37–39]. Interestingly, Isotope-labeling experiments on whole cells using uniformly labeled 13C-glutamine as a culture media nutrient demonstrated that the carbons in (D)-2HG (i.e. produced by neomorphic IDH1 and 2 alleles, as will be discussed later) are derived from glutamine, with reasonably high overall pathway flux from glutamine through glutamate and 2KG to (D)-2HG [40].
From what has been mentioned so far, it is clear that both the forward oxidative decarboxylation and reverse reductive carboxylation reactions of IDH1 and 2 are not only important to normal cells, but to cancerous cells, as well. As will be elaborated on below, the reverse reductive carboxylation reaction is more active in certain normal cell types e.g. cells that normally produce high amount of citrate like astrocytes and myeloid cells. If neomorphic IDH1 or 2 was present in such cells, these cells would transform into cancerous ones due to the over production of the oncometabolite (D)-2HG. In such cells, the carcinogenic effect of these neomorphic alleles would be more dramatic and; at least theoretically, therapeutic modalities targeting these neomorphic alleles in these tissue types, would be more effective. Even in a cancerous cell transformed by one of these neomorphic alleles, the forward oxidative decarboxylation reaction catalyzed by the remaining wild-type isoform would still be important for that cell to be able to produce NADPH. In other words, cancerous cell that has neomorphic IDH2, would still need the wild type IDH1 isoform to catalyze the forward oxidative decarboxylation reaction to produce NADPH. The production of the later would still be needed by this cancerous cell to negate its relatively highly produced ROS and for the reductive synthesis of FAs and cholesterol needed by this cancer cell to continue its growth and division. That, as will also be discussed later in this article, explains the mutual exclusivity seen in neomorphic IDH1 and 2 alleles where one tumor cell cannot have both IDH1 and 2 neomorphic alleles.
Mutant isocitrate dehydrogenases in cancer
Conclusions
Due to the structure of IDH3 and the unidirectional feature of its action, mutations in its coding genes would be of inactivating type that would have no cancer transforming potential. On the contrary, heterozygous mutations resulting in substitution of the key active site arginine cause IDH1 R132 and IDH2 R172 to gain a new function. These mutant enzymes lose the ability to catalyze the interconversion between ICT and 2KG. However, due to their newly gained function they produce the oncometabolite (D) 2-HG from 2KG. A model based on the ability of this metabolite to inhibit the Wt allele, explains the dominant negative effect and the mutual exclusivity known for IDH1 R132 and IDH2 R172 mutant alleles. This oncometabolite seem to explain IDH1 R132 and IDH2 R172 carcinogenic effect. It is possible that the more active the cell in converting 2KG to ICT, the more likely IDH1 R132 or IDH2 R172 (depending on the preferential IDH gene expression) mutations are early and driver ones. Based on that; in certain tumors, IDH1 R132 and IDH2 R172 mutations are considered as driver ones, emphasizing the importance of targeting them as a cancer treatment therapy in those tumors. Based on the hypothesis presented in this article; in certain tumors, these driver mutations are early ones and their targeted therapy will theoretically have the most beneficial effect. Preclinical trials have proven the efficacy of mutant IDH1 R132 and IDH2 R172 targeting therapy and combining them with 2KG lowering agents sounds like a feasible subject for future studies.
Abbreviations
AITL:

angioimmunoblastic T cell lymphoma
AML:

acute myeloid leukemia
ccRCC:

clear-cell renal cell carcinoma
(D)-2HG:

(d)-2-hydroxyglutarate
D2HGA2:

type II d-hydroxyglutaric aciduria
D2HGD:

(d)-2-hydroxyglutarate dehydrogenase enzyme
ETC:

electron transport chain
FAs:

fatty acids
FH:

fumarate hydratase
GBM:

glioblastoma multiforme
Hif1α:

hypoxia induced factor 1 alfa
HLRCC:

hereditary leiomyomatosis and renal clear cell cancer
ICT:

isocitrate
IDH:

isocitrate dehydrogenase
(L)-2HG:

(l)-2-hydroxyglutarate
L2HGD:

(l)-2-hydroxyglutarate dehydrogenase enzyme
NK-AML:

normal karyotype acute myeloid leukemia
PARP:

poly (ADP-ribose) polymerase
PHD:

prolyl hydroxylase
PHGDH:

phosphoglycerate dehydrogenase enzyme
SDH:

succinate dehydrogenase
TCA:

tricarboxylic acid cycle
TET2:

ten-eleven-translocation 2
VHL:

Von Hippel–Lindau syndrome
MDS:

myelodysplastic syndrome
MPN:

myeloproliferative neoplasm
Mut:

mutant
Wt:

wild type
2KG:

2-ketoglutarate
Declarations
Authors' information
After achieving his bachelor degree in medicine and surgery, the author was enrolled in several residency and fellowship training programs, including residency in Pathology, Clinical Biochemical Genetics and Clinical Molecular Genetics fellowships. He has been appointed as the chairman of Pathology and Laboratory Medicine Department at King Fahad Specialist Hospital-Dammam, Saudi Arabia. He is also the director of Molecular Diagnostics Laboratory at that hospital. During his career, he held several research related positions nationally and international. He is now the chairman of Research Executive Administration and Clinical Laboratory Collaboration Task Force at his hospital. He is holding several American and Canadian boards in Medical Biochemistry, Clinical Chemistry, Clinical Biochemical Genetics, Clinical Molecular Genetics and Molecular Diagnostics. His interests include, Metabolism, Biochemical Pathways in Physiology and Cancer, Molecular Genetics of Tumors, and Inherited Molecular and Biochemical Disorders.
Acknowledgements
I would like to express my sincere gratitude to all my former advisors for their encouragement, support and guidance.
Competing interests
The author declares that he has no competing interests.
Availability of data and materials
Data sharing is not applicable to this article as no datasets were generated or analyzed during the current study.
Consent for publication
Not applicable.
Ethics approval and consent to participate
Not applicable.
Funding
The author has no funding to declare.
Publisher's Note
Springer Nature remains neutral with regard to jurisdictional claims in published maps and institutional affiliations.
Open AccessThis article is distributed under the terms of the Creative Commons Attribution 4.0 International License (http://creativecommons.org/licenses/by/4.0/), which permits unrestricted use, distribution, and reproduction in any medium, provided you give appropriate credit to the original author(s) and the source, provide a link to the Creative Commons license, and indicate if changes were made. The Creative Commons Public Domain Dedication waiver (http://creativecommons.org/publicdomain/zero/1.0/) applies to the data made available in this article, unless otherwise stated.
Authors' Affiliations
(1)
Department of Pathology and Laboratory Medicine, King Fahad Specialist Hospital, Dammam, Saudi Arabia