Finding of widespread viral and bacterial revolution dsDNA translocation motors distinct from rotation motors by channel chirality and size
Cell & Bioscience
2014
4:30
Received: 14 April 2014
Accepted: 16 May 2014
Published: 1 June 2014
Abstract
Background
Double-stranded DNA translocation is ubiquitous in living systems. Cell mitosis, bacterial binary fission, DNA replication or repair, homologous recombination, Holliday junction resolution, viral genome packaging and cell entry all involve biomotor-driven dsDNA translocation. Previously, biomotors have been primarily classified into linear and rotational motors. We recently discovered a third class of dsDNA translocation motors in Phi29 utilizing revolution mechanism without rotation. Analogically, the Earth rotates around its own axis every 24 hours, but revolves around the Sun every 365 days.
Results
Single-channel DNA translocation conductance assay combined with structure inspections of motor channels on bacteriophages P22, SPP1, HK97, T7, T4, Phi29, and other dsDNA translocation motors such as bacterial FtsK and eukaryotic mimiviruses or vaccinia viruses showed that revolution motor is widespread. The force generation mechanism for revolution motors is elucidated. Revolution motors can be differentiated from rotation motors by their channel size and chirality. Crystal structure inspection revealed that revolution motors commonly exhibit channel diameters larger than 3 nm, while rotation motors that rotate around one of the two separated DNA strands feature a diameter smaller than 2 nm. Phi29 revolution motor translocated double- and tetra-stranded DNA that occupied 32% and 64% of the narrowest channel cross-section, respectively, evidencing that revolution motors exhibit channel diameters significantly wider than the dsDNA. Left-handed oriented channels found in revolution motors drive the right-handed dsDNA via anti-chiral interaction, while right-handed channels observed in rotation motors drive the right-handed dsDNA via parallel threads. Tethering both the motor and the dsDNA distal-end of the revolution motor does not block DNA packaging, indicating that no rotation is required for motors of dsDNA phages, while a small-angle left-handed twist of dsDNA that is aligned with the channel could occur due to the conformational change of the phage motor channels from a left-handed configuration for DNA entry to a right-handed configuration for DNA ejection for host cell infection.
Conclusions
The revolution motor is widespread among biological systems, and can be distinguished from rotation motors by channel size and chirality. The revolution mechanism renders dsDNA void of coiling and torque during translocation of the lengthy helical chromosome, thus resulting in more efficient motor energy conversion.
Keywords
DNA translocaseDsDNA virusesViral DNA packaging motorViral assemblyBacteriophageDNA helicaseRevolution forcePhi29FtsKRecANanomotor
Background
Transportation of dsDNA from one cellular compartment to another is a prevalent process in all living systems. Many members of the ASCE (Additional Strand Catalytic E) superfamily are nanomotors with a hexameric arrangement of subunits that facilitate a wide range of functions, including dsDNA riding, tracking, packaging, and translocation, which are critical to many processes such as DNA repair, replication, recombination, chromosome segregation, transcription, and cellular reorganization [1, 2]. Despite their functional diversity, a common feature of the motors of this family is their ability to convert energy obtained from the binding or hydrolysis of ATP into mechanical energy which results in local/global protein unfolding, complex assembly/disassembly, or grabbing/pushing dsDNA for translocation [1–11]. The hexagonal shape of the motor facilitates bottom-up assembly in nanomachine manufacturing [12–20].
Nanobiomotors have previously been classified into two main categories: linear and rotational motors, which have been clearly documented using single-molecule imaging and X-ray crystallography [
21
–
26
]. During replication, dsDNA viruses translocate their genomic DNA into preformed protein shells (procapsids) [
27
–
33
]. This entropically unfavorable process is accomplished by a nanomotor that uses ATP as an energy source [
34
–
42
]. This dsDNA packaging motor consists of a connector channel and packaging molecules to carry out its activities. For 35 years, it has been popularly believed that DNA packaging in dsDNA viruses involves rotation motors [
43
], which is seemingly supported by the swivel structure in the crystal structures of all connector channels of bacteriophages [
44
–
46
]. However, extensive investigations revealed that the dsDNA packaging motor channels do not rotate during motor actions [
47
–
51
]. For example, the T4 DNA-packaging motor remains active when the motor channel protein is crosslinked to the protein shell [
47
]. Single-molecule imaging further verified that there is no rotation of the channel during packaging [
48
]. These evidences have brought up a puzzle concerning how packaging can involve a rotation motor without any rotating components. In 2010, another question was raised regarding the inverse orientations of the Phi29 motor channel and dsDNA helices [
52
], which further questioned the involvement of rotational motion, since the rotation mechanism of dsDNA as a bolt threading onto a motor channel as a nut requires that the threads of the bolt and the nut have the same directionality. Recently, we have discovered that bacteriophage Phi29 dsDNA packaging motor uses a revolution mechanism without rotation, coiling, or torque forces (Figure
1
) [
9
,
50
,
53
,
54
]. The hexameric ATPase ring exercises a force to push the dsDNA through the dodecamer channel acting as a one-way valve [
9
,
10
,
52
]. Observation of this revolution mechanism establishes a third class of biomotors. This finding resolves many puzzles throughout the history of long-lasting studies on the motor [
9
,
10
,
55
].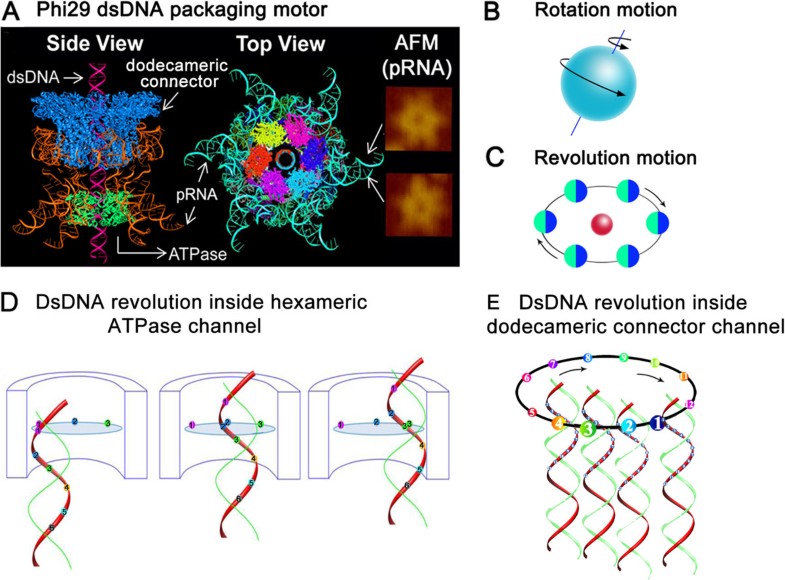 As the translocation of dsDNA is a ubiquitous process in living systems, and motors of all dsDNA bacteriophages share some common structural and functional features, we aimed at determining whether the revolution model discovered in Phi29 can generally be applied to other DNA packaging motors. Cellular counterparts that show a strong similarity to the Phi29 viral DNA packaging motor are the FtsK and SpoIIIE family motors, featuring a hexameric motor that transports DNA and separates the intertwined lengthy genomic dsDNA during cell division or binary fission [56–63]. Unwinding of the supercoiled dsDNA resulting from rotation would lead to expensive energy consumption [64]. The revolution mechanism adopted by biological systems during evolution, resembles an optimized mechanism for translocation of lengthy dsDNA genome without coiling. In this report, we analyze the motor mechanism regarding force generation of Phi29 and compare its structure and mechanism to that of DNA packaging motors of SPP1, P22, T7, HK97, mimivirus, and vaccinia virus, as well as some cellular proteins such as FtsK and SpoIIIE. We also provide a simple way to distinguish between revolution and rotation motors by channel size and chirality.
Conclusion
The revolution mechanism is a common feature shared by many DNA translocation motors. Inspections of structural data from eukaryotic and prokaryotic dsDNA translocases suggest that revolution and rotation motors can be distinguished by measuring the size and chirality of the DNA translocation channel. The channel of revolution motors are larger than 3 nm, while the channels of rotation motors are smaller than 2 nm in diameter. Revolution motors use a left-handed channel to drive the right-handed dsDNA in an anti-chiral arrangement, while some rotation motors use parallel threads with a right-handed channel. Revolution motors hold both strands of the dsDNA within the channel, while some rotation motor hold only one strand of the DNA inside the channel [5, 64, 67, 69–71]. Such revolution motors are void of dsDNA coiling [9, 50, 54, 55]. A small-angle left-handed twist of dsDNA, which is aligned with the channel, takes place due to the conformational shifts of the motor channel from a left-handed configuration for DNA entry to a right-handed configuration for DNA ejection for host cell infection, however, no dsDNA rotation is required for DNA packaging.
Materials and methods
Incorporation of the connector channel into a planar bilayer lipid membrane
The method of inserting the connector with reconstituted liposomes into a lipid bilayer has been reported previously [99]. Briefly, a Teflon film partition (aperture 200 μm in diameter) was used to separate a bilayer lipid membrane chamber (BLM) into cis- and trans- compartments. The aperture was painted two times with 0.5 uL of 3% (w/v) DPhPC n-decane solution, and the two compartments were filled with conducting buffer (1 M NaCl or 1 M KCl, 5 mM HEPES, pH 7.4). After formation of the lipid bilayer on the aperture, the lipid/connector complexes were added to the chamber and allowed to fuse with the planar lipid bilayer.
Construction of tetra-stranded DNA
Five strands were custom ordered from IDT, with the following sequences: Strand-1: 5′-CGC AGA CAT CCT GCC GTA GCC TGA GGC ACA CG-3′; Strand-2: 5′-CGT GTG CCT CAC CGA CCA ATG C-3′; Strand-3: 5′-GCA TTG GTC GGA CTG AAC AGG ACT ACG CTG GC-3′; Strand-4: 5′-GCC AGC GTA GTG GAT GTC TGC G-3′; Strand-5: 5′-TC AGT GGC TAC GGC ACC GT-3′. The five strands were annealed in stoichiometric ratio in TMS (Tris-magnesium saline) buffer (50 mM Tris–HCl, pH8.0, 100 mM NaCl and 10 mM MgCl2) and purified in 12% (w/v) native PAGE, following reported procedures [100].
Single channel conduction assays for each membrane inserted connector channels
A pair of Ag/AgCl electrodes was connected directly into the cis- and trans- compartments to measure the current traces across the lipid bilayer membrane. The current trace was recorded using an Axopatch 200B patch clamp amplifier coupled with the Axon DigiData 1322A analog-digital converter (Axon Instruments) or the BLM workstation (Warner Instruments). All voltages reported were those of the trans- compartment. Data was low band-pass filtered at a frequency of 1 kHz, and acquired at a sampling frequency of 10–100 kHz. The Patch clamp 9.1 software (Axon Instruments) was used to collect the data, and the software Origin Pro 8.0 was used to analyze all the data.
Direct observation of DNA translocation
The stalled packaging intermediates containing biotinylated DNA were prepared by using non-hydrolyzable γ-S-ATP [101]. The intermediates were then immobilized to perfusion chambers built from glass slides and coverslips (Figure 7). The 0.53 mm fluorescent streptavidin microspheres (Bangs Laboratories Inc.) were bound to the protruding, biotinylated DNA end of the intermediates. After restarting the packaging reaction by adding gp16 and ATP [101], an individual DNA-packaging event was observed. Epi-illumination was used. Sequential images with 8-bit digital resolution were recorded at 1 frame per second for 600 s. The pixel resolution of the images was 0.26 mm/pixel.
Authors' information
Gian Marco De-Donatis and Zhengyi Zhao serve as co-first author.
Abbreviations
DsDNA:

Double stranded DNA
ASCE:

Additional strand catalytic E
EMSA:

Electrophoretic mobility shift assays
smFRET:

Single molecule fluorescence resonance energy transfer.
Declarations
Acknowledgements
We would like to thank Dr. Guo-Min Li for his valuable comments. The work was supported by NIH grants R01 EB012135. The content is solely the responsibility of the authors and does not necessarily represent the official views of NIH. Funding to Peixuan Guo's Endowed Chair in Nanobiotechnology position is from the William Fairish Endowment Fund. PG is a cofounder of Kylin Therapeutics, Inc., and Biomotor and RNA Nanotech Development Co. Ltd.
Authors' Affiliations
(1)
Nanobiotechnology Center, University of Kentucky, Lexington, USA
(2)
Department of Pharmaceutical Sciences, College of Pharmacy, University of Kentucky, Lexington, USA
(3)
Markey Cancer Center, University of Kentucky, Lexington, USA
(4)
Institute for Biomarker Research, Medical Diagnostic Laboratories, L.L.C., Hamilton, USA
(5)
William Farish Endowed Chair in Nanobiotechnology, School of Pharmacy, University of Kentucky, Lexington, USA
Copyright
© De-Donatis et al.; licensee BioMed Central Ltd. 2014
This article is published under license to BioMed Central Ltd. This is an Open Access article distributed under the terms of the Creative Commons Attribution License (http://creativecommons.org/licenses/by/4.0), which permits unrestricted use, distribution, and reproduction in any medium, provided the original work is properly credited. The Creative Commons Public Domain Dedication waiver (http://creativecommons.org/publicdomain/zero/1.0/) applies to the data made available in this article, unless otherwise stated.