Regulation of mitochondrial functions by protein phosphorylation and dephosphorylation
Cell & Bioscience
2016
6:25
Received: 4 March 2016
Accepted: 1 April 2016
Published: 14 April 2016
Abstract
The mitochondria are double membrane-bound organelles found in most eukaryotic cells. They generate most of the cell's energy supply of adenosine triphosphate (ATP). Protein phosphorylation and dephosphorylation are critical mechanisms in the regulation of cell signaling networks and are essential for almost all the cellular functions. For many decades, mitochondria were considered autonomous organelles merely functioning to generate energy for cells to survive and proliferate, and were thought to be independent of the cellular signaling networks. Consequently, phosphorylation and dephosphorylation processes of mitochondrial kinases and phosphatases were largely neglected. However, evidence accumulated in recent years on mitochondria-localized kinases/phosphatases has changed this longstanding view. Mitochondria are increasingly recognized as a hub for cell signaling, and many kinases and phosphatases have been reported to localize in mitochondria and play important functions. However, the strength of the evidence on mitochondrial localization and the activities of the reported kinases and phosphatases vary greatly, and the detailed mechanisms on how these kinases/phosphatases translocate to mitochondria, their subsequent function, and the physiological and pathological implications of their localization are still poorly understood. Here, we provide an updated perspective on the recent advancement in this area, with an emphasis on the implications of mitochondrial kinases/phosphatases in cancer and several other diseases.
Keywords
Mitochondria
Kinase
Phosphatase
Phosphorylation
Metabolism
Background
The mitochondria are double membrane-bound organelles found in most eukaryotic cells. They generate most of the cell's energy supply of adenosine triphosphate (ATP). Protein phosphorylation/dephosphorylation is a crucial regulatory system of signal transduction which controls many aspects of cellular functions. It can greatly impact the properties of a protein's enzymatic activity, structure, subcellular localization and stability. Phosphorylation, accomplished via a kinase action, and its reverse-de-phosphorylation via a phosphatase are essential switching-on and -off mechanisms in cell signaling. Many kinases and phosphatases have been well-documented to play roles in the cell primarily outside mitochondria. Although the function and mechanisms of translocation to mitochondria are not well understood, the evolution of imaging and molecular techniques has allowed the discovery that an increasing number of kinases and phophatases localize to mitochondria. The importance of phosphorylation/dephosphorylation in the governing of mitochondrial processes is supported by recent evidence that mitochondria contain many protein kinases, phosphatases, and associated proteins.
The aim of this review is to provide an updated perspective on the kinases and phosphatases localized to mitochondria. We describe here kinases and phosphatases that associate with mitochondria, their function within mitochondria, identified thus far, and the possible physiological or pathological implications of their mitochondrial localization.
Kinases localized in mitochondria
Phosphatases translocate into mitochondria
Protein phosphatases
MKP1
MAP Kinase Phosphatases (MKPs) are dual specificity phosphatases which dephosphorylate both pSer/pThr and pTyr. MKP1 is localized in the nucleus through a LXXLL motif and appears to be confined to the dephosphorylation of nuclear MAPKs [141]. However, recent study found that MKP1 translocates to mitochondria after nerve growth factor treatment [142]. This result appears reasonable given that its substrates, and MAPKs, are also localized in mitochondria.
Wang et al. found that, in malignant samples, MKP1 is increased five fold over non-malignant samples [143]. This indicates that therapeutic suppression of MKP1 action may allow for expression of pro-apoptotic signaling of JNK in malignant cells. MKP1 is highly expressed in various human tumors, including non-small-cell lung cancer (NSCLC), bladder, ovarian, breast, osteosarcoma and prostate cancers [144–146]. They also found that MKP1 plays a critical part in the pathology of NSCLC, both in tumor growth and in response to treatment with cisplatin [146]. Recent study demonstrated that interference of MKP1 actions led to diminished invasion potential, tumor growth, and metastasis in mice [147].
A role for MKP1 in modulation of innate immune responses is strongly supported by several recent papers using models of endotoxic shock, anaphylaxis and arthritis. Mice deficient in MKP1 were hypersensitive to endotoxic shock; this was associated with prolonged activation of MAPKs, and enhanced production of TNF-α, IL-6, and IL-10 [148–150]. Moreover, it has been found that the absence of MKP1 markedly exacerbates disease development in mouse model of rheumatoid arthritis (RA). Overall, MKP1 controls dephosphorylation of MAPKs, but it is not clear whether this is the case for mitochondrial MAPKs and whether MKP1 is associated with human diseases due to mitochondrial MKP1 function.
Shp2
Src homology 2 domain-containing phosphatase 2 (Shp2) is ubiquitously expressed and contains two N-terminal SH2 domains along with a C-terminal protein tyrosine phosphatase domain. Shp2 was primarily located inside the mitochondria related to cristae and the intercristal space [16, 151]. Recent study also found that sepsis induced Shp2 mitochondrial localization and expression [152]. Mutations of Shp2 give rise to many distinct human diseases: Germ line Shp2 mutations result in Noonan Syndrome (NS), one of the most common autosomal dominant disorders, and LEOPARD Syndrome (LS), known, as its acronym reminds us, for its major manifestations: multiple Lentigines, Electrocardiographic aberrations, Ocular hypertelorism, Pulmonary stenosis, Abnormalities of genitalia, Retardation of growth, and sensorineural Deafness [153, 154]. The distinct pathogenic routes of NS and LS are driven by different Shp2 mutations: NS-associated Shp2 mutations typically alter residues at the interface of N-SH2 and PTP domains [155], leading to increased enzymatic activity and RAS/ERK activation. LS mutations impact residues of the PTP domain, resulting in dramatic reduction of catalytic activity along with reduced activation of RAS/ERK [156].
Somatic Shp2 mutations are found in ∼35 % of patients with sporadic juvenile myelomonocytic leukemia (JMML), a clonal pediatric myeloproliferative disorder (MPD) featuring the amplified expansion and tissue infiltration of myeloid cells, along with macrocytic anemia and persisting fetal hemoglobinemia [157, 158]. LS patients often undergo hypertrophic cardiomyopathy; in addition they may see an elevated potential for neuroblastoma and AML [159, 160]. Although shp2 expression and activity is closely associated with several diseases, connection between mitochondrial shp2 and disease progression has not been well established.
PTPs
Several protein tyrosine phosphases (PTPs) such as PTPD1, PTP1B, and PTPMT1 has been reported as mitochondrial localized PTPs. PTPD1 is localized to outer membrane of mitochondria by binding to AKAP121 (or spliced isoform AKAP84) and increase a magnitute of EGF stimulated signaling [13]. In addition, PTPD1 binds to Src and activate Src, enhancing EGF-dependent mitogen signaling, enhancing oxidative phosphorylation and mitochondrial membrane potential [12]. PTP1B also localizes to mitochondria and enhances Src mediated mitochondrial oxidative phosphorylation [161]. Dual phosphatase PTPMT1 (PTP localized to the mitochondrion 1) has N-terminal mitochondrial localization signal sequence and is found in the matrix face. Knock-down of PTPMT1 alters mitochondrial phosphoprotein profile and markedly enhances ATP production [162]. This study clearly demonstrated the importance of protein phosphorylation/dephosphorylation switch in regulating mitochondrial function.
Lipid phosphatase
PTEN
Phosphatase and tensin homolog deleted on chromosome 10 (PTEN) is a well-known lipid phosphatase. Early studies proposed that PTEN localized exclusively to the cytoplasm and was able to transiently associate with the plasma membrane depending on the local PIP2 and PIP3 concentrations [163]. However, PTEN has recently been shown to localize to specialized subcellular compartments, such as the nucleus and the nucleolus, the mitochondria and the endoplasmic reticulum. Zhu et al. observed that a gradual buildup of PTEN in mitochondria occurred after induction of apoptosis, which was accompanied by the translocation of Bax to mitochondria [164]. Further, Zu et al. revealed that ischemia/reperfusion (I/R) induces mitochondrial localization of PTEN in the myocardium. Moreover, ischemic preconditioning attenuates mitochondrial localization of PTEN post-I/R, possibly blocking the translocation of Bax to the mitochondria, and leading to improved cell viability [165]. Liang et al. characterized an N-terminally extended form of PTEN (named PTENα) that localizes to the cytoplasm and mitochondria, and induces cytochrome c oxidase activity and ATP generation in mitochondria [166]. This evidence showed that PTEN could exist in mitochondria, playing a crucial role in cellular functions such as apoptosis. However, whether this function of PTEN depends on its lipid or protein phosphatase activities and what are the substrates in mitochondria are still not clear.
Molecular machinery for protein import into mitochondria
The majority of mitochondrial proteins are encoded in the nucleus, synthesized in the cytosol, and then delivered into their proper organelle. These mitochondrial proteins are imported into one of four mitochondrial compartments: outer membrane, intermembrane space, inner membrane, and matrix (Fig.
1
). Each compartment contains translocases, which interact with precursor proteins to regulate their transport. The major molecular machinery which translocates proteins across the mitochondrial outer membrane is TOM (translocase of the outer membrane of mitochondria) complex. TOM comprises numerous integral membrane protein components: receptor subunits including Tom70 and Tom20, and core translocase subunits including Tom5, Tom6, Tom7, Tom22, and Tom40 [
167
,
168
]. Upon transiting the channel of the TOM complex, substrate proteins may interact with one of three distinct machineries: translocase of inner mitochondrial membrane (TIM) complex 23, Tim9-Tim10 chaperone complex, and mitochondrial intermembrane space assembly machinery (MIA). The classic mitochondrial protein import pathway involves N-terminal presequences on the precursor proteins. These proteins, following passage through the TOM complex, are directed to TIM23 complex and TIM23 bound presequence translocase-associated motor (PAM) which completes pre-protein translocation into the matrix. Following this, mitochondrial processing peptidases remove the presequences, and the proteins are folded to their native conformations. However, many mitochondrial precursor proteins are translated without cleavable presequences. These proteins also can be imported into mitochondria. The precursors of outer membrane beta-barrel proteins are transported, via the Tim9-Tim10 chaperone complex, to the sorting and assembly machinery (SAM) complex of the outer membrane [
169
]. Spanning proteins of the inner membrane also interact with the Tim9-Tim10 chaperone complex, after which they are inserted into the inner membrane by the TIM22 complex [
170
]. Several proteins of the intermembrane space contain cysteine motifs and are imported and oxidized by MIA [
171
].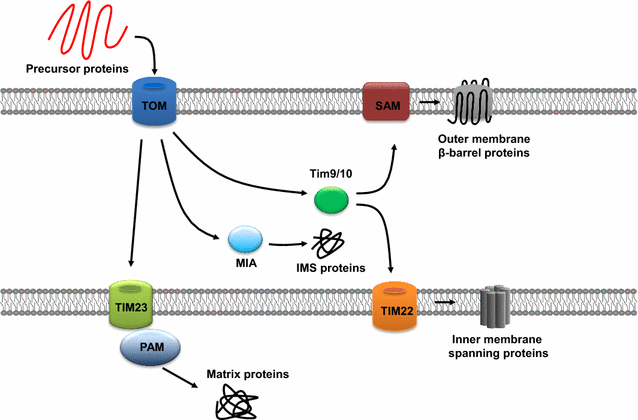 As far, the detailed information of the mechanism of translocation of the kinases and phosphatases to mitochondria are elusive. The majority of the reported mitochondrial localized kinases/phosphatases lack typical mitochondrial localization signal. This raises three possibilities. First, it does not need a typical mitochondrial localization signal to be localized in mitochondria; second, there are hidden undiscovered mitochondrial localization signal; third, it is passively transported to mitochondria by a cargo carrier. Since it has been shown that mitochondrial kinases/phosphatases play important roles in regulating various cellular functions, more investigations on the mechanism of the importation are definitely needed.
Concluding remarks and future directions
This review summarizes recent findings concerning mitochondrial localization of kinases and phosphatases, recaps our knowledge on their function to cellular domains beyond those commonly cited in textbooks (Table
1
). Over the past many years, the role of mitochondria has been underestimated and understudied. Evidence revealed by recent advanced laboratory techniques such as tandem mass spectrometry, confocal imaging, and electron microscopy, reevaluate mitochondria as a crucial platform for cellular signaling beyond just energy production in the cell. Mitochondria have diverse reported phosphoproteins, kinases and phosphatases, as we have described here. Mounting evidence support that phosphorylation or dephosphorylation of mitochondrial proteins influences mitochondrial function, including metabolism of sugar, amino acids, and lipids; oxidative phosphorylation, antioxidant protein expression, mitochondrial fission and fusion, and decision for survival/death. Emerging evidence has shown that mitochondrial kinases/phosphatases regulate a variety of key regulatory processes in diverse mammalian tissue [
172
–
175
]. Intriguingly, a recent phosphoproteome analysis of functional mitochondria showed there are 155 phosphorylation sites in 77 mitochondrial proteins including inner membrane ETS and enzymes in resting human muscle [
176
]. Although the detailed functions of these kinases/phosphatases in mitochondria are still unclear, there is evidence that the translocated mitochondrial kinases/phosphatases may be seen in mitochondria in several mitochondrial compartments: Those in the matrix likely regulate enzymes of the TCA cycle, amino acid metabolism, free-radical balance, ETC activity, and ATP synthesis (Fig.
2
). Those in the outer membrane regulate transport, cell death-related proteins, and mitochondrial fission/fusion. Those at the inner membrane regulate free-radical balance, nucleotide transport, ETC activity and complex assembly.
Table 1
Mitochondrial kinases/phosphatases
Proteins

Evidences of mitochondria localization

Functions in mitochondria

References

Abl

Co-IP, WB, IF

Apoptosis

Src

WB, IP, Co-IP, Kinase array

Cytochrome C oxidase, ROS production and respiration

EGFR

WB, IP, IF

Apoptosis, respiration and cellular metabolism

Akt

WB, IP, Co-IP, IF

Cell survival and regulation of respiration

JNK

WB, IF

Apoptosis, neuro inflammation and mitochondria biogenesis

Possibly regulation of signal transduction

ERK1/2

WB, IF

Respiration, ATP production, membrane potential, mitophagy, autophagic cell death, MPTP and steroidogenesis

P38 MAPK

WB, IF, GST

Apoptosis

GSK3β

WB, Co-IP

MPTP and energy metabolism

PKA

WB, IF, DEAE, GST, in vitro kinase assay

Respiration, mitochondria division and steroidogenesis

PKC

WB, IP, IF

Respiration, K + channel and apoptosis

PINK1

WB, IF

Mitochondria trafficking at outer membrane. Pathogenesis of PD. Localized translation of respiration chain complex

MKP1

WB, IF

Apoptosis

[142]

Shp2

WB, Co-IP

ROS production

PTPs

WB, Co-IP, IF

ATP production

PTEN

WB, IF

Apoptosis and ATP production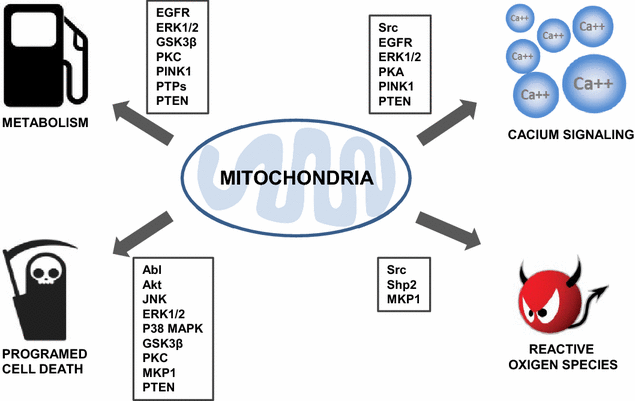 In summary, the research community has accumulated a large amount of evidence to support that phosphorylation and dephosphorylation of mitochondrial proteins influence mitochondrial function. However, the strength of the evidence on mitochondrial localization and their activities of the reported kinases and phosphatases vary greatly, and the detailed mechanisms on how these kinases/phosphatases translocate to mitochondria and the physiological and pathological roles related to their mitochondrial localization are still poorly understood. Due to increasing evidence supporting the important functions of mitochondrial kinases/phosphatases, mitochondrial biology is due for more intense exploration in this area.
Abbreviations
ER:

endoplasmic reticulum
AD:

Alzheimer's disease
CML:

chronic myeloid leukemia
BCR:

breakpoint cluster region
AML:

acute promyelocytic leukemia
PKA:

protein kinase A
AKAP121:

a kinase anchor proteins 121
PTPD1:

protein tyrosine phosphatase D1
ETC:

mitochondrial electron transport chain
EGFRs:

epidermal growth factor receptors
CoxII:

cytochrome c oxidase subunit II
3-MA:

3-methyladenine
SH:

secondary hyper-parathyroidism
Akt:

protein kinase B
LIF:

leukemia inhibitory factor
MPTP:

mitochondrial permeability transition pore
JNK:

c-Jun N-terminal kinase
ERK1/2:

extracellular signal-regulated kinase 1 and 2
p38 MAPKs:

p38 mitogen-activated protein kinases
GSK:

glycogen synthase kinase ANT: adenine nucleotide translocator
HD:

Huntington's disease
Drp1:

dynamin-related protein 1
CREB:

cAMP response element-binding protein
DS:

down syndrome
Hsps:

heat shock proteins
PKC:

protein kinase C
mitoKATP :

mitochondrial ATP-sensitive K + channel
PINK1:

PTEN-induced kinase 1
PD:

Parkinson's disease
PARL:

presenilin-associated rhomboid-like serine protease
MKPs:

MAP Kinase Phosphatases
NSCLC:

non-small-cell lung cancer
RA:

rheumatoid arthritis
Shp2:

Src homology 2 domain-containing phosphatase 2
NS:

Noonan syndrome
LS:

Leopard syndrome
JMML:

juvenile myelomonocytic leukemia
MPD:

myeloproliferative disorder
PTP:

protein tyrosine phosphases
PTEN:

phosphatase and tensin homolog deleted on chromosome 10
I/R:

ischemia/reperfusion
TOM:

translocase of the outer membrane of mitochondria
TIM:

translocase of inner mitochondrial membrane
MIA:

mitochondrial intermembrane space assembly machinery
PAM:

presequence translocase-associated motor
SAM:

sorting and assembly machinery
Declarations
Authors' contributions
SL and TM designed and wrote the manuscript, SL and KS collected and analyzed data; SL, STL, RT, JL and MT revised the manuscript. All authors read and approved the final manuscript.
Acknowledgements
We are Grateful to the support from The Vincent F. Kilborn, Jr. Cancer Research Foundation, National Institutes of Health Grants R01CA149646 (M. Tan), and American heart association scientist development Grant 12SDG10970000 (S.T. Lim).
Competing interests
The authors declare that they have no competing interests.
Open AccessThis article is distributed under the terms of the Creative Commons Attribution 4.0 International License (http://creativecommons.org/licenses/by/4.0/), which permits unrestricted use, distribution, and reproduction in any medium, provided you give appropriate credit to the original author(s) and the source, provide a link to the Creative Commons license, and indicate if changes were made. The Creative Commons Public Domain Dedication waiver (http://creativecommons.org/publicdomain/zero/1.0/) applies to the data made available in this article, unless otherwise stated.
Authors' Affiliations
(1)
Center for Cell Death and Metabolism, Mitchell Cancer Institute, University of South Alabama, Mobile, USA
(2)
Department of Biochemistry and Molecular Biology, College of Medicine, University of South Alabama, Mobile, USA
(3)
Mitochondria and Metabolism Center, Department of Anesthesiology and Pain Medicine, University of Washington, Seattle, USA
(4)
Department of Biochemistry and Molecular Biology, University of Florida College of Medicine, Gainesville, USA