NF-κB in inflammation and renal diseases
Cell & Bioscience
2015
5:63
Received: 7 October 2015
Accepted: 9 November 2015
Published: 16 November 2015
Abstract
Nuclear factor κB (NF-κB) is a family of inducible transcription factors that plays a vital role in different aspects of immune responses. NF-κB is normally sequestered in the cytoplasm as inactive complexes via physical association with inhibitory proteins termed IκBs. In response to immune and stress stimuli, NF-κB members become activated via two major signaling pathways, the canonical and noncanonical pathways, and move to the nucleus to exert transcriptional functions. NF-κB is vital for normal immune responses against infections, but deregulated NF-κB activation is a major cause of inflammatory diseases. Accumulated studies suggest the involvement of NF-κB in the pathogenesis of renal inflammation caused by infection, injury, or autoimmune factors. In this review, we discuss the current understanding regarding the activation and function of NF-κB in different types of kidney diseases.
Keywords
NF-κB
Inflammation
Renal diseases
Nephritis
IgA nephropathy
Background
Nuclear factor κB (NF-κB) was initially discovered as a B cell nuclear protein binding to the κ enhancer of the immunoglobulin κ light chain gene [
1
,
2
]. It subsequently became clear that NF-κB is a ubiquitously expressed transcription factor that mediates signal-induced expression of numerous genes involved in different biological processes, including immune responses, inflammation, cell growth and survival [
3
,
4
]. Mammalian NF-κB represents a family of structurally related proteins, including RelA (also called p65), RelB, c-Rel, p50 (also called NF-κB1), and p52 (also called NF-κB2), which share extensive homology in a region known as Rel homology domain (Fig.
1
). Through this domain, the different NF-κB members interact to form various homo- and hetero-dimers and bind to κB sequence elements present in the promoter or enhancer regions of target genes [
4
]. Each of the Rel proteins (RelA, RelB, c-Rel) contains a C-terminal transactivation domain, required for inducing target gene transcription. p50 and p52 lack a transactivation domain and functions to modulate the DNA-binding activity of NF-κB by forming Rel/p50 and Rel/p52 heterodimers. The homodimers of p50 and p52 are transcriptional repressors that play an important role to prevent aberrant expression of NF-κB target genes, including those involved in inflammation [
5
–
8
]. However, the p50 and p52 homodimers may also acquire transactivation function by associating with non-Rel coactivator proteins [
9
,
10
].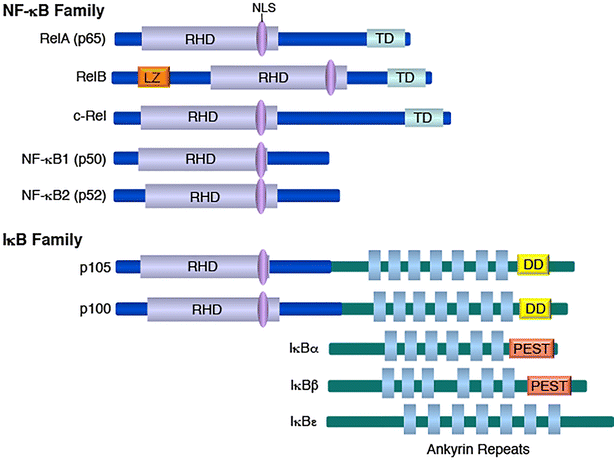 NF-κB dimers are normally sequestered in the cytoplasm as inactive complexes via physical interaction with inhibitory proteins termed IκBs (Fig. 1). A hallmark of IκBs is the presence of an ankyrin-repeat domain, which is required for interacting with NF-κB and inhibiting the nuclear translocation and DNA binding activity of NF-κB dimers. The most extensively studied member of the IκB family is IκBα, which is vital for controlling the function of the prototypical NF-κB dimer, RelA/p50 [11]. Several other IκB molecules have been characterized, including IκBβ, IκBε, and several atypical IκB proteins [3, 4]. The IκB family also includes p105 and p100, precursor proteins of NF-κB1 and NF-κB2, respectively [12]. These precursor proteins contain, in their C-terminal portion, an IκB-like structure and, thus, function as inhibitors of NF-κB, belonging to the IκB family (Fig. 1). Generation of mature NF-κB1 (p50) and NF-κB2 (p52) involves proteasome-mediated degradation of the IκB-like sequence of p105 and p100. Thus, this so-called processing of p105 and p100 not only generate mature NF-κB1 and NF-κB2 but also disrupts the IκB-like function of these NF-κB precursor proteins [12–14].
The in vivo functions of NF-κB members have been extensively studied by gene-targeting approaches in mice. Despite their structural homology and DNA-binding similarities, the different NF-κB members have both overlapping and different functions in vivo [15]. Similarly, gene-targeting studies have revealed different functions of the IκB family members. These findings highlight the complexity of this transcription factor system.
Concluding remarks
NF-κB has been well established as a pivotal mediator of inflammation, although its role in mediating inflammation in specific organs is less well understood. Nevertheless, accumulating studies suggest the involvement of NF-κB in the pathogenesis of renal inflammatory diseases. NF-κB is activated in both human patients with kidney diseases and animal models of renal inflammation and injury. NF-κB appears to mediate renal inflammation in different cell types, including renal cells, innate immune cells, and lymphocytes. It is thus clear that targeting NF-κB signaling pathway represents an attractive therapeutic approach in renal disease treatment. However, global inhibition of NF-κB may cause severe side effect, since NF-κB is required for normal immune responses and cell survival. Understanding the mechanism that underlies pathological activation of NF-κB in renal diseases is crucial for designing more specific and effective therapeutic agents.
Abbreviations
NF-κB:

nuclear factor kappa B
IKK:

IκB kinase
NEMO:

NF-κB essential modulator
TAK1:

TGFβ-activated kinase 1
MAP3K:

MAP kinase
K63:

lysine 63
HOIL-1:

heme-oxidized IRP2 ubiquitin ligase-1
HOIP:

HOIL-1-interacting protein
SHARPIN:

SHANK-associated RH domain-interacting protein
TNFR:

TNF receptor
NIK:

NF-κB inducing kinase
LTbR:

lymphotoxin beta receptor
BAFF:

B cell-activating factor belonging to the TNF family
BAFFR:

BAFF receptor
RANK:

receptor activator of nuclear factor-kappaB
TWEAK:

tumor necrosis factor-related weak inducer of apoptosis
PAMP:

pathogen-associated molecular pattern
DAMP:

damage-associated molecular pattern
PRR:

pattern-recognition receptor
TLR:

toll-like receptor
RLR:

RIG-I like receptor
NLR:

NOD-like receptor
CLR:

C-type lectin like receptor
Th:

T helper
Tfh:

T follicular
Treg:

T regulatory
IFNγ:

interferon gamma
SLE:

systemic lupus erythematosus
siRNA:

small interfering RNA
PDTC:

pyrrolidine dithio-carbamate ammonium
ABIN1:

A20-binding inhibitor of NF-κB1
Fn14:

fibroblast growth factor-inducible 14
AKI:

acute kidney injury
Declarations
Authors' contributions
HZ and SCS co-wrote this review article. Both authors read and approved the final manuscript.
Acknowledgements
Work in the laboratory of SCS is supported by grants from the US National Institutes of Health (AI057555, AI064639, GM84459, AI104519) and from the Cancer Prevention and Research Institute of Texas (RP140244, RP150235).
Competing interests
The authors declare that they have no competing interests.
Open AccessThis article is distributed under the terms of the Creative Commons Attribution 4.0 International License (http://creativecommons.org/licenses/by/4.0/), which permits unrestricted use, distribution, and reproduction in any medium, provided you give appropriate credit to the original author(s) and the source, provide a link to the Creative Commons license, and indicate if changes were made. The Creative Commons Public Domain Dedication waiver (http://creativecommons.org/publicdomain/zero/1.0/) applies to the data made available in this article, unless otherwise stated.
Authors' Affiliations
(1)
Department of Nephrology, Affiliated Hospital of Hebei University, Baoding, China
(2)
Department of Immunology, The University of Texas MD Anderson Cancer Center, Houston, USA
(3)
The University of Texas Graduate School of Biomedical Sciences at Houston, Houston, USA