Exogenous hydrogen sulfide restores cardioprotection of ischemic post-conditioning via inhibition of mPTP opening in the aging cardiomyocytes
Cell & Bioscience
2015
5:43
Received: 16 April 2015
Accepted: 20 July 2015
Published: 30 July 2015
Abstract
The physiological and pathological roles of hydrogen sulfide (H2S) in the regulation of cardiovascular functions have been recognized. H2S protects against the hypoxia/reoxygenation (H/R)-induced injury and apoptosis of cardiomyocytes, and ischemic post-conditioning (PC) plays an important role in cardioprotection from H/R injury in neonatal cardiomyocytes but not in aging cardiomyocytes. Whether H2S is involved in the recovery of PC-induced cardioprotection in aging cardiomyocytes is unclear. In the present study, we found that both H/R and PC decreased cystathionine-γ-lyase (CSE) expression and the production rate of H2S. Supplementation of NaHS protected against H/R-induced apoptosis, the expression of cleaved caspase-3 and cleaved caspase-9, the release of cytochrome c (Cyt c), and mPTP opening. The addition of NaHS also counteracted the reduction of cell viability caused by H/R and increased the phosphorylation of ERK1/2, PI3K, Akt, GSK-3β and mitochondrial membrane potential. Additionally, NaHS increased Bcl-2 expression, promoted PKC-ε translocation to the cell membrane, and activated mitochondrial ATP-sensitive K channels (mitoKATP). PC alone did not provide cardioprotection in H/R-treated aging cardiomyocytes, which was significantly restored by the supplementation of NaHS. In conclusion, our results suggest that exogenous H2S restores PC-induced cardioprotection via the inhibition of mPTP opening by the activation of the ERK1/2-GSK-3β, PI3K-Akt-GSK-3β and PKC-ε-mitoKATP pathways in aging cardiomyocytes. These findings provide a novel target for the treatment of aging ischemic cardiomyopathy.
Keywords
Hydrogen sulfide
Post-conditioning
Mitochondrial permeability transition pore
Aging cardiomyocytes
Background
Myocardial ischemia (hypoxia)/reperfusion (reoxygenation) causes cardiomyocyte injury, including cardiomyocyte apoptosis and necrosis. Free radical generation, calcium overload and the adhesion of leukocytes are the main mechanisms of ischemia/reperfusion (I/R) injury. In 1986, Murry et al. first reported that ischemic pre-conditioning (IPC) plays an important cardioprotective role against ischemia-induced injuries [1, 2]. However, IPC must be applied before the ischemic event, which is unpredictable, and is impractical in the clinical setting of acute myocardial infarction [3]. According to a similar regimen of brief periods of ischemia applied just after, instead of just before, sustained ischemia was shown to be as protective as preconditioning. In 2003, Zhao et al. [4] first proposed the concept of ischemic post-conditioning (PC). PC is defined as repetitive cycles of briefly interrupted reperfusion applied at the onset of establishing reflow and has been shown to significantly improve outcome following an episode of ischemia [4]. The main theories of PC-induced protection are the preservation of mitochondrial integrity via regulation of the mitochondrial permeability transition pore (mPTP) [2]. Inhibition of mPTP opening is considered to be the final step in a complex series of cellular signalling events preventing cell death [2]. It is thought that PC activates a signal transduction pathway involving the pro-survival kinases phosphatidylinositol-3-OH kinase (P13K) and protein kinase B (Akt) and the p42/p44 extracellular signal-regulated kinases (ERK1/2), and it has been termed the reperfusion injury salvage kinase (RISK) pathway [5–9]. Meanwhile, PC also activates protein kinase C (PKC)-mitochondrial ATP-sensitive potassium (mitoKATP) channels (PKC-mitoKATP pathway) [5, 9–11]. The RISK and PKC-mitoKATP pathways terminate with the inhibition of mPTP opening at reperfusion, thus affording cardioprotection in PC [2, 12].
The degeneration, decrease of autophagic capacity and mitochondrial function (mtDNA mutation), increase of oxidative stress and reduced production of endogenous protective substances in ageing cardiomyocytes, leads to a weakening or disappearance of sensitivity of aging cardiomyocytes to PC [13, 14]. Aging hearts are also resistant to the powerful endogenous protections provided by PC. In other words, PC loses its myocardial protective effect in aging hearts [15].
Hydrogen sulfide (H2S) is a highly diffusible gasotransmitter that influences cellular and organ functions through a number of different mechanisms [16]. Endogenous production of H2S is mainly catalysed by cystathionine β-synthase (CBS), cystathionine-γ-lyase (CSE) and 3-mercaptosulphurtransferase (3-MPST) [17]. CBS and CSE have been consistently shown to produce H2S in mammalian tissues, with l-cysteine and/or homocysteine as the main substrate [18, 19]. Recently, 3-MPST, which uses both l-cysteine and alpha ketoglutarate as substrates along with cysteine aminotransferase to produce H2S, was identified [20]. Among them, CSE is the major H2S-producing enzyme in vascular tissues. The abnormal metabolism and functions of the CSE/H2S pathway have been linked to various cardiovascular diseases, including I/R injury, atherosclerosis, hypertension, and oxidative stress [21–26].
It was previously reported that H2S is involved in PC-induced cardioprotection [21–26]. Our previous study indicated that exogenous H2S recovered cardioprotection from PC in isolated aging rat hearts [27]. However, whether H2S plays a key role in the recovery of PC-induced cardioprotection in aging cardiomyocytes is unknown. This study investigated the effect of exogenous H2S on the recovery of PC-induced cardioprotection and its possible mechanisms, including the ERK1/2-GSK-3β, PI3K-Akt-GSK-3β and PKC-ε-mitoKATP pathways and mPTP opening, in aging cardiomyocytes.
Discussion
The senescent phenotype is associated with a typical gene expression profile and higher SA β-gal activity [28, 33]. At same time, AGE content is also considered to be one of the most important markers in aging [34]. Cell cycle progression is determined by the formation of protein complexes between cyclins and cyclin-dependent kinases (cdk), and cyclin D associates with cdk2, cdk4, and cdk6 for the determination of early G1 progression [35]. Also involved in the control of cyclin–cdk activity in all phases of the cell cycle is p21Cip/WAF-1 [35]. The increase of cyclin D1 and the decrease of p21Cip/WAF-1 reflect cell growth and division. It is well known that the cell division index reflects cell growth, and senescent cells cannot undergo cell division. Our data showed that the number of SA β-gal-positive cells, the AGE content and the expression of p21Cip/WAF-1 were increased and cyclin D1 expression was decreased in cardiomyocytes, while the H9C2 cell division index was markedly decreased, in treated with 10 g/L d-galactose for 48 h (Table 1; Fig. 1). This indicates the successful establishment of the d-galactose-induced cardiomyocyte aging model used in the present study. As primary cultured neonatal cardiomyocytes cannot divide, the cell division index was assessed using H9C2 cells (cardiomyocytes line).
I/R can induce tissue and organ injury, as well as apoptosis. The mechanisms of apoptosis include the activation of mitochondrial death receptors and/or endoplasmic reticulum stress pathways [9]. The mitochondrial pathway is the major apoptosis-inducing pathway. The intrinsic or mitochondrial pathway transduces a wide spectrum of death signals that originate from both outside and inside the cells. The stimulation of these pathways triggers the translocation of death-promoting proteins (e.g., Cyt c) from the mitochondria to the cytoplasm [36, 37] and the activation of a class of cysteine proteases called caspases, which initiate apoptosis [37]. PC protects cardiac against I/R injury and apoptosis by improving cardiac function, decreasing infarct size and inhibiting apoptosis, among other mechanisms [5, 7, 38]. However, it was recently reported that PC loses its myocardial protective effect in ageing hearts [13–15]. The main reason is that, during ageing, cardiomyocytes undergo complex changes, which finally result in loss of contractile function and loss of endogenous protection against irreversible injury [13–15]. Aging affects cardiomyocytes at several subcellular and molecular levels, including alterations at the level of the DNA, increased oxidative stress, changes in gene/protein expression and posttranslational modifications, and the handling of cellular 'waste' material by autophagy [13–15]. All these alterations decrease the tolerance of cardiomyocytes to stress [13–15]. Our data showed that in the normal primary cultured neonatal cardiomyocytes, compared with H/R group, PC increased cell viability and Bcl-2 mRNA level, decreased the percentage of apoptotic cells and mRNA level of caspase-3 and caspase-9 (Additional file 1: Figures S1, S2). In the d-galactose age-induced cardiomyocytes, the difference in cell viability, the apoptotic rate, and cleaved caspase-9, cleaved caspase-3, Bcl-2 and Cyt c expression between the H/R and PC groups in aging cardiomyocytes was not significant (Figs. 3, 4). These results indicate that PC plays protective role in the normal primary cultured neonatal cardiomyocytes but no in the aging cardiomyocytes.
H2S has long been considered as a pungent cytotoxic gas but now is regarded as the third endogenous signalling gasotransmitter. H2S is generated in mammalian tissues from homocysteine and cysteine in a reaction catalysed by CBS and CSE, the key enzymes of the transulphuration pathway of methionine metabolism [17–19, 37]. CBS is mainly expressed in the brain and peripheral nervous system, whereas CSE is mostly found in vascular and nonvascular smooth muscle cells [17–19, 37]. Yang and colleagues [24] generated mice lacking CSE (CSE knockout) that had much lower H2S concentrations in the aorta and heart, and their findings suggested that CSE is the major enzyme that maintains H2S concentrations in the cardiovascular system. Recent studies have shown that increased endogenous CSE/H2S pathway expression or exogenous H2S is involved in PC-induced cardioprotection [39]. Therefore, we proposed that the loss of cardioprotection from PC in ageing cardiomyocytes is associated with changes in the CSE/H2S pathway. In the present study, we found that compared with the control group, the H2S production rate of H9C2 cells and CSE expression in ageing cardiomyocytes and H9C2 cells were significantly decreased in both the H/R and PC groups. The difference in the H2S production rate and CSE expression between the H/R and PC groups was not significant (Fig. 2). We then used NaHS solution as a source of H2S and observed that compared with the H/R group, cell viability and Bcl-2 expression were significantly increased, while the apoptotic rate and expression of cleaved caspase-9, cleaved caspase-3 and Cyt c were obviously decreased in the H/R + NaHS group, demonstrating that exogenous H2S reduced H/R-induced cardiomyocyte injury. This is consistent with previous reports [23, 24]. Meanwhile, we also found that PC + NaHS further enhanced the cardioprotective roles of H/R + NaHS. These data suggest that exogenous H2S restored PC-induced cardioprotective effects in ageing cardiomyocytes.
To further explore the mechanisms by which exogenous H2S restored PC-induced cardioprotective effects, we assessed changes in mitochondrial membrane potential, mPTP opening and relevant signalling pathways. ERK1/2 is a member of the mammalian mitogen-activated protein kinase family (MAPK), which has a unique role in the regulation of cellular metabolism and gene expression (such as GSK-3β) related to growth and apoptosis [9, 39, 40]. The PI3K-Akt pathway is proximal to endothelial nitric oxide synthase [9, 41, 42], and its activation also results in the phosphorylation of downstream GSK-3β and, consequently, regulating cell biological and pathological functions. The current study suggests that the up-regulation of the ERK1/2-GSK-3β and PI3-Akt-GSK-3β pathways may contribute to the protective effect of PC through the inhibition of mPTP opening [43, 44]. In addition, PKC-ε activates mitoKATP and inhibits mPTP opening, which is involved in cardioprotection during PC [45]. We showed here that H/R + NaHS promoted the phosphorylation of the ERK1/2-GSK-3β and PI3K-Akt-GSK-3β pathways and the translocation of PKC-ε to the cell membrane, increased the mitochondrial membrane potential and inhibited mPTP opening (Figs. 5, 6, 7, 8; Additional file 1: Figures S3, S4, S5). PC + NaHS further enhanced the effects of H/R + NaHS. PD98059 (an inhibitor of ERK1/2 signalling), LY 294002 (a PI3K inhibitor), Che (a PKC inhibitor) and 5-HD (a mitoKATP inhibitor) abolished the effects of PC + NaHS, respectively (Figs. 5, 6, 7, 8; Additional file 1: Figures S3, S4, S5). Taken together, these findings suggest that exogenous H2S plays an important role in the recovery of PC-induced cardioprotection by inhibiting mPTP opening through the phosphorylation of the ERK1/2-GSK-3β and PI3K-Akt-GSK-3β pathways, as well as the activation of the PKC-ε-mitoKATP pathway.
In summary (Fig.
10
), the present research demonstrated that (1) H/R causes injury to aging cardiomyocytes and that exogenous H
2
S reduces H/R injury. (2) In aging cardiomyocytes, PC loses its cardioprotective effects on H/R injury and exogenous H
2
S recovers PC-induced cardioprotection by inhibiting mPTP opening via the activation of the ERK1/2-GSK-3β, PI3K-Akt-GSK-3β and PKC-ε-mK
ATP
pathways. Dissection of the mechanisms underlying H
2
S protection should facilitate novel preventive and therapeutic approaches for ischemic cardiomyopathy in the aging process.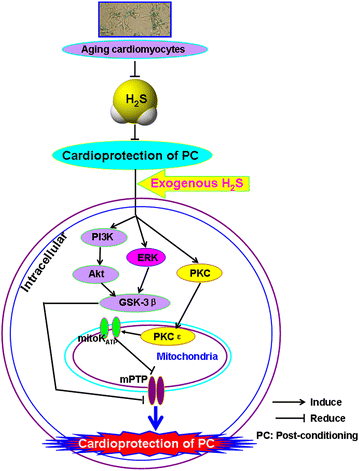 Declarations
Authors' contributions
HL and CX conceived and designed the research, and drafted the manuscript, CZ, WS, LL and SB performed the experiments. HL, BW, XZ, RW and LW revised the paper and gave some suggestions. All authors read and approved the final manuscript.
Acknowledgements
This research is supported by the National Natural Science Foundation of China (No. 81270273, No. 81000059, No. 81270311, No. 81400210), the Natural Science Foundation of Heilongjiang (No. LC201430).
Compliance with ethical guidelines
Competing interests The authors declare that they have no competing interests.
Open AccessThis article is distributed under the terms of the Creative Commons Attribution 4.0 International License (http://creativecommons.org/licenses/by/4.0/), which permits unrestricted use, distribution, and reproduction in any medium, provided you give appropriate credit to the original author(s) and the source, provide a link to the Creative Commons license, and indicate if changes were made. The Creative Commons Public Domain Dedication waiver (http://creativecommons.org/publicdomain/zero/1.0/) applies to the data made available in this article, unless otherwise stated.
Authors' Affiliations
(1)
Department of Pathophysiology, Harbin Medical University, Harbin, China
(2)
Department of Emergency, Heilongjiang Provincial Hospital, Harbin, China
(3)
The Key Laboratory of Cardiovascular Medicine Research (Harbin Medical University), Ministry of Education, Harbin, China
(4)
Department of Biology, Lakehead University, Thunder Bay, Canada
(5)
Department of Health Science, Lakehead University, Thunder Bay, Canada