Microenvironmental stimuli for proliferation of functional islet β-cells
Cell & Bioscience
2014
4:12
Received: 7 November 2013
Accepted: 29 January 2014
Published: 4 March 2014
Abstract
Diabetes is characterized by high blood glucose level due to either autoimmune destruction of islet β-cells or insufficient insulin secretion or glucose non-responsive production of insulin by β-cells. It is highly desired to replace biological functional β-cells for the treatment of diabetes. Unfortunately, β-cells proliferate with an extremely low rate. This cellular property hinders cell-based therapy for clinical application. Many attempts have been made to develop techniques that allow production of large quantities of clinically relevant islet β-cells in vitro. A line of studies evidently demonstrate that β-cells can proliferate under certain circumstances, giving the hopes for generating and expanding these cells in vitro and transplanting them to the recipient. In this review, we discuss the requirements of microenvironmental stimuli that stimulate β-cell proliferation in cell cultures. We highlight advanced approaches for augmentation of β-cell expansion that have recently emerged in this field. Furthermore, knowing the signaling pathways and molecular mechanisms would enable manipulating cell proliferation and optimizing its insulin secretory function. Thus, signaling pathways involved in the enhancement of cell proliferation are discussed as well.
Keywords
Islets of Langerhansβ-cell proliferationDiabetesInsulinMitogen
Introduction
Pancreatic β-cell is considered as one of the most important cell types in the islet of Langerhans in pancreas. It is responsible to insulin production in response to blood glucose level. The result of either insulin deficiency or sugar level irregulated insulin secretion is diabetes mellitus [1]. Type I and II diabetes are two common types of this disease. Type I diabetes (T1D) results from the autoimmune destruction of β-cells, making the body incapable of maintaining normoglycemia in these patients. In type II diabetes (T2D), either the body does not produce enough insulin due to a decrease in functional β-cell mass, or the insulin secretion does not correlate to glucose levels in the blood. Diabetes induces other diseases, including heart disease and stroke, high blood pressure, kidney disease, and blindness. The Centers for Disease Control and Prevention estimated that 25.8 million people of the U.S. population are having this disease in 2011 [2]. World Health Organization suggested that the global number of diabetic patients would reach 300 million and being the 7th leading cause of death by the year 2030 [3]. Current treatment for T1D includes insulin supplement by either tablet, injection, or organ transplantation [4]. However, organ transplantation causes complications regardless the scarcity of donors and histocompatibility matching issues [5]. On the other hand, medical treatment for T2D is fairly limited. Driven by the urgent need to treat patients suffering from diabetes, intensive research efforts have been made to create biologically functional islet tissues that can be used to replace diseased islets and to regenerate a healthy tissue for the realization of cell-based therapy.
One of the main challenges remains in adult pancreatic β-cell therapy is the extremely low proliferation rate which is approximately 0.1 ~ 0.3% a day in aged adult animal and minimum replication capacity in adult human [6]. Fortunately, β-cell mass expansion can occur in early postnatal life, pregnancy, and animal models which were genetically modulated [7–9]. Thus, it is important to fully understand the molecular mechanisms that allow enhancing the pancreatic β-cell proliferation, so that cells can be cultured in an environment suitable for in vitro production. Inducers of β-cell proliferation can be classified to extrinsic and intrinsic path. Extrinsic mitogens include: glucose, amino acids, insulin like growth factors, prolactin (PRL), placental lactogen (PL), glucagon-like peptide-1 (GLP-1), growth hormone, hepatocyte growth factor (HGF), epidermal growth factors, transforming growth factor (TGF), and extracellular matrix (ECM) [10–12]. The intrinsic factors include cyclins, cyclin dependent kinases, and cyclin dependent kinas inhibitors [13]. This review focuses on the most important extrinsic mitogens and signaling pathways that are involved in the process of β-cell proliferation. The review also overviews advanced approaches and applications in the field of islet β-cell expansion and biological functionalization.
Native β-cells and their surroundings
Islets of Langerhans are comprised of five types of cells: α, β, δ, ε, and PP-cells. These cells work as a micro organ to maintain glucose homeostasis. β-cell is the most abundant and important cell in islets, which senses the circulating glucose level in the blood and responses glucose level by secreting insulin accordingly [
14
]. β-cell receives regulation signals from a pancreatic and non-pancreatic environment that promote its function and proliferation [
14
]. As diagramed in Figure
1
, first of all, a dense vascular network exists within the islets facilitates efficient oxygen and insulin secretion. β-cells cross interact with the endothelial cells of the capillary network through the vascular basement membrane. β-cells secret vascular endothelial growth factor to promote the vascular development, whereas the endothelial cells produce a basement membrane rich with laminin to support the insulin gene expression and secretion from β-cells and further β-cells proliferation [
15
]. Second, cell-cell contacts between β-cells, through several transmembrane receptors, have a great impact on insulin gene expression and glucose stimulated insulin secretion (GSIS) [
16
]. Third, β-cells interact with α-cells in reciprocal secretion to maintain glucose homeostasis [
17
]. Fourth, islets are rich with neurons from sympathetic and parasympathetic nervous system. Interaction between β-cells and parasympathetic neurons activates specific receptors to induce GSIS, whereas sympathetic neurons inhibit insulin secretion as a part of the physiological glucose homeostasis [
18
] (Figure
1
). Moreover, β-cells receive signals from non-pancreatic tissues such as: liver, bone, fat, and gut, endocrine cells of the intestine [
14
]. These cells secrete integrins which bind to a G-coupled receptor on the β-cell surface to stimulate the insulin secretion and β-cell proliferation [
19
]. In the process of islet isolation all of these vascular and nerve connections are destroyed by enzymatic digestion of the pancreas and islet purification through a density centrifugation, which could be the major cause of malfunction of β-cell and low survival after isolation procedures [
20
,
21
]. Motivated by the need of creating an optimal niche for β-cell expansion, biologically functional materials and signaling molecules for creating a niche that can support cell expansion both
in vitro
and after transplantation have been explored. The details are discussed as follows.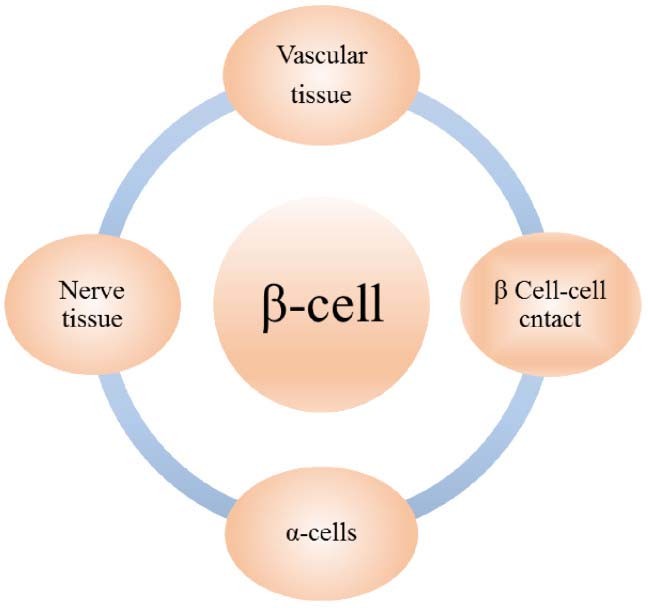 Tissue engineering approaches
As mentioned previously, there is a considerable interest to understand the most important regulators and the mechanism that can stimulate the pancreatic islet growth
in vitro
. Tissue engineering approaches have been explored by culturing cells with highly porous scaffold biomaterials to generate a three dimensional (3D) environment for improving the islet growth and survival, as well as normal insulin secretion (Figure
3
). A line of studies demonstrated that poly(ethylene glycol) (PEG) hydrogel scaffold can mimic cell-cell communication microenvironment required for insulin-secreting β-cells [
110
–
112
]. Bernard and his co-workers developed a PEG hydrogel-based microwell cell culture system using photolithography technique [
113
]. Mouse β-cells formed aggregates in PEG hydrogels and demonstrated more than 90% cellular viability in a week long culture. Furthermore, aggregated cells showed considerable increase in insulin secretion compared with single cell culture condition [
113
]. This study indicates that cell-cell adherent junction is one of the paramount factors required for the function of insulin-secreting β-cell. The importance of cell-cell adherent junction for β-cell survival and function is also evidently verified by Kelly group [
114
]. PEG hydrogel was fabricated to contain collagen type I, collagen type IV, fibrinogen, fibronectin, laminin, and vitronectin, and then used to encapsulate β-cells. β-cell survival was significantly improved in ECM-containing PEG hydrogels compared with in gels without ECM over ten days. Insulin secretion was also enhanced in cells cultured in ECM-containing hydrogels [
115
]. The PEG/ECM-based scaffolds indeed contribute to the re-establishment of the islets-ECM interaction. Hiscox group developed a device that allows islets to be cultured in between two layers of prevascularized collagen gels. The islets exhibited a higher level of viability and functionality compared to the free islets control [
116
].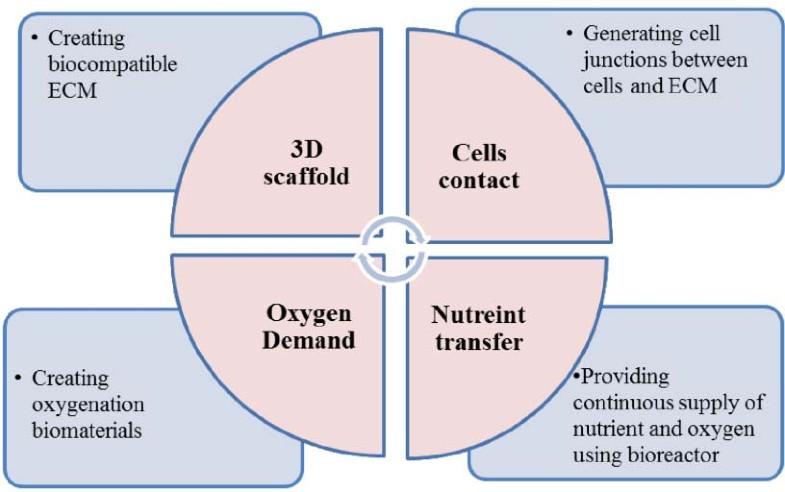 In another engineering approach, encapsulation of islet cells in a 3D scaffold provides protection against the immune cells and its antibodies. However, the diffusion of low molecular weight cytokines through the hydrogels remains to be challenge. To overcome this issue, scaffold surface can be fabricated by coating of PEG-hydrogel with diffusible pro-inflammatory cytokines interleukin (IL)-1β receptor. This modification enabled maintenance of the viability of encapsulated islet cells and function as a glucose-stimulated insulin secretion after the exposure of different cytokines [117]. Another strategy to make better 3D scaffold is to inhibit TNF receptor 1 by scaffolding PEG-diacrylate hydrogels coated with TNF receptor 1. As a result, this modified hydrogel not only preserved islet insulin content, but also reduced mRNA of inducible nitric oxide synthase and IL-6 in pancreases in experimental animals [118]. Nevertheless, impaired oxygen diffusion within a 3D scaffold hinders the wide use of scaffold for islet cell expansion. In particular, normoxia or higher oxygen tension promotes islet β-cell development from progenitor cells and increases β-cell viability [119–121], as β-cells consume large amounts of oxygen during insulin secretion [122]. Studies have shown that islet-like cell aggregates may suffer from hypoxia proportion to the radial distance inward leading to the cell necrosis and apoptosis as well as activation of the anaerobic metabolism [123]. This issue may be overcome by culturing the cell aggregates in an oxygenated system [124]. Recently, an oxygenator made from polydimethylsiloxane (PDMS)/calcium peroxide enhanced the mouse β-cell proliferation and insulin secretion for three weeks under hypoxic culture conditions [120]. The oxygenating strategy is practically promising because islet cells are usually sensitive to chemical compounds such as catalyst or hydrogen peroxide. Alternatively, mouse β-cells were cultured in suspension in a stirred spinner flask to overcome the limitation of nutrient transport in conventional cell culture dish. This bioreactor culture facilitates cell proliferation and enlarges sizes of β-cell aggregates with enhanced responsibility to glucose level and incretin level [125] (Figure 3).
Concluding remark
Diabetes mellitus become global epidemic diseases in recent years. Especially T2D affects 5.9% of the world's adult population with limited medication and treatment. This necessitates seeking of novel treatments to control the increase rate of the diseases. Studies have revealed that multiple mitogens or cell-ECM or cell-cell communications can induce biologically functional β-cell proliferation through multitude nutrient and growth factors. Furthermore, understanding β-cell dysfunction and failure mechanism in the development of onset of diabetes is crucial to optimize the treatment options. Due to the extremely low proliferation capability and survival rate of the islet β-cells after isolation procedures, finding out new cell sources for production of clinically relevant β-cells is one of the topics in the field of tissue engineering and regenerative medicine for diabetic treatment. Currently, there are three types of cell sources in the field of regenerative medicine to produce β-cells. They are stem cells, endocrine progenitors, and other mature cells in the pancreas and β-cell itself [126]. Significant progresses have been achieved for each of these strategies. For example, at first glance, human embryonic stem cell (hESC) and its counterpart named induced pluripotent stem cell (iPSC) are considered to be promising sources for β-cell generation in vitro. Nevertheless, the differentiation procedure is still under development and investigation. Besides, the risk of teratoma formation in vitro remains a major concern if therapeutic β-cells are produced from hESCs or iPSCs. On the other hand, it is possible to produce β-cells from duct-lining, acinar cells [127], or hepatocytes [128], even though it is still under a controversial discussion [129]. It remains unclear which approach will prove ultimately to be successful in clinical applications. To date it remains to be a significant challenge to generate sufficient biologically functional β-cells to replace damaged or malfunctional β-cells. Most likely, the future of diabetes therapies rely on the combination of fabrication of novel constructor with integration of cell, signal molecule, and biomaterial that mimics microenvironment that is suitable for islet β-cell development in the body.
Authors' Affiliations
(1)
Department of Bioengineering, College of Engineering, University of Arkansas, Fayetteville, USA
(2)
Department of Bioengineering, Thomas J. Watson School of Engineering and Applied Sciences, State University of New York in Binghamton, Binghamton, USA
(3)
College of Applied Medical Sciences, King Saud bin Abdulaziz University for Health Sciences, National Guard - Health Affairs, Riyadh, Kingdom of Saudi Arabia
Copyright
© Alismail and Jin; licensee BioMed Central Ltd. 2014
This article is published under license to BioMed Central Ltd. This is an Open Access article distributed under the terms of the Creative Commons Attribution License (http://creativecommons.org/licenses/by/2.0), which permits unrestricted use, distribution, and reproduction in any medium, provided the original work is properly credited. The Creative Commons Public Domain Dedication waiver (http://creativecommons.org/publicdomain/zero/1.0/) applies to the data made available in this article, unless otherwise stated.