Multiscale mechanobiology: mechanics at the molecular, cellular, and tissue levels
Cell & Bioscience
2013
3:25
Received: 7 January 2013
Accepted: 24 April 2013
Published: 3 June 2013
Abstract
Mechanical force is present in all aspects of living systems. It affects the conformation of molecules, the shape of cells, and the morphology of tissues. All of these are crucial in architecture-dependent biological functions. Nanoscience of advanced materials has provided knowledge and techniques that can be used to understand how mechanical force is involved in biological systems, as well as to open new avenues to tailor-made bio-mimetic materials with desirable properties.
In this article, we describe models and show examples of how force is involved in molecular functioning, cell shape patterning, and tissue morphology.
Keywords
MechanicsMechanical forceBiomoleculesProteinsDNACellsTissuesSingle-molecule manipulationAtomic force microscopyMicro-patterning
Review
Introduction
Life relies on the ability of size and shape control at different scales. At the molecular and sub-cellular levels, chemical signaling relies on conformational changes of molecules. Mutations leading to abnormal conformational changes often cause diseases such as tumors and tissue malfunction. At the cellular and tissue levels, the ability of cells to form specific shapes is of vital importance [1, 2]. This ability appears to control the fate of cells and tissues. For example, it has been shown that controlling cell shape on micro-fabricated devices can induce cell apoptosis [3], direct cell migration [4], and stem cells differentiation [5]. All of these functions are important in normal tissue development and homeostasis.
From a theoretical point of view, the control of molecular conformation, cell shape, and tissue morphology relies on how mechanical forces are created, distributed, and transmitted. There is a growing interest in the role of mechanical force in tissue development, remodeling, regeneration, and tumorigenesis [6–10]. In most cases, force is transmitted through filaments such as actomyosin bundles inside the cells and collagen fibers outside the cells. The spatial scales of these filaments can be as small as nanometers, while their integrated, mechanical influence on biological systems can be as large as the size of an organ. To understand how the mechanical properties of filamentous molecules at nanometer scales affect the structure and function of biological systems, lessons learned from nanoscience can be applied. In addition, recent advances in nanomaterial sciences open a new door for customized bio-mimetic materials with desired structures and mechanical properties [11].
Understanding how cells create, distribute, transmit, and use forces is essential for using nanomaterials technology in biological systems. At the cellular level, the creation of force within single cells depends on the orientation and distribution of cytoskeleton proteins, such as actomyosin filaments, the organization of which is further regulated by chemical signaling that relies on conformational changes of molecules. Likewise, the propagation of force within tissues is parameterized by the distribution and the orientation of extracellular matrix (ECM) molecules.
Molecular mechanics
Polymer physics models of biomolecules
The mechanical properties of proteins and DNA can be described using polymer physics models such as the freely-jointed chain (FJC) model and the wormlike chain (WLC) model. The FJC model assumes a polymer chain consisting of
n
segments of characteristic length
l
k
(Kuhn length) connected via freely-rotating joints (Figure
1
a) [
12
]. The FJC model accounts for the entropic elasticity of the polymer chain up to the contour length,
l
c
=
nl
k
. At high forces, a molecule may be stretched beyond its contour length. Such overstretching transitions can be described by extensible FJC (eFJC) [
13
,
14
], which takes into account the additional extension by modeling each segment as an elastic spring with segment elasticity
k
seg
(Figure
1
b). The WLC model treats a polymer molecule as a homogenous elastic rod, or a wormlike chain, characterized by its contour length,
l
c
, and persistence length,
l
p
(Figure
1
c) [
12
]. The persistence length
l
p
defines the bending stiffness of the polymer. In single molecule experiments, the force-extension curves are fitted with these polymer physics models to determine the elasticity of the molecules. Typically, single-stranded DNA (ssDNA) is best described by the FJC model, whereas double-stranded DNA (dsDNA) and proteins can be characterized by the WLC model.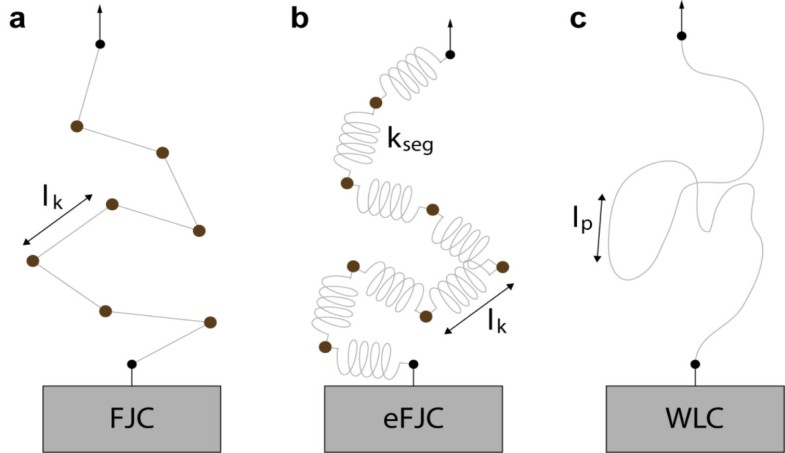 Stretching reveals folding-refolding characteristics of titin I27 domain
To illustrate how force measurements of molecules are done to obtain the parameters that define the mechanical properties of molecules, we use single molecule force studies of a protein with repeated units. The single molecule manipulation studies are performed using an engineered polyprotein consisting of repeats of the I27 domain of human cardiac titin. Titin is a giant muscle protein of 1 μm in length and 3 MDa in size, found in the striated cardiac and skeletal muscle tissue [
15
]. Titin molecules span half the sarcomere, from the Z-disc to the M-line, constituting a third of the sarcomeric filament system that binds to both the thick and thin filaments [
16
]. Figure
2
a shows a schematic of the cardiac sarcomere. Titin is divided into an extensible I-band region, which is responsible for the protein's elasticity, and an inextensible A-band region, which functions as a stiff scaffold. Titin has a modular architecture in which both regions are composed primarily of repeats of Immunoglobulin (Ig)-like and Fibronectin type 3 (FN3)-like domains [
17
]. These domains exhibit a
β
-barrel structure formed from seven anti-parallel
β
-strands. Domains are linked to neighboring domains via an elastic linker region, which is thought to be the main source contributing to the overall flexibility of the chain [
18
]. The A-band and the I-band are composed primarily of FN3 domains and the stronger Ig domains, respectively. Mechanical stability dictates the arrangement of domains in the I-band, with the weakest Ig domains near the Z-line (proximal Ig region) and the most mechanically stable domains near the M-line (distal Ig region) [
19
].

The mechanical nature of titin's function makes it particularly suitable for single molecule stretch-relaxation studies [20–26]. In particular, the I27 domain of titin, which was the first structurally determined Ig domain from titin's I-band (Figure 2b) [16], has been widely studied using single molecule manipulation experiments. In these experiments, a biomolecule attaches to the AFM tip and substrate and is stretched as the piezoelectric transducer moves the substrate surface away from the tip, thereby increasing the molecular end-to-end distance. This stretching results in a negative cantilever deflection, followed by an abrupt jump back to the cantilever equilibrium position when one of the domain unfolds or the molecule detaches from the tip [27]. Figure 2c shows a force-extension curve from an AFM stretching experiment, in which each I27 force peak, representing an individual domain stretching event, was fit with the WLC model (red lines). Using nonequilibrium single molecule measurements and Jarzynski's equality, the free energy surface of both mechanical stretching and unfolding of the I27 domain of human cardiac titin can be reconstructed [22]. Quantitative information about the free energy of unfolding of I27 may allow us to quantify the protein folding free energy landscape, and therefore, to predict the pathways of biological interactions.
Mechanical melting of DNA exhibits unique overstretching transitions
There has been renewed interest in understanding the details of thermodynamics and kinetics of DNA melting due to recent advances in both single molecule experimental techniques [13, 28–34] and theoretical modeling methods [35–37]. DNA's mechanical properties influence a variety of its biological functions such as how it wraps around histones, packs into phage heads, and interacts with proteins [13]. It is believed that many biological machines depend on the mechanical properties of double-stranded DNA (dsDNA) [30, 35]. These mechanical properties can be exploited by novel therapeutics whose design is guided by information extractable from single molecule force measurements [38, 39].
AFM is used to pull single-stranded DNA (ssDNA) and dsDNA molecules, and measure the force associated with the conformational changes (Figure
3
). DNA melting transitions were characterized by repeatedly stretching and relaxing an individual double-stranded λ-DNA molecule [
40
]. A force-induced transition between
B
form DNA (
B
-DNA) and
S
form DNA (
S
-DNA), prior to dsDNA melting, was observed [
40
]. The mechanical properties of the various conformations,
B
-DNA,
S
-DNA, and ssDNA, were quantified using the FJC and WLC polymer elasticity models, and were shown to agree well with expectations from previous experiments and theory.

Poly(dA), a single-stranded DNA composed of uniform A bases [41], has also been studied with force measurements, and was found to have multiple overstretching pathways, with the molecule being able to hop between these two states. These results suggest that poly (dA) has a novel conformation when highly stretched, and the unique conformation makes poly(dA) more stable at large extensions. These unique properties of poly(dA) may play a role in biological processes such as gene expression. Taken together, these results demonstrate that single molecule force measurement allows us to quantify the elastic and thermodynamic properties of biological macromolecules, and the technique may ultimately be developed into a tool for drug screening.
Cell and tissue mechanics
Force-mediated self-patterning of myofibril
Living cells continuously consume energy to organize and maintain asymmetric architectures dictating their functions. One specific example is the orientation of myofibrils, which is a cord-like structure consisting of several different types of filamentous proteins that are organized into a regularly repeated subunit, the sarcomere. Myofibril matures in a force-dependent manner [
4
]. Within cells, force is maximized when all the contractile units are aligned. Cells develop contractile units such as stress fibers by establishing cell-substrate contacts called focal adhesions. It has been shown that the geometry of cell periphery determines the distribution of focal adhesions [
42
,
43
]. Thus, it is likely that the patterning of myofibrils is due to the coordination of extracellular geometrical cues and the self-alignment of intracellular contractile units (Figure
4
). This was supported by computation simulation and micro-patterning experiments [
4
] (Figure
5
).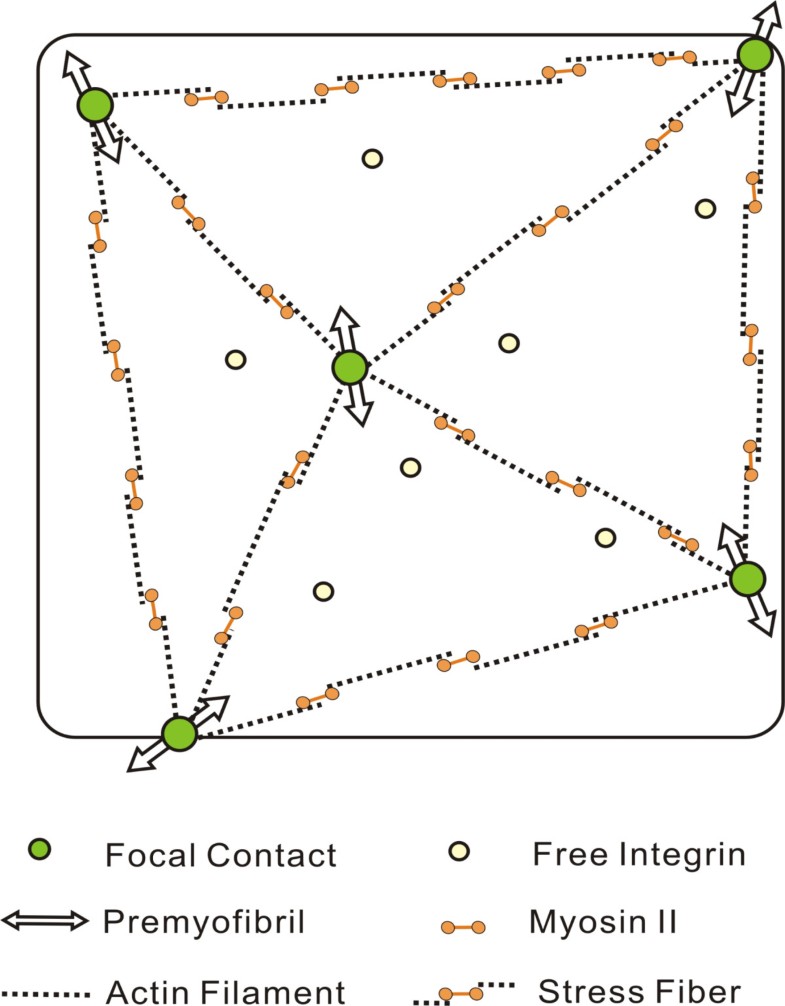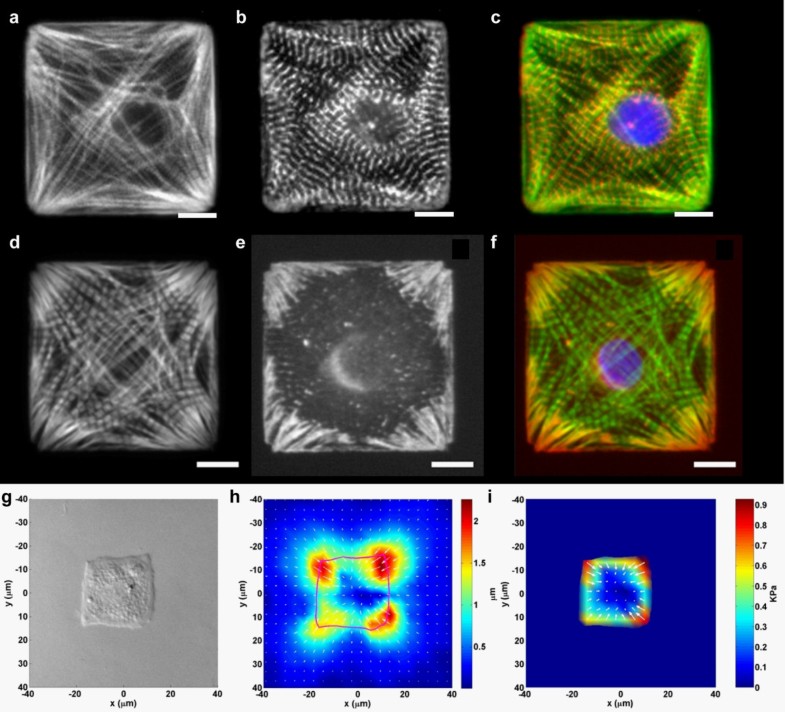 Mechanical processes pattern cell shape and tissue architecture
In most tissues, cells can iteratively pattern morphogenetic units of similar size into complex forms. This occurs at both single- and multi-cell levels. For example, in the morphogenesis of a growth cone, single neuron cells form multiple, regularly separated neurites, which then differentiate into axon and dendrites [44]. Likewise, repetition of multi-cellular units is observed in the branching morphogenesis of tubular organs including lungs [45, 46], blood vessels [46, 47], salivary glands [48], mammary glands [46], and renal ducts [46, 49, 50]. In branching morphogenesis, cells reiteratively branch out from pre-existing cell sheets into the surrounding extracellular matrix (ECM) [46, 47]. Similar processes occur in embryo gastrulation, where a group of cells from the ectoderm bend inward to form the endoderm [51].
To form lateral inhibition, it is required that the activation and the inhibition possess different spatial scales. In chemical-based lateral inhibition, this requirement can be achieved by having different diffusion coefficients for molecules that mediate the activation or the inhibition [45, 46, 50, 53–59]. On the other hand, using mechanical processes to generate patterning cues has shown promise as an alternative method.
Conclusion
The effect of mechanical force on biological materials differs from that of chemical force in that it depends both on the force-molecular interactions and the structure of underlying substrate. This opens a door for using nanotechnology to control the molecular, cellular, and tissue structure, function, and assembly by changing the topology and structure of the environment. There are several advantages of using physical versus chemical forces to control the response of biological materials and complexes. For example, mechanical force is nonspecific, which does not depend on the types of molecules, cells, and tissues involved, so the effect and design principle is universal. Furthermore, unlike chemical signaling, the non-specificity of mechanical forces allows them to be directly combined, and the effect may be amplified by increasing the magnitude of force applied. These features, along with the relatively simple processes required for generating mechanical processes, make mechanical force a promising tool to control and manipulate biological materials.
Abbreviations
(ECM):

Extracellular matrix
(FJC):

Freely-jointed chain
(eFJC):

Extensible FJC
(WLC):

Wormlike chain
(ssDNA):

Single-stranded DNA
(dsDNA):

Double-stranded DNA
(B-DNA):

B form DNA
(S-DNA):

S form DNA
(Ig):

Immunoglobulin
(FN3):

Fibronectin type 3
(BM):

Basement membrane
(COL):

Collagen.
Declarations
Acknowledgements
We thank NSF DMR-0907676, Welch Foundation No. C-1632, the Alliance for NanoHealth, NASA/DOE DE-FG02-08ER64712 and NIGTP, NIH/NIBIB, T32EB009379-03 for support.
Authors' Affiliations
(1)
Department of Bioengineering and Department of Applied Physics, California Institute of Technology, Pasadena, USA
(2)
Department of Physics and Astronomy, Rice University, Houston, USA
(3)
Department of Bioengineering, Rice University, Houston, USA
Copyright
© Guo et al.; licensee BioMed Central Ltd. 2013
This article is published under license to BioMed Central Ltd. This is an Open Access article distributed under the terms of the Creative Commons Attribution License (http://creativecommons.org/licenses/by/2.0), which permits unrestricted use, distribution, and reproduction in any medium, provided the original work is properly cited.