Regulation of microRNA expression and function by nuclear receptor signaling
Cell & Bioscience
2011
1:31
Received: 11 July 2011
Accepted: 21 September 2011
Published: 21 September 2011
Abstract
MicroRNAs (miRNAs) are small non-coding RNA transcripts that affect various cellular pathways by serving as regulators of gene expression at the translational and transcriptional level. Nuclear receptors (NRs) are ligand-activated transcription factors that regulate gene transcription by binding to the promoter region or by interacting with other transcription factors. NRs can regulate miRNA expression either at the transcriptional level, or through posttranscriptional maturation by interacting with miRNA processing factors. This review will summarize recent advances in knowledge of the modulation of miRNA expression by NRs. Increased understanding of the molecular basis of miRNA expression may enable new therapeutic interventions that modulate miRNA activities through NR-mediated signaling.
Keywords
miRNAs
nuclear receptors
gene regulation
Introduction
The binding of microRNA (miRNA, or miR) to the 3'-untranslated region of target mRNAs causes transcript degradation or interferes with translation initiation. This posttranscriptional inhibitory mechanism is of critical importance in fundamental cell processes, including development [
1
], proliferation [
2
], survival and death. During the past decade, much effort has been focused on elucidating the mechanism of miRNA target gene regulation, however, relatively little is known about the regulation of miRNA genes themselves [
3
]. A number of large-scale expression profiling studies have shown that the expression of miRNAs is dysregulated under various pathological conditions. Many miRNAs are expressed in a tissue-specific or developmental-stage-specific manner, thereby contributing greatly to cell-type-specific profiles of protein expression [
4
,
5
]. Growing evidence suggests that miRNAs can be regulated extensively at the levels of promoter transcription, methylation, miRNA processing, RNA editing, and miRNA-target interactions [
6
]. Transcriptional regulation by nuclear receptors is the primary level of control for miRNA expression (Table
1
). Elucidation of the underlying mechanisms is crucial to understanding the pathways governing the miRNA network [
7
].
Table 1
miRNAs regulated by NRs
miRNA name

Regulation

note

target

Ref.

Let 7 family

ER;PPAR;PR

induced by estradiol; PPARα and PR agonist regulate let-7c.

K-ras; HMGA2; caspase-3; c-Myc; PGRMC1

miR-17-92

cluster

ER

c-Myc, adiol, binds induced by estr to the miR-

17-92 promoter; p53 and STAT3 bind to the miR-17-92 promoter.

Myc;E2F;HNF1;PTEN;B

IM;ER;AIB1;cyclin D1

miR-21

ER;AR

STAT3, NF-κB, CREB and CBP/p300, ER and AR bind to the miR-21 promoter.

Pdcd4;PTEN;PPARα;

miR-221/222

ER;AR

NF-κB, c-JUN, ER and AR bind to the miR-221/222 promoter.

P27kip1;PTEN;ERα;PUM A

miR-200 family

ER;AR;PR

upregulated by estradiol, androgen and progesterone.

ZEB1; ZEB2; BMI1

miR-146a

ER;AR

repressed by estradiol, androgen and LPS; LPS induces NF-κB binding to the miR-416a promoter.

ROCK1; TRAF6; IRAK1; BRCA1; CD40L; STAT1

miR-26a

ER;AR

Estradiol induces miR-26a, which reduces PR mRNA level

EZH2;MTDH

miR-101

AR

ARE identified in the miR-101 promoter

EZH2; MAGI-2; MKP-1;

ATP5B; COX-2; MYCN

miR-125b

AR

AR loading to the 5' UTR region

MUC1; PIGF; IGF-II; FGFR2; P53;PUMA;E2F3

miR-122

HNF4α

HNF4α binds to the miR-122 promoter.

Hfe; Hjv; CPEB; HCV;

CAT-1; Smarcd1/Baf60α

miR-29a

FXR

FXR-responsive element in the miR-29a promoter; regulated by TGF-β, c-Myc, Hedgehog or NF-κ B

Ski; MCT1; PTEN; CDK6

miR-210

RARα/RXRα

RARα/RXRα heterodimers bind to the miR-210 promoter

FGFRL1; HOXA3; E2F3; RAD52

miR-23a/24-2

RARα/RXRα

RARα/RXRα heterodimers bind to the miR-23a/24-2 promoter

Runx2; XIAP; IL6R

miR-9

TLX

TLX binds to the downstream of miR-9 and miR-9 targets TLX mRNA to form a feedback loop

PDGFR-β; Nr2e1; FoxP1; Gsh2; NFκB1

miR-34a

FXR;SHP

p53 binds to the miR-34a promoter; FXR interacts with p53 through SHP to regulate miR-34a

FoxP1; Bcl-2;CDK4;E2F3;

N-MYC;SIRT1;HMGA2

miR-433/127

SHP

SHP inhibits ERRγ which binds to the miR-433/127 promoters

HDAC6;BCL6

miR-206

SHP

SHP represses ERRγ leading to decreased YY1 which inhibits AP1 activation of the miR-206 promoter

Notch3; HDAC4; KLF4; Pax7
1.1 microRNA
miRNAs comprise a class of short (approximately 19-24 nucleotides) single-stranded non-coding RNAs that regulate gene expression through post-transcriptional mechanisms [8]. Since the discovery of RNA interference (RNAi) in 1993, efforts to identify endogenous small RNAs have led to the discovery of thousands of miRNAs in different species [9, 10]. The newest database contains 16772 entries representing hairpin precursor miRNAs and expressing 19724 mature miRNA products in 153 species http://www.mirbase.org. Most of the miRNAs are conserved in closely related species and many have homologs in distant species, suggesting that their functions could also be conserved [11]. Accumulating evidence indicates that miRNAs play a central role in controlling a broad range of biological activities including embryonic development, cell proliferation, metabolic homeostasis, and apoptosis [12]. According to their locations in the genome, miRNA genes are classified into intragenic and intergenic regions. Although some intronic miRNAs are reported to have their own promoters, a significant percentage of miRNAs are embedded within introns or exons of protein coding genes and share the same transcriptional control of the host gene [13]. Mirtron is a notable exception that is spliced out of the host transcripts into the direct substrate of Dicer [14–16].
The biogenesis of miRNA starting in the nucleus is found to be quite complex, involving a vast group of protein complexes [17]. In general, miRNA genes are transcribed by Polymerase II as primary-miRNAs (pri-miRs). These large RNA precursors, which are several hundred base pairs in length, are often capped, spliced, and polyadenylated, and can encode sequences for multiple miRNA genes [6]. These precursors are processed by the RNAse-III-type endonuclease Drosha in association with the DiGeorge syndrome critical region gene 8 (DGCR8) (or Pasha in Drosophila, PASH-1 in Caenorhabditis elegans) into hairpin-shaped stem-loop structures of approximately 60-70 nt named pre-miRNAs. The pre-miRNAs are then exported out of the nucleus to the cytoplasm by Expertin-5, a Ran-GFP dependent transporter that specifically recognizes dsRNAs. In the cytoplasm, the pre-miRNAs undergo further processing by a second RNase III enzyme, named Dicer, into a miRNA-miRNA* duplex of variable length (~18-25 nt). Only one strand of the miRNA duplex, designated as the "guide" strand, is preferentially loaded into a large multi-protein miRNA ribonucleoprotein complex (miRNP, also referred to as the miRISC complex), and is used to modulate target gene expression. The "passenger" strand of the miRNA-miRNA* duplex (referred to as miRNA*) is excluded from the miRNP complex and degraded.
The well-known "seed" region, positions 2-8 nt from the 5'miRNA, is extremely important for miRNA targeting [18, 19]. Depending on the degree of complementarity to the target mRNA, the mechanism of silencing target mRNA expression will be one of the following: 1) if there is perfect complementarity to a target mRNA, there will be target mRNA cleavage; and 2) in the case of incomplete complementarity, translational repression or alteration of mRNA stability will occur [20]. Bioinformatical prediction is based on the degree of seed region match with the 3'UTR of target genes. Furthermore, other "non-canonical" miRNA-mediated mechanisms of mRNA expression modulation are emerging [21–23]. Some miRNAs can bind to the open reading frame or 5'UTR of target genes; moreover, they have been shown to activate, rather than to inhibit, gene expression [21, 24, 25].
1.2 microRNA regulation by nuclear receptors
1.3 Conclusion
NRs appear to regulate miRNA expression via three means: direct binding to the promoter regions of miRNAs, indirect regulation of miRNA expression through NR target genes, and involvement in regulation of miRNA biogenesis (Figure
1
). Microarray analyses has revealed large numbers of miRNAs that are differentially regulated by NRs or their ligands, but the detailed regulatory mechanisms remain to be elucidated. Future exploration of the interactions between NRs and miRNAs in the regulation of gene expression networks is needed for better understanding of miRNA modulation and function by NR signaling.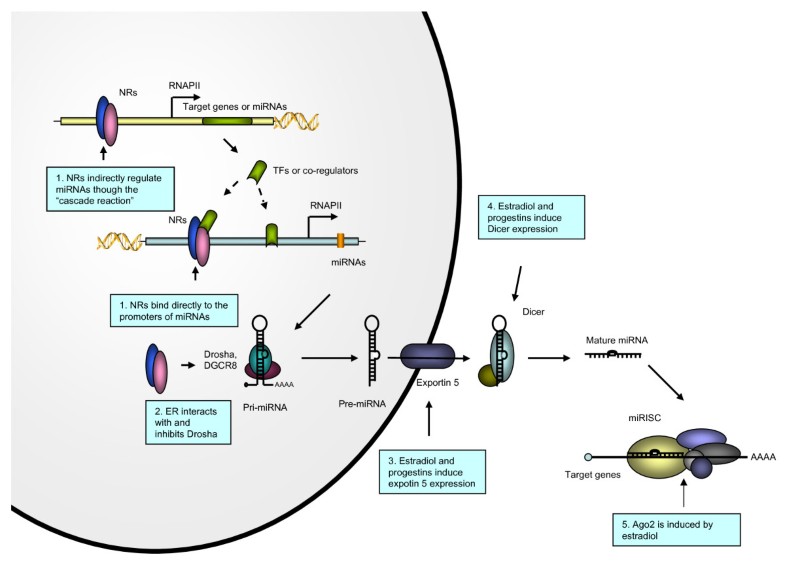 Authors' Affiliations
(1)
Departments of Medicine and Oncological Sciences, Huntsman Cancer Institute, University of Utah School of Medicine, Salt Lake City, USA
Copyright
© Yang and Wang; licensee BioMed Central Ltd. 2011
This article is published under license to BioMed Central Ltd. This is an Open Access article distributed under the terms of the Creative Commons Attribution License (http://creativecommons.org/licenses/by/2.0), which permits unrestricted use, distribution, and reproduction in any medium, provided the original work is properly cited.