Instability of (CTG)n•(CAG)n trinucleotide repeats and DNA synthesis
Received: 7 December 2011
Accepted: 27 February 2012
Published: 27 February 2012
Abstract
Expansion of (CTG)n•(CAG)n trinucleotide repeat (TNR) microsatellite sequences is the cause of more than a dozen human neurodegenerative diseases. (CTG)n and (CAG)n repeats form imperfectly base paired hairpins that tend to expand in vivo in a length-dependent manner. Yeast, mouse and human models confirm that (CTG)n•(CAG)n instability increases with repeat number, and implicate both DNA replication and DNA damage response mechanisms in (CTG)n•(CAG)n TNR expansion and contraction. Mutation and knockdown models that abrogate the expression of individual genes might also mask more subtle, cumulative effects of multiple additional pathways on (CTG)n•(CAG)n instability in whole animals. The identification of second site genetic modifiers may help to explain the variability of (CTG)n•(CAG)n TNR instability patterns between tissues and individuals, and offer opportunities for prognosis and treatment.
Keywords
Nucleotide Excision RepairHuntington DiseaseReplication ForkMimosineEmetine
Introduction
Expansion of (CTG)n•(CAG)n trinucleotide repeat (TNR) sequences at distinct chromosomal loci is the mutation common to multiple neurological diseases including myotonic dystrophy type 1 (DM1), Huntington disease (HD), Huntington disease-like 2 (HDL2), dentatorubral-pallidoluysian atrophy (DRPLA), spinal and bulbar muscular atrophy (SBMA), and several forms of spinocerebellar ataxia (SCA). The polyglutamine diseases HD, DRPLA, SBMA, and SCA1, 3, 6, 7, 17 result from increases of (CAG)n repeats in the coding (nontemplate) strand for mRNA synthesis of the cognate genes ((CAG)n in RNA) to produce mutant polyglutamine proteins with toxic gain-of-function [1]. In contrast, (CTG)n•(CAG)n expansion at the DMPK 3' UTR alters the chromatin structure of the region, downregulates transcription of the locus and, as at the JPH3 gene produce poly-(CUG) pre-mRNAs respectively in DM1 and HDL2 patients that sequester the MBNL (CUG) binding proteins, leading to trans-dominant interference with the normal splicing of multiple RNAs. Finally, bidirectional transcription at the SCA8 locus can result in expression of both a polyglutamine protein and a (CUG)n expansion transcript, which may represent a toxic gain-of-function at both the protein and RNA levels.
Trinucleotide repeat expansion requires DNA synthesis, either during DNA replication or repair. The effects of replication origin proximity, replication polarity, and replication inhibition support replication-based models of TNR instability in mitotic cells [
2
–
9
]. Hairpin formation by DNA polymerase slippage is a likely mechanism for changes in TNR repeat length [
10
–
12
]. Hairpin structure formation by DNA polymerase slippage at (CTG)
n
•(CAG)
n
sequences has been well documented in vitro [
13
,
14
] and can result in either insertion or deletion mutations. However, hairpins have also been postulated to arise during replication fork reversal and postreplication repair [
2
,
15
,
16
], Okazaki fragment maturation [
17
–
19
], base excision repair [
20
], nucleotide excision repair [
21
–
26
] or repair of structures induced by R-loop formation during transcription [
25
,
27
]. Current models of (CTG)
n
•(CAG)
n
instability during replication or repair envision that hairpin formation on the newly synthesized DNA strand leads to TNR expansion if the hairpin is sufficiently long-lived to serve as template in a subsequent round of replication. Conversely, stable hairpin formation in the leading or lagging template strand would lead to contraction of the repeat in the next round of replication (Figure
1
).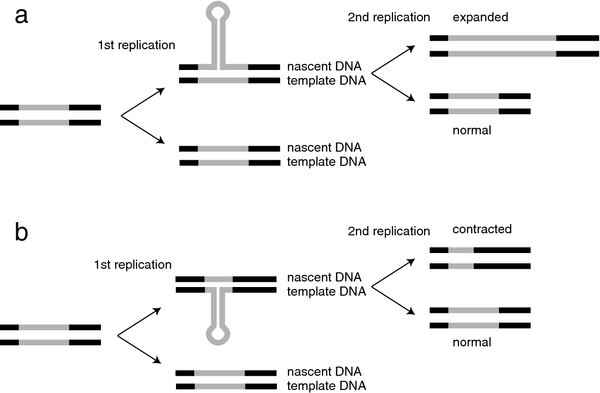 The salient observation that TNR instability in humans and mice can occur in postmitotic cells argues that repair mechanisms, instead of replication origin-dependent mitotic DNA replication, are involved in TNR instability in these tissues [2, 5, 28–30]. In this vein, it has been proposed that the process of transcription stimulates TNR instability due to the formation of hairpin or other non-B DNA structures in the single stranded nontemplate DNA, or in the template strand upon RNA displacement. These structures may be targets for DNA repair processes such as transcription-coupled repair, nucleotide excision repair, mismatch repair, or double-stranded DNA break repair [24, 27, 31].
Following extensive linkage analysis in myotonic dystrophy families [32–34], in 1992 several laboratories reported that expansion of the (CTG)n•(CAG)n repeat region in the 3' untranslated region of the dystrophia myotonica protein kinase gene was highly correlated with the occurrence of congenital DM [35–37]. Strong correlations also exist between (CTG)n•(CAG)n repeat length and the occurrence of Huntington disease [38, 39], although second site modifier genes and epigenetic mechanisms play a significant role in the appearance of HD symptoms. In general, unaffected individuals display fewer than 30 (CTG)n•(CAG)n repeats at the DM1 or HD locus. Trinucleotide repeat (TNR) tracts in the range of 30-40 repeats are termed premutation alleles (DM1) or intermediate alleles of incomplete penetrance (HD), while TNRs of 42 or more repeats have been associated with complete penetrance of HD [40] and increased expansion frequency during intergenerational transfer or somatic development in DM1 families [2]. The phenomenon of 'genetic anticipation' is a hallmark of the (CTG)n•(CAG)n TNR instability disorders, in which an increase in the number of microsatellite repeats is correlated with an earlier age of onset and heightened severity of the disease in successive generations. Genetic anticipation reflects the bias towards expansion over contraction of long (CTG)n•(CAG)n tracts, and may be explained by the greater tendency of extended repeats to adopt non-B form DNA structures prone to progressive expansion.
(CTG)n•(CAG)n expansion can have pathological effects on local chromatin structure and gene expression, as well as dominant negative effects on RNA metabolism and protein function [41–44]. This review will focus primarily on the structure and instability of (CTG)n•(CAG)n trinucleotide repeat sequences in eucaryotic cells. For further background on the metabolism of (CTG)n•(CAG)n sequences in bacterial cells, the reader is referred to several excellent research articles and reviews [5, 6, 45–51].
Conclusions
(CTG)n and (CAG)n trinucleotide repeat sequences can form stable hairpins in vitro and in vivo, however, there is a facile transition of (CTG)n or (CAG)n hairpins to duplex in the presence of their complementary sequences in vitro. This suggests that other factors prolong the lifetime of (CTG)n and (CAG)n hairpins in vivo, among which may be MMR complexes, negative supercoiling behind replication or transcription forks, replication fork reversal, and protein, RNA, or leading strand binding of the hairpin complement. In HeLa/c-myc:(CTG)n•(CAG)n cells in culture, the rapid and efficient cleavage of hairpins in vivo by sequence- and structure-specific synthetic zinc finger nucleases, compared to the relatively extended time required before the appearance of expansions or contractions, raises another alternative, namely that hairpins are common but short-lived in vivo, and rarely result in TNR instability unless DNA replication or repair is perturbed. The efficient and accurate repair of preformed hairpins in cell extracts is consistent with this notion.
The instability of (CTG)n•(CAG)n repeats and the frequency of chromosome breakage are increased by mutations in yeast replisome proteins. These findings strengthen the link between replication fork instability, hairpin formation, the intra-S phase checkpoint, and DNA damage responses. The similar phenotypes of mutations in yeast replisome proteins and knockdown of orthologous human proteins suggest that evolutionarily conserved pathways operate to stabilize replication forks and maximize the integrity of replication.
Not surprisingly, cell cycle and checkpoint pathways appear to play a role in murine (CTG)n•(CAG)n stability. An outstanding difference between transgenic mouse systems and the human in vitro repair systems is the apparent contribution of the MMR proteins to instability in mice and the absence of their effect on in vitro repair. One possibility is that the preformation of stable hairpin substrates for in vitro repair may bypass an in vivo effect of chromatin structure, DNA metabolism, or MMR proteins.
Several fundamental questions concerning the mechanism of (CTG)n•(CAG)n instability remain to be addressed. For example, do contractions and expansions occur as consequences of the same process of replication, replication restart or postreplication repair? Do contractions and expansions occur in different phases of the mitotic cycle? Do contractions (or expansions) occur preferentially on the leading or lagging strand during replication? Are different pathways involved in the instability of various length TNRs? Does DNA damage promote hairpin formation? Which repair mechanisms are responsible for TNR instability in postmitotic cells? What is the mechanism of transcription-induced instability?
The use of yeast and transgenic mouse mutants, and RNAi to produce human cells and cell extracts deficient in specific functions promise to give insight into these questions, and thereby reveal second site genetic modifiers of TNR instability that can be used in prognosis and therapy.
Authors' Affiliations
(1)
Department of Biochemistry and Molecular Biology, Boonshoft School of Medicine, Wright State University, Dayton, USA
Copyright
© Liu and Leffak; licensee BioMed Central Ltd. 2012
This article is published under license to BioMed Central Ltd. This is an Open Access article distributed under the terms of the Creative Commons Attribution License (http://creativecommons.org/licenses/by/2.0), which permits unrestricted use, distribution, and reproduction in any medium, provided the original work is properly cited.