DUSPs, to MAP kinases and beyond
Cell & Bioscience
2012
2:24
Received: 11 April 2012
Accepted: 9 July 2012
Published: 9 July 2012
Abstract
Phosphatases are important regulators of intracellular signaling events, and their functions have been implicated in many biological processes. Dual-specificity phosphatases (DUSPs), whose family currently contains 25 members, are phosphatases that can dephosphorylate both tyrosine and serine/threonine residues of their substrates. The archetypical DUSP, DUSP1/MKP1, was initially discovered to regulate the activities of MAP kinases by dephosphorylating the TXY motif in the kinase domain. However, although DUSPs were discovered more than a decade ago, only in the past few years have their various functions begun to be described. DUSPs can be categorized based on the presence or absence of a MAP kinase-interacting domain into typical DUSPs and atypical DUSPs, respectively. In this review, we discuss the current understanding of how the activities of typical DUSPs are regulated and how typical DUSPs can regulate the functions of their targets. We also summarize recent findings from several in vivo DUSP-deficient mouse models that studied the involvement of DUSPs during the development and functioning of T cells. Finally, we discuss briefly the potential roles of DUSPs in the regulation of non-MAP kinase targets, as well as in the modulation of tumorigenesis.
Keywords
PhosphataseDUSPSignal TransductionT Cell DevelopmentImmune Regulation
Conclusions and future directions
Compared with kinases, phosphatases have arrived on the stage of signaling regulation nearly a decade late. On the one hand, this recent arrival allows more advanced genetic, structural, and molecular tools to be used, expediting the studies of phosphatase functions. On the other hand, the late entry may also unintentionally limit the breadth and scope of phosphatase-related studies to their functions on kinase regulation. Although more and more reports are focusing on the independent functions of various phosphatases, we believe that the DUSP family proteins deserve more attention for the following reasons. First, the DUSP protein family is a fairly large family with many members. While the theoretical and observed functional redundancy may impede the analyses of their physiological roles, it also provides a safety net if DUSPs are to be targeted by pharmacological reagents in clinical trials. In other words, pharmacological disruption of DUSP functions may not obtain the full-scale effects, as suggested by in vivo studies using DUSP-deficient mouse models; however, their effects are likely to be safer, milder, and less dramatic due to the compensatory effects from other DUSPs. In this sense, DUSP inhibitors may behave more like herbal medicines with conceivably fewer side-effects. This concept may provide a different perspective for the development of DUSP inhibitors.
The second reason that DUSPs are a desirable target for medical research is their small size and their simple domain structure, which, to a certain degree, makes the development of small molecule inhibitors less difficult [90]. Indeed, significant efforts have been undertaken by the pharmaceutical industry to develop such inhibitors for medical use (reviewed in [4, 91]). With accumulating structural and tissue-expression data, the design and validation of these inhibitors may become more efficient and productive [90, 91]. If one can complement the system by generating a comprehensive database of DUSP-deficient mouse models so that off-target effects of these inhibitors can be easily evaluated, we will be one step closer to seeing the applications of DUSP inhibitors in therapeutic treatments.
A third point, which has not been emphasized in this review, is the growing list of cancers associated with deregulated DUSP expression (reviewed in [
5
–
7
]). These articles detailed how DUSPs may be essential for regulating MAP kinase activities during oncogenic transformation and proliferation/apoptosis of cancer cells. In a separate review, the functions of DUSP-mediated regulations on MAP kinases in tumor metastasis, hypoxia response, and angiogenesis are also discussed [
92
]. Previous results from our laboratory also demonstrated that DUSPs regulate cancer cell stress response or differentiation via MAP kinase-dependent [
93
,
94
] or -independent [
87
] pathways. In writing this review, we wish to further emphasize the immune regulatory functions of DUSPs, as well as the potential involvement of non-MAP kinase substrates during tumorigenesis. The above regulatory mechanisms are summarized in Figure
5
.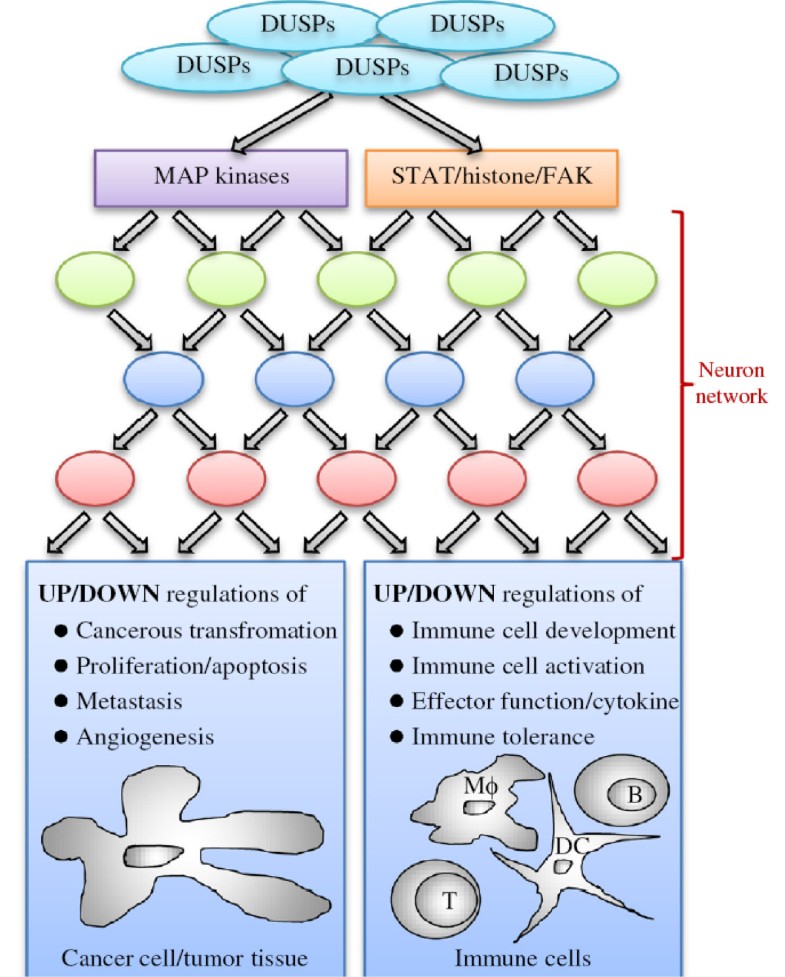 Upon glimpsing of Figure 5, one can easily appreciate the "multiple-input, multiple-output" nature of DUSP-mediated modulations on cancer cells. Conceptually, such a scenario is similar to a neuron network in the context of signaling regulations. In such a network, altering one DUSP may cause multiple functional changes of its substrates that are translated into even more diverse physiological functions in the least predictable manner. This argument is partially supported by the fact that the same DUSP is often reported as both overexpressed or suppressed in different tumor cells (reviewed in [91]). In this regard, the design and validation of DUSP inhibitors for treating cancers may be segregated from the investigations of DUSPs' in vitro or in vivo functions. While the latter will certainly provide directions for mechanistic studies, they may not assist in predicting the outcome of the treatments. Therefore, we believe that the therapeutic validation of DUSP inhibitors may benefit significantly by expedited migration to in vivo models, such as orthotopic tumor transplantations, so that the physiological effects of these treatments can be more faithfully recapitulated.
Abbreviations
DUSP:

Dual-specificity phosphatase
MKB:

MAP kinase-binding
KIM:

Kinase-interacting motif
CD:

Common domain.
Declarations
Acknowledgements
This work was supported in whole or in part by grants 99A1-IMPP01-014 (to T.-H. T.) and 100A1-IMPP02-014 (to C. H.) from the National Health Research Institutes, Taiwan; grant 1R01-AI066895 (to T.-H. T.) from the National Institutes of Health, USA; and grant 98-2320-B-400 -006 -MY3 (to C. H.) from the National Science Council, Taiwan.
Authors' Affiliations
(1)
Immunology Research Center, National Health Research Institutes, Zhunan, Taiwan
(2)
Department of Pathology & Immunology, Baylor College of Medicine, Houston, USA
Copyright
© Huang and Tan; licensee BioMed Central Ltd. 2012
This article is published under license to BioMed Central Ltd. This is an Open Access article distributed under the terms of the Creative Commons Attribution License (http://creativecommons.org/licenses/by/2.0), which permits unrestricted use, distribution, and reproduction in any medium, provided the original work is properly cited.