Retinoic acid synthesis and functions in early embryonic development
Cell & Bioscience
2012
2:11
Received: 2 December 2011
Accepted: 22 March 2012
Published: 22 March 2012
Abstract
Retinoic acid (RA) is a morphogen derived from retinol (vitamin A) that plays important roles in cell growth, differentiation, and organogenesis. The production of RA from retinol requires two consecutive enzymatic reactions catalyzed by different sets of dehydrogenases. The retinol is first oxidized into retinal, which is then oxidized into RA. The RA interacts with retinoic acid receptor (RAR) and retinoic acid X receptor (RXR) which then regulate the target gene expression. In this review, we have discussed the metabolism of RA and the important components of RA signaling pathway, and highlighted current understanding of the functions of RA during early embryonic development.
Keywords
retinoidsretinoic acid synthesisembryonic developmentorganogenesis
Introduction
Retinoids refer to those chemicals that are structurally or functionally similar to retinol, or vitamin A [1], which is an essential biomolecule for embryonic development and adult body homeostasis. All retinoids retain the polyene hydrophobic tail attached to a cyclic 6-carbon ring. The polyene tail is characterized by the alternating conjugated carbon-carbon double bonds, which makes retinoids light-sensitive. In contrast with other signaling proteins, retinoids have a much lower molecular weight of approximately 300 Da. Given their molecular structures, retinoids are highly oil-soluble and able to diffuse across the cell membrane. Retinoids are involved in cellular growth, apoptosis, immune response, and epithelial growth [2–7] through the interaction with the nuclear receptors, retinoic acid receptor (RAR) and retinoid X receptor (RXR). During early embryonic development, the major active form of retinoids, all-trans retinoic acid (atRA), regulates germ layer formation, body axis formation, neurogenesis, cardiogenesis, and the development of pancreas, lung, and eye. It is also a critical element for visual function [8]. Because of the wide spectrum of RA functions, the metabolism, regulation, and function of vitamin A have been extensively studied for decades, and here we summarize our current understanding on retinoids metabolic pathways and RA functions during early embryonic development.
2. Metabolism of vitamin A and the production of all-trans retinoic acid
Vitamin A is a necessary dietary vitamin for the normal development and vision. The critical necessity of vitamin A was hinted as early as 1881 by Nikolai Lunin, who discovered that purified protein, fat, and carbohydrate did not sustain the normal growth of mice, unless the diet was supplemented with milk. Elmer Verner McCollum, then determined in 1917 that the critical component concerned in milk was actually a "fat-soluble factor A", named in contrast to the previously discovered "water-soluble factor B", or vitamin B. These discoveries allowed Carl Edvard Bloch, a Denmark paediatrician, to identify vitamin A deficiency as the cause of night blindness, or xerophthalmia [9].
While vitamin A was a necessary dietary vitamin, vitamin A itself is not the main bioactive mediator of its function. The key mediators of vitamin A function were identified as atRA and 11-
cis
retinal. atRA is a regulator of gene transcription, while 11-
cis
retinal acts as a chromophore for visual functions [
10
]. In this section, we will review the metabolic processes of converting vitamin A into various retinoids, with emphasis on the production of atRA (Figure
1
).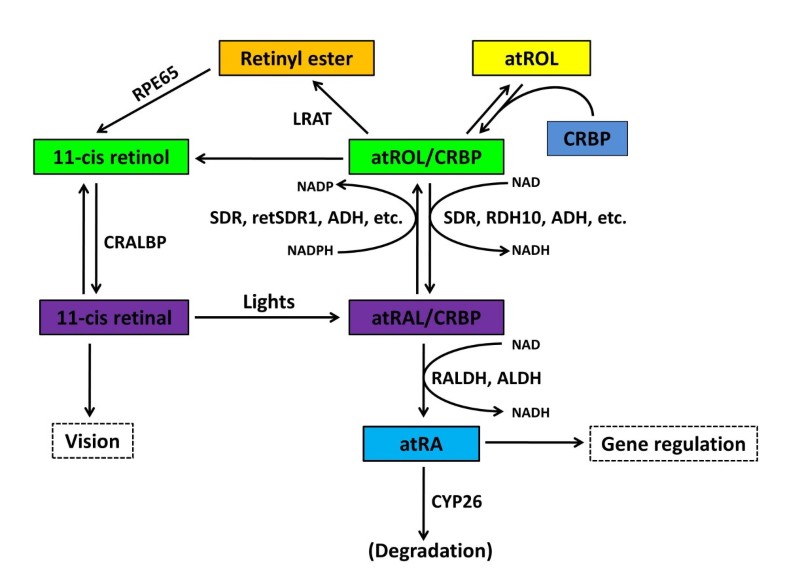 2.1 Conversion of Vitamin A (atROL) to all-trans retinal (atRAL)
Vitamin A (hereby referred to as all-trans retinol, atROL) is absorbed in the small intestine and esterified as retinyl esters for the blood stream transport. Retinyl ester is first transported to the liver for storage, mainly in the hepatic stellate cell. Hydrolysis of retinyl esters results in retinol, which then binds to retinol binding protein (RBP). The atROL/RBP complex is the dominant form for systematical and intercellular transport. After target organs take up the atROL/RBP complex, the atROL either is re-esterified into retinyl ester by lecithin retinol acyltransferase (LRAT) or binds to cellular retinol-binding protein (CRBP). The CRBP can prevent intracellular atROL from non-specific oxidation, immobilize intracellular retinol for storage, and acts as a carrier protein to present the atROL to respective retinol dehydrogenase for oxidation, or to LRAT for esterification [11]. Thus, the esterification by LRAT and/or the binding to CRBP represent the most upstream regulation of atROL availability, and therefore atRA metabolism, in the cell [12].
Retinyl ester and CRBP-bound retinol are the main storage forms of atROL. The retinyl ester can be hydrolyzed into 11-cis retinol by isomerohydrolases [13, 14]. The cellular retinaldehyde binding protein (CRALBP) binds to 11-cis retinol with high affinity [15], which leads to the oxidation of 11-cis retinol to 11-cis retinal by 11-cis retinol dehydrogenase [16, 17]. The 11-cis retinal is an essential component for vision. It binds to opsin to form rhodopsin, which can absorb lights within the visible spectrum. When the 11-cis-retinal absorbs a photon, it isomerizes from the 11-cis state to atRAL. The binding of atRAL to opsin is not stable and atRAL is rapidly released from opsin. Such molecule movements cause cell membrane change, and eventually lead to generation of the nerve impulse for vision (Figure 1).
atROL/CRBP complexes are the first substrate in the metabolic pathway which leads to the production of atRA. Using atROL/CRBP as substrate, retinol dehydrogenase (RDH), which belongs to short-chain dehydrogenase/reductase (SDR) family, catalyzes the oxidation of atROL to all-trans retinal (atRAL) [18]. This step is the rate limiting step in the production of atRA [19]. It has also been demonstrated that in vitro free atROL can be converted into atRAL by non-specific enzymes including alcohol dehydrogenase [20]. CRBP therefore provides a selection mechanism for specific RDH-mediated oxidation of atROL. Indeed, RDH has a much higher affinity towards atROL/CRBP complex than free atROL and the reaction depends on protein-protein interaction between RDH and CRBP [21]. It has been demonstrated that the microsomal RDH interacts with atROL/CRBP-I in the presence of co-factor, nicotinamide adenine dinucleotide phosphate ( NADP) [22]. Moreover, atROL/CRBP is the preferred substrate for the retinol dehydrogenase 16 (RDH16. Abbreviated as RoDH-4 in the original article), but not for 3α-hydroxysteroid dehydrogenase (3α-HSD), a similar alcohol dehydrogenase which has an even higher affinity towards free atROL [23]. Thus, CRBP acts as a selection protein for RDH by increasing the substrate affinity for RDH, which in turn prevents non-specific oxidation of atROL by alcohol dehydrogenase.
The conversion of atROL to atRAL is, in fact, reversible. The direction - oxidation or reduction - favored by different members of SDR family depends on the substrate affinity, co-factor affinity, and the rate of reaction. In addition to CRBP that contributes to substrate affinity, another factor that contributes to substrate affinity is the intrinsic substrate binding site on the SDR family of enzymes. Retinal reductase 1 (RalR1), a human SDR, has been shown to be reactive towards both atROL and atRAL in vitro. However, RalR1 has a higher affinity and rate of reduction for atRAL than atROL, indicating that RalR1 is a retinal reductase, rather than retinol dehydrogenase, under physiological conditions [24]. Co-factor affinity of different SDR has also been demonstrated that the co-factor favored by SDR reflects the direction of reaction catalyzed by that particular SDR (reviewed by Pares) [25].
Apart from RalR1, a number of retinal reductases have been identified in the past decades. A human short-chained retinol reductase (retSDR1) identified in a neuroblastoma cell line has been shown to promote the formation of retinyl ester in the presence of exogenous atRAL [26]. A mouse liver peroxisomal SDR termed mouse retinal reductase (RRD) also showed a high atRAL-specific reductase activity in the presence of CRBP in vitro[27]. This enzyme was induced by peroxisome proliferator-activated receptor (PPAR), suggesting a relationship between retinoid metabolism and peroxisome activity [27]. Using in vitro assay, some studies have identified reductases which showed in vitro retinal-reducing activity. For example, human aldose reductase and human small intestine aldose reductase can function as retinal reductase in vitro[28]. Similarly, the mouse short-chained aldehyde reductase (SCALD) could reduce atRAL and 9-cis retinal in vitro[29]. However, these studies are based on in vitro biochemical analysis only and do not take into account the substrate selection by CRBP. Therefore, the enzymatic activities on different retinal reported should not be taken as a direct evidence for physiological retinal reductases.
2.2 Conversion of atRAL to atRA
Similar to atROL, all-trans retinal is also transported by CRBP in the cell, and is then oxidized to atRA. The oxidation from atRAL to atRA has been observed as early as 1960 [30]. The oxidation of atRAL to atRA was mediated by various retinaldehyde dehydrogenases (RALDH). At least 3 RALDHs have been identified in human, mouse, and Xenopus, with different physiological functions [31]. Retinaldehyde dehydrogenase 1 (Raldh1) is highly expressed in the dorsal retina of mouse embryos [32], in epithelial tissues of adult mice and Xenopus[33], and in the stomach and small intestine of adult rats [34]. Xenopus raldh1 has been shown to be an atRA synthesizing enzyme in a retinoic acid responsive cell line [35]. RALDH1 -/- mice also suggest that Raldh1 is capable of atRA synthesis [36]. However, knockout of RALDH1 did not severely affect the morphology of the retina although RALDH1 is localized in the dorsal retina [36], indicating that other enzymes might redundantly share the function of RALDH1.
The retinaldehyde dehydrogenase 2 (RALDH2) was identified in human, mouse, chick, zebrafish and Xenopus[37–39]. Interestingly, RALDH2 was identified as a crucial enzyme for atRA synthesis in different organisms. Knockout of RALDH2 was embryonic lethal during the post-implantation period in mice [40], suggesting that atRA is essential for normal embryonic development. The phenotypes of RALDH2 knock-out mice include severely impaired segmentation of rhombomeres, altered homeobox gene expression pattern, and defective neural crest cell migration [41]. In zebrafish, knockdown of raldh2 caused a down-regulation of retinoic acid signaling, malformation in the central nervous system, and disruption of left-right asymmetry [42, 43]. The raldh2 mutant, neckless (nls), displayed a suppressed formation of the midbrain to hindbrain region, as well as segmentation defects in rhombomeres [44]. Such defects were attributed to the reduction in atRA signaling [45], since the spatial and temporal pattern of atRA signaling is maintained mainly by raldh2 and a degradative enzyme cytochrome P450 hydroxylase A1 (cyp26a1) in zebrafish. In Xenopus embryos, ectopic expression of raldh2 caused teratogenic effects such as the expression of posterior neural markers (en2 and krox20) in the anterior region, which is similar to that due to atRA toxicity [38], suggesting that raldh2 is an important enzyme in maintaining atRA homeostasis in embryos. Knockdown of raldh2 in Xenopus embryos caused a shortening of anteroposterior axis and a posterior shift of neural marker en2 and krox20[46]. Collectively, such evidence indicated that raldh2 plays a crucial role in the anteroposterior patterning of the central nervous system and trunk axis through regulation of the RA signaling.
Retinaldehyde dehydrogenase 3 (RALDH3) has been identified in human, chick, mouse, zebrafish, and Xenopus, and is expressed in the ventral retina across various species [47–51]. Studies in mouse have shown that RALDH3 was mainly involved in the frontonasal development and patterning of ocular structures [52]. Mice lacking RALDH3 were neonatal lethal, due to the respiratory tract obstruction in nasal region, and the neonatal lethality could be rescued by atRA supplements [53], suggesting that RALDH3 is an atRA synthesis enzyme. In 2007, Halilagic et al. showed that atRA production by RALDH3 contributed to the correct patterning of the anterior and dorsal boundaries of the developing forebrain [54]. It was further delineated that RALDH3 knockout mice exhibited loss of dopamine receptor D2 in the ventral forebrain. These studies suggest that RALDH3 is essential for the development of the central nervous system and the morphogenesis of anterior head structures [52].
Similar to atROL and atRAL, the metabolism of atRA is also closely related to retinoid binding protein termed cellular retinoic acid binding proteins (CRABPs). CRABPs bind to intracellular RA and prevent it from non-specific degradation [
55
,
56
]. There are two species of CRABP, CRABP-I and CRABP-II. These carrier proteins also ensure the solubility of hydrophobic retinoid in the aqueous intracellular environment. However, a recent study of CRBP-I/CRABP-I/CRABP-II triple knock-out mice has shown that the main regulator of retinoid homeostasis was likely to be CRBPs, with CRABPs playing a minor role in this process. Hoegberg
et al.
found that the chemical-induced depletion of total retinoids in triple knockout mice was more severe than the wild type and CRABP-I/CRABP-II double knockout mice [
57
], suggesting that CRBP-I is a more potent regulator of retinoid homeostasis. While CRABPs might not be critical in regulating total retinoids homeostasis, they participate in mediating RA signaling by transporting RA to the nucleus to interact with RARs. CRABP-II was shown to be translocated into nucleus upon the ligand binding [
58
], which allows atRA to bind to and activate RAR, a transcription factor responsible for the RA signaling (Figure
2
). Interestingly, the RA signaling is tightly regulated by negative feedback mechanisms as CRABP-II is negatively regulated by atRA [
59
]. Elevated RA signaling suppresses the production of CRABPs, which down-regulate the activation of RARs and the RA signaling. CRABP-I, on the other hand, regulates the rate of RA metabolism by presenting RA to the degrading enzyme CYP26A1 [
60
].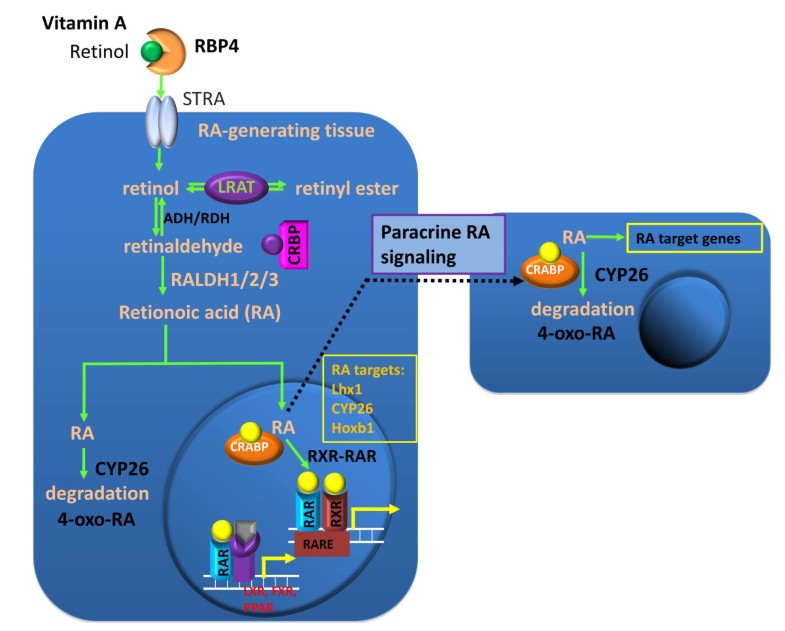 2.3 Degradation of atRA
All-trans retinoic acid is degraded by CYP26 enzymes, which belong to cytochrome P450 hydroxylase family. A number of CYP26 family including CYP26A1, B1, C1, and D1 have been characterized and all of them possess the ability to degrade atRA into less bio-active retinoid [61–63]. Rhombomeric alteration defects were only observed by the knockdown of all three cyp26 enzymes in zebrafish [64], suggesting that cyp26a1, b1 and c1 act redundantly in hindbrain patterning. CYP26A1 is induced by atRA while it promotes the hydroxylation of atRA into 4-hydroxy retinoic acid, 4-oxo retinoic acid, and 18-hyroxy retinoic acid [45, 65–67]. Since RALDH2 and CYP26A1 are both regulated by atRA itself, the metabolism of atRA therefore forms an auto-regulatory loop that regulates and balances atRA levels in embryos. Such regulation not only maintains the endogenous atRA level within a normal range, but also allows the organisms to respond to exogenous atRA fluctuation.
3. Retinoic acid receptors
atRA is carried into the nucleus by CRABP-II, and interacts with RARs, which themselves are transcription factors. RARs belong to retinoid receptor family, which also includes another group called retinoid X receptors (RXRs). RARs recognize both atRA and 9-cis retinoic acid, while RXRs only recognize 9-cis retinoic acid. Upon the ligand binding, RAR dimerizes with RXR to form a heterodimer, which then initiate gene transcription by binding to the retinoic acid response element (RARE) in the promoter region of the targets genes (Figure 2). The RAR family consists of RARα/β/γ three members that bind to atRA [68–71]. Single knockout mice that lack each of RARs were not embryonic lethal and did not display the complete spectrum of vitamin A deficiency phenotype. A disruption in RARα did not cause any observable phenotypic change in a mouse model [72]. Knockout of RARβ caused a reduction in the body weight and ocular defect, while limb formation remained normal [73]. Double knockout of two RARγ subtypes caused growth deficiency, cartilage dysmorphogenesis, and vertebrate malformation [74]. These results imply that RARs work redundantly and compensate the function of each other. Indeed, knockdown of RARα caused an increase in the expression level of RARβ and RARγ [75]. Only double knockout mutants showed phenotype close to the symptoms of vitamin A deficiency [76]. The auto-regulatory loop of RAR expression is similar to that regulating the expression of of RALDH2 and CYP26a1. Moreover, RARE has been identified in the promoter regions of RARα and β[77–79], indicating that the expression of these RARs is also under control of atRA.
Similarly, there are also three subtypes of RXRs [80]. RXRα knockout mice were embryonic lethal, potentially due to malformation of the heart in utero [81]. RXRβ knockout mice were 50% embryonic lethal, and the surviving littermates were morphologically normal except spermatogenesis defects which rendered the male sterile [82], while the RXRγ-null mutant mice were morphologically normal when compared with the wild type [83]. Moreover, the mice carrying only one copy of RXRα (RXRα+/-/RXRβ-/-/RXRγ-/-) were viable, suggesting one copy of RXRα is sufficient to carry out most of function of the RXRs [83]. Since atRA-bound RAR can form heterodimer with RXR in the absence of 9-cis retinoic acid and is still active in transcription activities, the importance of RXRs may not be as critical as RARs. This may explain why only one copy of RXRα is sufficient for the mouse embryonic development. Taken together, these results suggest that each of the RAR subtypes function redundantly and most of the RXR subtypes are not critical for the embryonic development.
While RARs mainly mediate the RA signaling, it has been revealed by many studies that ligand-bound RXRs activate other signaling pathways by forming heterodimer with other nuclear receptors such as liver X receptor (LXR), farnesoid X receptor (FXR), and PPAR [84–86] (Figure 2). LXR mainly functions as a sensor of cholesterol levels by recognizing its ligand oxysterols. Overloading cells with cholesterol activates LXR/RXR heterodimers which in turn initiate transcription of target genes, thereby regulate cholesterol transport, uptake, metabolism, and bile acid synthesis in the liver [87, 88]. FXR can recognize free or conjugated bile acid and thus acts as an intracellular sensor of bile acid to regulate the metabolism of bile acid in the liver. Activation of liganded-FXR/RXR promotes bile acid efflux and inhibits bile acid synthesis [89]. PPAR is a lipid sensing nuclear receptor, recognizing a wide range of fatty acids [90]. These interactions between LXR, FXR, PPAR, and RXR reflect the complexity of RXR functions and their potentials on the RA signaling. In addition, not only do RXRs take part promiscuously in multiple signaling pathways, the expression of these nuclear receptors is also under control of complex feedback loops and cross-talks with other signaling pathways [91]. The heterodimerization of RXR with RAR, LXR, FXR, or PPAR is therefore mutually competitive, and atRA signaling not only triggers the transcription of its target genes, but also competitively suppresses the transcription of others. This may explain the board spectrum of atRA-induced teratogenicity observed in embryos.
4. Differential expression and gene regulation of RA metabolic enzymes
The RA metabolic enzymes show distinct differential expression pattern during early embryonic development, and interestingly their expression is regulated by the RA signaling. Detailed descriptions of the expression patterns of these genes are beyond the scope of this review. Schematic drawing of expression of
rdh10, dhrs3, raldh2, cyp26
a1,
rarα2
, and
crabp-II
at
Xenopus
gastrula (stage 11) and neurula (stage 14) stages are illustrated in Figure
3
, which shows that the RA signaling itself regulates expression of the enzymes for RA biosynthesis and elicits the complexity of RA acting as a morphogen in early embryonic development. Ectopic
cyp26
expression can be induced by atRA treatment [
92
], while the embryos treated with atRA showed down-regulation of
raldh2
[
38
] and
rdh10
[
46
].
Dhrs3
can also be induced by atRA treatment (RKT Kam, Y Chen, WY Chan and H Zhao. Dhrs3 attenuates the retinoic acid signaling and is required for early embryonic patterning. Submitted). Thus the RA signaling down-regulates the expression of the enzymes for atRA production, but up-regulates enzymes that can reduce atRA level in embryos. Other components in the RA signaling are also responsive to atRA treatment. For example,
crabp-II
was found to be an atRA-inducible gene [
93
], and was found to contain a RARE domain in its promoter region [
94
]. Similarly,
rarα2
was found to be inducible by atRA treatment in leukemic cell lines [
95
], and in rat embryos as well [
96
]. We summarize the regulation of these genes by RA signaling in Figure
4
.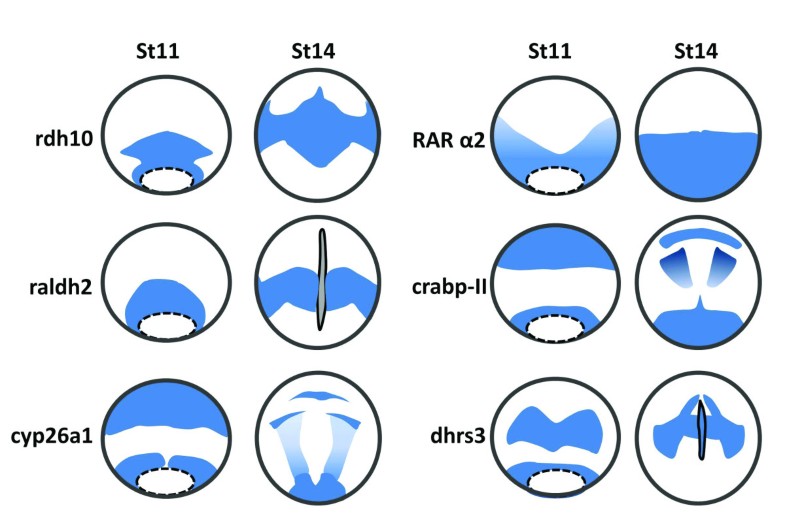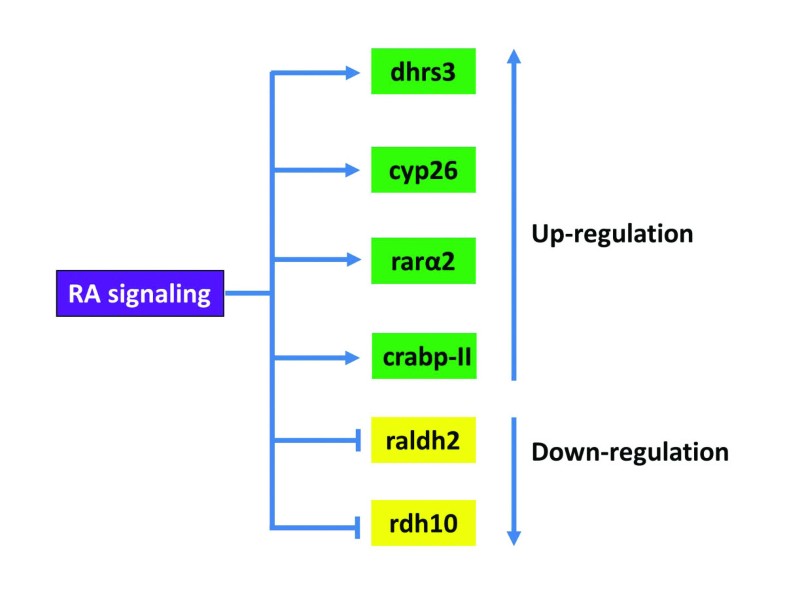 5. Retinoic acid signaling during early embryonic development
The RA signaling pathway has been implicated in various developmental processes. During early embryonic development, retinoids act as an important morphogen across different species from invertebrate to metazoan including human [97, 98]. It participates in regulating various biological processes, such as apoptosis and differentiation, and cell fate specification.
Concluding remarks
To date, it has been demonstrated that the RA signaling plays sophisticated roles in early embryonic development. In fact, gastrulation is a very critical period for the RA signaling to exert its function in the regionalization of all three germ layers along the anteroposterior axis. RA is mainly generated in the mesoderm and thus can be most efficiently used. It is not clear as to how the RA metabolic enzymes coordinate with each other to generate the RA gradient at right time, right region, and with right strength during early embryonic development. Future studies are needed to identify the immediate and direct RA target genes in distinct RA responsive cells and to define the crosstalks between RA and other signaling pathways, such as hedgehog, FGF, Wnt, and Notch signalings for the formation and regionalization of three germ layers. Such knowledge will be essential for understanding organogenesis and establishing reliable strategies for stem cell differentiation into specific cell types that can be used for treatment of human diseases.
Declarations
Acknowledgements
We thank members of our laboratories for valuable discussion. This work is supported by GRF grant from the Research Grants Council of Hong Kong (No. CUHK480709) to HZ, the National Basic Research Program of China (2009CB941202), and the fund from the Key Project of Knowledge Innovation Program of the Chinese Academy of Sciences (KSCX2-YW-R-083) to YLC. RKTK was supported by the Graduate Studentships from The Chinese University of Hong Kong.
Authors' Affiliations
(1)
School of Biomedical Sciences, Faculty of Medicine, The Chinese University of Hong Kong, Hong Kong, P. R. China
(2)
Department of Medicine and Therapeutics, Faculty of Medicine, The Chinese University of Hong Kong, Hong Kong, P. R. China
(3)
Center for Molecular Medicine, Guangzhou Institute of Biomedicine and Health, Chinese Academy of Sciences, Guangzhou, P. R. China
(4)
Key Laboratory for Regenerative Medicine, Ministry of Education, Ji Nan University-The Chinese University of Hong Kong, Hong Kong, P. R. China
Copyright
© Kin Ting Kam et al; licensee BioMed Central Ltd. 2012
This article is published under license to BioMed Central Ltd. This is an Open Access article distributed under the terms of the Creative Commons Attribution License (http://creativecommons.org/licenses/by/2.0), which permits unrestricted use, distribution, and reproduction in any medium, provided the original work is properly cited.