Recent progress in the study of brown adipose tissue
Cell & Bioscience
2011
1:35
Received: 5 August 2011
Accepted: 28 October 2011
Published: 28 October 2011
Abstract
Brown adipose tissue in mammals plays a critical role in maintaining energy balance by thermogenesis, which means dissipating energy in the form of heat. It is held that in mammals, long-term surplus food intake results in energy storage in the form of triglyceride and may eventually lead to obesity. Stimulating energy-dissipating function of brown adipose tissue in human body may counteract fat accumulation. In order to utilize brown adipose tissue as a therapeutic target, the mechanisms underlying brown adipocyte differentiation and function should be better elucidated. Here we review the molecular mechanisms involved in brown adipose tissue development and thermogenesis, and share our thoughts on current challenges and possible future therapeutic approaches.
Keywords
brown adipose
differentiation
thermogenesis
obesity control
Introduction of brown adipose tissue and thermogenesis
Adipose depots in different parts of the body have unique micromorphology and molecular markers. According to their distinct physiological roles, adipose tissue in mammals is categorized into white adipose tissue (WAT) and brown adipose tissue (BAT) [1]. WAT functions to store energy in the form of triglyceride (TG)-containing intracellular droplets as well as to secrete a host of hormones that regulate overall energy balance. Unlike WAT, BAT regulates thermogenesis upon environmental stresses to maintain energy balance and protect the organism from hypothermia [2]. In addition, it has been shown that by activating BAT via short-term cold exposure, fatty acids are efficiently channeled into BAT due to a metabolic program that boosts TG-rich lipoproteins (TRL) uptake into BAT. In consequence, lipids clearance from plasma becomes more efficient, implicating that BAT might be a master regulator of TRL clearance and blood lipid abundance [3].
BAT thermogenesis is achieved by dissipating heat produced from fatty acid oxidation. As little as 50 g of BAT could account for up to 20% of basal metabolic energy expenditure of an adult human when maximally stimulated [4]. When animals are subjected to cold environment or ingest surplus energy, their sympathetic nervous system will be stimulated and catecholamine will be released. Catecholamine binds to the β3-Adrenoceptor on the plasma membrane of brown adipocyte and activates adenylyl cyclase which is able to accelerate the conversion of ATP to cyclic AMP (cAMP) [5]. cAMP is able to activate type 2 deiodinase (Dio2), an enzyme that converts thyroid hormone T4 to T3 in the brown adipocyte, resulting in enhanced local thyroid hormone signaling and increased energy. In addition, cAMP activates protein kinase A, which, in turn, phosphorylates and activates triacylglycerol lipase. Then the lipase accelerates the release of free fatty acid from triacylglycerol contained in the droplet of brown adipocyte, which acts both as the fuel of thermogenesis and as an activator of uncoupling protein 1 (UCP1), a key component of thermogenesis. UCP1 activation results in fast substrate oxidation with a low rate of ATP production. Thus, a large amount of energy is dissipated in the form of heat, which will be distributed throughout the body by circulation system [1, 6].
Overview of recent breakthroughs in the study of BAT
It was previously believed that brown adipocyte and white adipocyte share a common ancestor in the course of adipogenesis. However, different opinion was rendered in 2007 when PR domain containing 16 (PRDM16) was discovered to be a master regulator of brown adipocyte differentiation [6]. Investigation of its specific role in brown adipocyte commitment led to the discovery that skeletal muscle and some depots of BAT share a common myogenic factor 5 (Myf5)-expressing progenitor [7]. Besides classic interscapular brown adipocytes, brown-like adipocytes (brite adipocytes) were found in WAT depots. When rats were submitted to cold or treated with β-adrenoceptor agonist, UCP1 could be detected in fat pads which had been considered as WAT. UCP1 was expressed in cells morphologically identical to typical brown adipocytes found in interscapular BAT [8]. More recent data suggested that there were inducible brown adipocytes in WAT when mice were exposed to cold environment [9]. These inducible brown adipocytes were not derived from Myf5-expressing myoblasts, and had a distinct gene expression profile in comparison with those adipocytes in interscapular BAT.
The mesenchymal stem cell is the precursor of brown adipocytes. BAT formation occurs in the early phase of embryonic development [
10
]. Once it was suggested that only small mammals and new born infants possess BAT, while human adults are practically devoid of functional BAT [
1
]. However, several research papers published in
New England Journal of Medicine
in 2009 rebutted this assumption [
11
–
14
]. After analyzing thousands positron emission computed tomography/computed tomography (PET/CT) scans of adult subjects, researchers found that BAT was located in the neck and upper-chest regions. Moreover, BAT ratio was conversely correlated with body mass index (BMI) and this correlation was more significant among elderly [
12
]. Development of obesity is a result of prolonged positive energy balance. Most of surplus energy is stored in adipose tissue. Since BAT is essential in maintaining the balance of body fat and keeping individuals from obesity, now BAT has been considered a promising therapeutic target to combat obesity. We need to further delineate the mechanisms involved in brown adipose differentiation and thermogenesis, although they have been studied extensively (Figure
1
).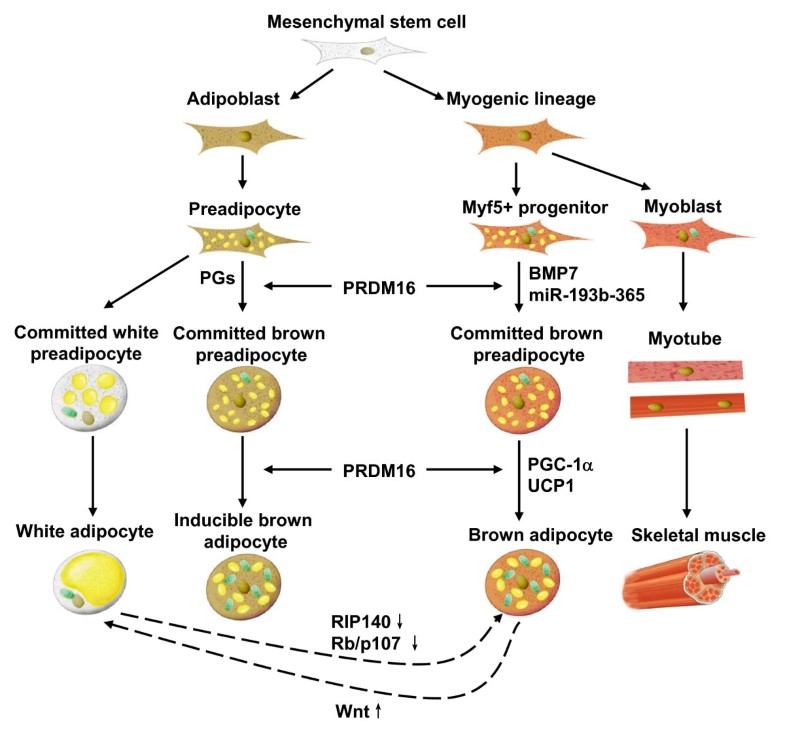 Key players involved in brown adipose thermogenesis and differentiation
Conclusions
With the help of modern technology, multiple studies conclusively show that functional BAT exists in adult humans, and is inversely correlated with BMI, adipose tissue mass, glucose and insulin levels. Recently, studies were focused on illustrating which factors determine the unique feature of BAT. As summarized above, a great number of molecules are involved in the regulation of brown adipocyte differentiation and thermogenesis, be it in direct or indirect ways. Animal studies contribute a great deal for us to understand BAT development and function. However, a full understanding of BAT biology in humans will only be completed with clinical evidence. Taking advantage of the advancement of biomedical technology, we are expecting the next leap on BAT research.
List of abbreviations used
WAT:

white adipose tissue
BAT:

brown adipose tissue
TG:

triglyceride
TGL:

TG-rich lipoproteins
UCP1:

uncoupling protein 1
cAMP:

cyclic AMP
PRDM16:

PR domain containing 16
Myf5:

myogenic factor 5
PET/CT:

positron emission computed tomography/computed tomography
BMI:

body mass index
PGC-1α:

Peroxisome proliferator-activated receptor gamma coactivator 1-alpha
PPAR:

peroxisome proliferator-activated receptor
NRF:

nuclear respiratory factor
CREB:

cAMP response element-binding protein
RIP140:

receptor-interacting protein 140
Dio2:

type II deiodinase
ctBP:

C-terminal-binding protein
C/EBP:

CCAAT-enhancer-binding protein
pRb:

retinoblastoma protein
MEF:

mouse embryonic fibroblast
COX:

cyclooxygenase
DNP:

2, 4-dinitrophenol
SVF:

stromal vascular fraction.
Declarations
Acknowledgements
We thank Dr. Caroline Kim and Dr. Changxue Lu for critical comments and reading our manuscript. This work was partially supported by grants from the One Hundred Talents Program of the Chinese Academy of Sciences, the Ministry of Science and Technology of China (973 Program 2009CB919000, 2010CB912500), the National Natural Science Foundation (30970587, 31070679), the Science and Technology Commission of Shanghai Municipality (10ZR1435000).
Authors' Affiliations
(1)
Key Laboratory of Nutrition and Metabolism, Institute for Nutritional Sciences, Shanghai Institutes for Biological Sciences, Chinese Academy of Sciences, Shanghai, China
(2)
Graduate School of the Chinese Academy of Sciences, Chinese Academy of Sciences, Shanghai, China
Copyright
© Yao et al; licensee BioMed Central Ltd. 2011
This article is published under license to BioMed Central Ltd. This is an Open Access article distributed under the terms of the Creative Commons Attribution License (http://creativecommons.org/licenses/by/2.0), which permits unrestricted use, distribution, and reproduction in any medium, provided the original work is properly cited.