Role of dendritic cells in the induction of regulatory T cells
Cell & Bioscience
2011
1:20
Received: 31 January 2011
Accepted: 24 May 2011
Published: 24 May 2011
Abstract
Dendritic cells (DCs) play a key role in initiating immune responses and maintaining immune tolerance. In addition to playing a role in thymic selection, DCs play an active role in tolerance under steady state conditions through several mechanisms which are dependent on IL-10, TGF-β, retinoic acid, indoleamine-2,3,-dioxygenase along with vitamin D. Several of these mechanisms are employed by DCs in induction of regulatory T cells which are comprised of Tr1 regulatory T cells, natural and inducible foxp3+ regulatory T cells, Th3 regulatory T cells and double negative regulatory T cells. It appears that certain DC subsets are highly specialized in inducing regulatory T cell differentiation and in some tissues the local microenvironment plays a role in driving DCs towards a tolerogenic response. In this review we discuss the recent advances in our understanding of the mechanisms underlying DC driven regulatory T cell induction.
Keywords
Retinoic Acid
iTreg Differentiation
Retinoic Acid Production
iTreg Induction
Basic Region Leucine Zipper Domain
Introduction
Dendritic cells (DCs) are professional antigen presenting cells and are essential mediators of immunity and tolerance. DCs are the key players in maintaining immune tolerance, for their ablation has been shown to result in autoimmunity, highlighting the active role that DCs play under steady state conditions in maintaining immune tolerance[1]. In order to prevent autoimmune reactions, self reactive lymphocytes need to be deleted or their function needs to be suppressed. The generation of normal lymphocyte repertoire which is largely self-tolerant depends on positive and negative selection, which occurs in the thymus and the process, is referred to as central tolerance. However, some self-reactive lymphocytes that escape thymic deletion enter peripheral tissues and the suppression of their function is needed to prevent autoimmune reactions, which is referred to as peripheral tolerance. Central tolerance in the thymus is largely mediated by cortical epithelial cells, medullary epithelial cells and thymic DCs and involves deletion of self reactive thymocytes along with induction of naturally occurring regulatory T cells (Tregs), which play a key role in maintaining self tolerance and suppressing a variety of pathological immune responses[2]. In contrast to central tolerance, peripheral tolerance is mediated by DCs through generation of Tregs and clonal deletion of self reactive T cells. Tregs generated in the periphery are thought to be important in controlling immune response to non-self antigens. Peripheral Tregs include IL-10 secreting Tr1 Tregs, inducible foxp3+ Tregs, Th3 cells and double negative Tregs. DC induced generation of these Treg subsets is largely mediated by IL-27, TGF-β, IL-10, retinoic acid, indoleamine-2,3-dioxygenase and vitamin D. The generation of these Tregs is either mediated by tissue resident specific DC subsets with a specialized Treg inducing function or by the action of mediators present in local tissue microenvironment, which act on DCs and drive them to behave as tolerogenic DCs and induce Treg differentiation. In this review we provide an overview of the different mechanisms employed by DCs in generation of Tregs.
Type 1 regulatory cells
Type 1 regulatory T cells (Tr1) cells are a group of Tregs characterized by production of IL-10. Although initial studies pointed towards a central role of IL-10 in mediating Tr1 generation, recent studies indicate that Tr1 generation could also be dependent on IL-27. Both IL-10 and IL-27 are produced by DCs. Aryl hydrocarbon receptor (AhR), which is a ligand-activated transcription factor belonging to the basic helix-loop-helix-PER-ARNT-SIM family, is induced in Tr1 cells and during Tr1 differentiation, physically associates with c-maf, a transcription factor belonging to the family of basic region leucine zipper domain transcription factors and activates IL-10 and IL-21 promoters[
3
,
4
]. Studies to date have pointed towards a role of DC derived IL-27, IL-10, TGF-β1 along with a role of ICOSL signalling by DCs in induction of Tr1 cells. Figure
1
provides an overview of the pathways involved in DC mediated Tr1 differentiation.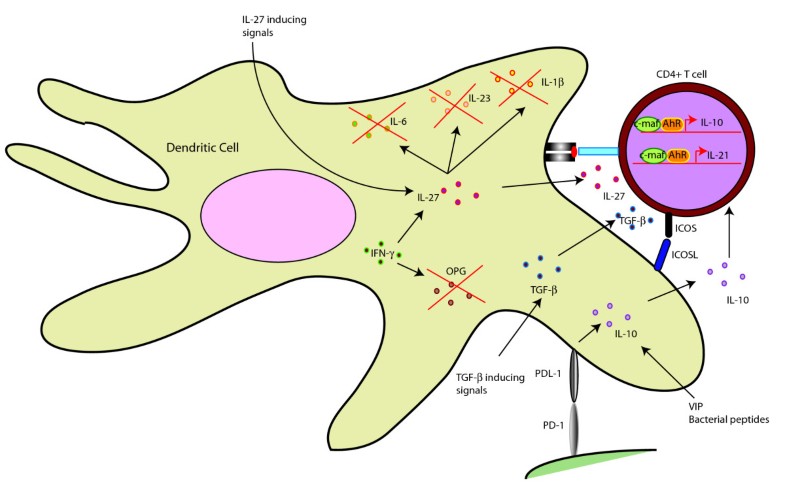 Foxp3+ Regulatory T cells
Foxp3+ regulatory T cells (Foxp3+ Tregs) are critical for maintaining immune tolerance and preventing autoimmune reactions[33]. Foxp3+ Tregs are identified by their expression of CD25 (IL-2 receptor) and Foxp3, a transcription factor critical for Treg differentiation[34]. Foxp3+ Treg population can be divided into the naturally occurring Foxp3+ Treg population (nTreg), generally found in the thymus and the inducible Treg population (iTreg), which is derived in the peripheral tissues from CD4+CD25- precursors upon activation in presence of TGF-β[35]. DCs are critical for Treg induction and in this section we offer an insight in the recent advances in our understanding of how DCs can drive nTreg and iTreg differentiation.
Naturally occurring Foxp3+ Tregs
Natural Foxp3+ Tregs (nTregs) comprise a distinct lineage pathway determined at the double positive (CD4+CD8+) stage of thymocyte development due in part to co-stimulatory signals initiating Foxp3 expression. nTregs develop in the thymus during thymic development upon recognition of self antigens. Although the role of DCs in thymic selection is documented, the role of DCs in generation of nTregs is highly controversial[36]. Several studies have shown that DCs are dispensable for nTreg generation, whereby antigens specifically expressed in thymic epithelial cells are sufficient to drive differentiation of nTregs [37]. Conversely, there are studies identifying contribution of thymic DCs to generation of nTregs[38]. Thymic DCs include two conventional DC subsets, which are CD8loSirpαhi/+ and CD8hiSirpαlo/-, among which CD8loSirpαhi/+ DCs have been shown to play a role in inducing nTreg generation in addition to their role in negative selection[39].
TSLP drives thymic DC mediated nTreg differentiation
Epithelial cells in Hassall's corpuscles in the thymus produce thymic stromal lymphopoetin (TSLP) which acts on thymic DCs by binding to TSLPR and IL-7R alpha complex and drives induction of CD80, CD86[38]. These DCs subsequently prime differentiation of CD4+CD8-CD25- thymocytes into nTregs, which is dependent on IL-2 and CD28 signaling [40]. Therefore, TSLP activated myeloid DCs in the thymus are likely critical for positive selection of medium to high affinity self reactive thymocytes to develop into nTregs[38]. In addition to myeloid DCs, plasmacytoid DCs (pDCs) residing in the thymus can also induce differentiation of CD69hiTCRhiCD4+CD8+ thymocytes into nTregs and this is dependent on CD40L crosstalk[41]. Thymic pDCs also express TSLP receptor along with IL-7 receptor complex and become responsive to TSLP produced by thymic epithelial cells of Hassall's corpuscles. TSLP activated pDCs can then drive differentiation of nTregs from CD4+CD8-CD25- thymocytes, which can be inhibited by Th1 and Th2 polarizing chemokines IL-12 and IL-4 respectively[42].
The role of TGF-β in driving nTreg differentiation is highly controversial. Previous studies have shown normal nTreg numbers in TGFβ-R1 deficient mice[35]. However, recently it has been shown that mice with TGFβ-R1 deletion have nTreg deficiency between postnatal day 3 and 5, but subsequently there is a surge in nTreg generation due to increased responsiveness of the cells to IL-2[43]. It remains to be investigated whether thymic DCs produce TGF-β1 which can affect nTreg generation.
Inducible Foxp3+ Regulatory T cells
Inducible Foxp3
+
regulatory T cells (iTregs) are generated in the periphery by DCs and their generation appears to be dependent on IDO, retinoic acid, Vitamin D and TGF-β. iTregs cells play essential roles in immune tolerance and in the control of severe chronic allergic inflammation[
44
]. Furthermore, since iTregs are induced in the periphery, they also act as barriers in preventing the clearance of microorganisms and tumors, whereby both are known to generate conditions that can drive iTreg differentiation[
45
,
46
]. Figure
2
provides an overview of the pathways involved in DC mediated iTreg differentiation.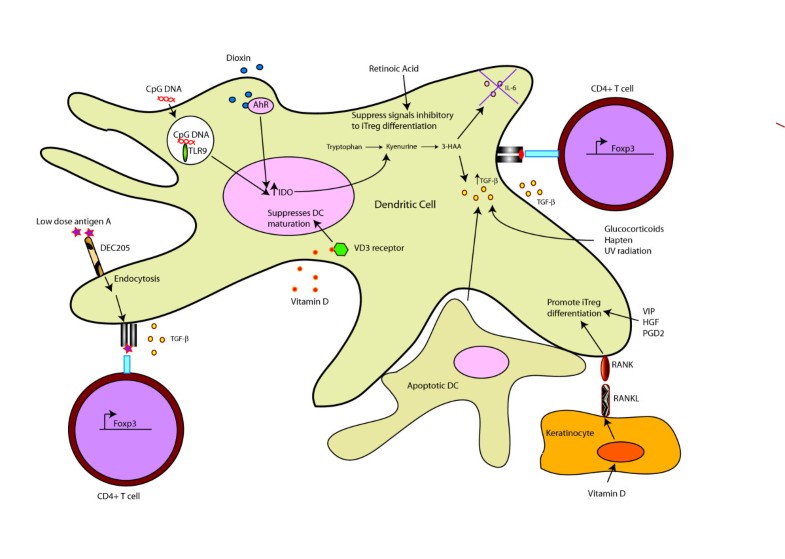 Th3 cells
Th3 cells were first identified as a novel population of T cells induced upon induction of peripheral tolerance upon oral delivery of myelin basic protein, which suppressed experimental autoimmune encephalitis in mice[97]. These Th3 cells are class II-restricted T cells with identical αβ TCR as Th1 and Th2 cells. Moreover, they are characterized by production of high levels of TGF-β along with low amounts of IL-4 and IL-10 with no production of IFN-γ or IL-2. The ability of these cells to suppresses EAE is largely TGF-β dependent. Secretion of TGF-β by Th3 cells drives induction of Foxp3 in activated T cells, driving them towards iTreg phenotype[98]. Furthermore, Foxp3 can also be induced in Th3 cells for studies have shown that transient induction of TGF-β1 in T cells during activation in absence of IL-2 can drive generation of Foxp3+ Th3 cells which comprise a distinct Treg phenotype, which is CD25- and can control hyperproliferative T cell response[99].
Double negative regulatory T cells
TCR+CD3+CD4-CD8- double negative (DN) regulatory T cells inhibit immune response by Fas/FasL destruction of effector cells in an antigen specific fashion[100]. Although, the mechanisms of how DCs can prime differentiation of DN Tregs is not understood, syngeneic DCs have been successfully utilized for expansion of antigen specific DN Tregs[101].
Conclusion
DCs play a critical role in the induction of tolerance. One of the active mechanisms whereby DCs induce/maintain tolerance is through induction of Tregs. Over the last decade, significant progress has been made in understanding the DC specific signals that can drive induction of Tregs. These findings can potentially be employed to generate tolerogenic DCs which can be used for tolerance induction in hypersensitivity, autoimmunity as well as transplantation.
List of abbreviations
AhR:

Aryl hydrocarbon receptor
cAMP:

Cyclic adenosine monophosphate
CCR7:

Chemokine (C-C motif) receptor 7
CTLA4:

Cytotoxic T-lymphocyte antigen 4
Cox-2:

Cyclooxygenase-2
DCs:

Dendritic cells
DN:

Double negative
GALT:

Gut associated lymphoid tissue
HAA:

3-hydroxyanthranilate
HGF:

Hepatocyte growth factor
HIV:

Human immunodeficiency virus
HLA:

Human leukocyte antigen
ICOS:

Inducible T cell costimulator
ICOSL:

Inducible T cell costimulator ligand
IDO:

Indoleamine 2,3-dioxygenase
IFN:

Interferon
IL:

Interleukin
ILT:

Ig like transcript
iTreg:

Inducible Foxp3+ regulatory T cells
LCs:

Langerhans cells
LPS:

Lipopolysaccharide
MHC:

Major histocompatibility complex
mTOR:

Mammalian target of Rapamycin
nTreg:

Naturally occurring Foxp3+ regulatory T cells
OPG:

Osteoprotegerin
pDC:

Plasmacytoid dendritic cells
PDL-1:

Programmed death ligand - 1
PGD2:

Prostaglandin D2
Poly I:

C: Polyinosinic:polycytidylic acid
RA:

Retinoic acid
RANK:

Receptor activator of nuclear factor κB
RANKL:

Receptor activator of nuclear factor κB ligand
RAR:

Retinoic acid receptors
RXR:

Retinoic × receptors
STAT:

Signal transducer and activator
TCDD:

2,3,7,8-Tetrachlorodibenzo-p-dioxin
TGF:

Tumor Growth Factor
TLR:

Toll like receptor
Tr1:

Type 1 regulatory T cells
Tregs:

Regulatory T cells
TSLP:

Thymic stromal lymphopoetin
UVR:

Ultraviolet radiation
VD3:

1α,25-dihydroxyvitamin D3
VDR:

1α,25-dihydroxyvitamin D3 receptor
VIP:

Vasoactive intestinal peptide.
Declarations
Acknowledgements
This work was supported in part by Operating Grants from the Canadian Institutes of Health Research, the Canadian Cystic Fibrosis Foundation, and the Foundation Fighting Blindness-Canada to J.H. J.H. was a CCFF Scholar and recipient of the CCFF Zellers Senior Scientist Award, and held a Premier's Research Excellence Award of Ontario, Canada. R.K. is a recipient of CCFF doctoral award.
Authors' Affiliations
(1)
Physiology and Experimental Medicine Research Program, Hospital for Sick Children, Toronto, Canada
(2)
Department of Laboratory Medicine and Pathobiology, University of Toronto, Toronto, Canada
Copyright
© Kushwah and Hu; licensee BioMed Central Ltd. 2011
This article is published under license to BioMed Central Ltd. This is an Open Access article distributed under the terms of the Creative Commons Attribution License (http://creativecommons.org/licenses/by/2.0), which permits unrestricted use, distribution, and reproduction in any medium, provided the original work is properly cited.